Cable initiates the age of the two-year degree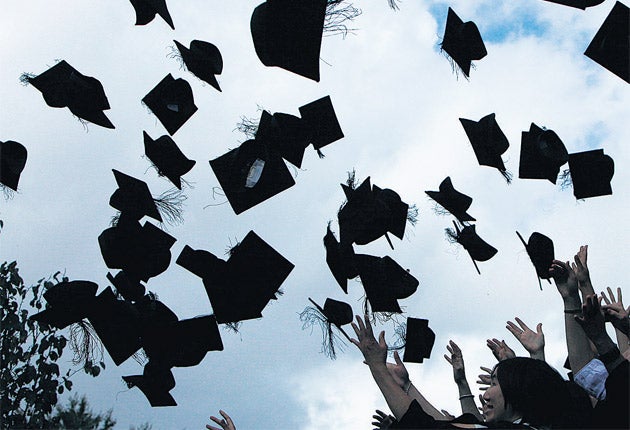 Two-year university degrees, more part-time courses and more students living with their parents while they study will be proposed by the coalition Government as it begins the task of cutting the £155bn deficit.
Vince Cable, the Business Secretary who is responsible for universities, will say in a keynote speech tomorrow that the present system of higher education must undergo radical changes to enable the Government to balance the nation's books. Mr Cable accepts that universities, which account for about half of his £19bn-a-year budget, cannot be immune from the cuts. He believes that it is difficult to justify courses with tuition of six or seven hours a week. While two-year degrees would transform the university experience for thousands of undergraduates, Mr Cable believes that many would welcome three-year courses being condensed to reduce their tuition fees – and their debts.
The Liberal Democrat MP also wants more students to live at home, attending lectures at a local university while taking their degree at one much further afield. He says the need for savings cannot be achieved by "salami-slicing" and will require changes in the way higher education is provided – a signal that he will allow an expansion of private universities, some of which could provide the "close-to-home" lectures on behalf of the institutions awarding degrees. He also wants a debate about student support and numbers, amid signs that Labour's target of raising the number of people in higher education from 43 to 50 per cent will be abandoned.
Mr Cable's ideas will be among his department's options for spending cuts to be submitted to the Treasury by the end of this week. He will meet the Chancellor George Osborne's demand for 25 per cent cuts over four years, with other proposals for further reductions on top of that. Most departments have been asked to draw up plans for two scenarios – a 25 and 40 per cent reduction in their budgets.
However, Mr Cable will warn the Treasury that some of his budget – such as research funding for new industries and products – should be protected to ensure the Government has a "growth strategy." Ministerial allies insist that Mr Cable is not "playing games" by proposing politically unacceptable cuts and recalled that he was a "deficit hawk" before the May election. One said: "He is a team player. He will do his bit. There are hard choices to be made and university funding will be among them. He wants the Treasury and the Cabinet to know what would be involved."
Mr Cable wants to encourage more variable tuition fees. He believes that lifting the £3,225-a-year cap on fees – likely to be recommended this autumn in a review by Lord Browne of Madingley, the former BP chief executive – will not solve the funding crisis as it would raise public spending as the budget for student loans would increase.
Although Lord Mandelson, Business Secretary in the previous government, called for more two-year courses, he envisaged them being offered for a limited number of universities and courses. If adopted, Mr Cable's plan would range far wider.
Dr Terence Kealey, vice-chancellor of the private Buckingham University, the first in the UK to offer a standard two-year academic degree, said: "Many more people are suited to two-year courses than realise it. In future, instead of a gap year, people may work for two years and then take a two-year degree when they are a bit older. The advantage is that they are earning in year three. We should allow people to choose what they want. But two years is a very cost-effective option."
He cited new research by the University of Staffordshire suggesting that two-year students achieved an average grade increase of 0.75 of a point, turning a 2:2 degree into a 2:1. "The normal argument for a three-year degree is that you need a long, four-month summer break for deep thoughts. No other human activity requires that. On a two-year course at Buckingham, you still have 12 weeks holiday a year and you don't lose your train of thought," he said.
But Dr Wendy Piatt, director general of the 20-strong Russell Group of universities, said: "Two-year accelerated degrees ... are unlikely to work well for many of the courses offered by Russell Group universities, which are academically intensive and in many cases laboratory-based. The research-led learning at Russell Group institutions takes place in an environment where leading academic staff are engaged in both research and teaching and much of this activity takes places during the 'holiday' periods."
Reaction: 'Universities inspire the next generation; shorter courses will be a false economy'
Lucy Porter: Comedian, Manchester University (1991-94) studied English language and literature
Things were very different in the olden days. We were in debt when we left university but not as they are now. I am incredibly grateful that I had the chance to do a three-year degree course and not just because it allowed me three years of growing-up. The last year was largely about assimilating two years of study and then writing up a lengthy thesis at the last minute. To be honest, I wish I was still there - if I had my way, we'd all do degrees that last 15 years.
Three years is a nice length of time to work out what you want to specialise in. When you've done your A levels, you are really quite ill-informed and have made some big choices at a relatively early age. I know that I am guilty of perpetuating the myth that all students do is get drunk and have a laugh but they do work hard. At the moment, the jobs market is so bleak and people are leaving in terrible debt so the feeling is that something should be done.
Roger McGough: Poet, University of Hull (1957 -1960) studied French and geography
I would have liked to have spent five years at university but how long you are there should depend on what course you choose. For some subjects, it might not be enough but for others – perhaps media studies, for example, that we hear about so much – it might be enough.
I went to university very young. I was only 17 and the first year was really about catching up. If it had been two years for me it would have been no good. Young people who go straight from school really need three years. But it wasn't just about getting the qualifications: it was the things that you just fall across, the things that cut across your path.
It wasn't the geography or the French; it was learning about things on the periphery of your previous experience. I got interested in poetry and there was plenty of time for that, perhaps too much on my part. In the end I got a pass and I was delighted. Some people failed.
Baroness Greenfield: Scientist, St Hilda's College, Oxford (1969-72) studied experimental psychology
I think this is a bad idea. Looking at this as a current member of university staff, there may be an impression outside the academic world that students skive off in the summer for three or four months, but that's the time to focus on research and writing papers and grant applications. For scientists, it also gives you the chance to roll up your sleeves and get back in the laboratory.
From the point of view of the students, it raises questions about what we are hoping to achieve. My own view is that university courses are about developing the ability to criticise, think and put things in a wider context and to apply what you are learning to other aspects of life. If you are focussed on ticking boxes, you may not be able to see the wood from the trees.
Someone who is not an academic might resent this but academic study is not a nine-to-five job. All the best ideas come from reading around a subject, reflecting and bouncing ideas about. If university education is about inspiring the next generation, then I believe two-year degrees will prove to be a false economy.
Join our commenting forum
Join thought-provoking conversations, follow other Independent readers and see their replies