Calm Andy Coulson leaves toughest questions at David Cameron's door
Cameron comes under attack after ex-News of the World editor reveals No 10 did not ask him about phone-hacking scandal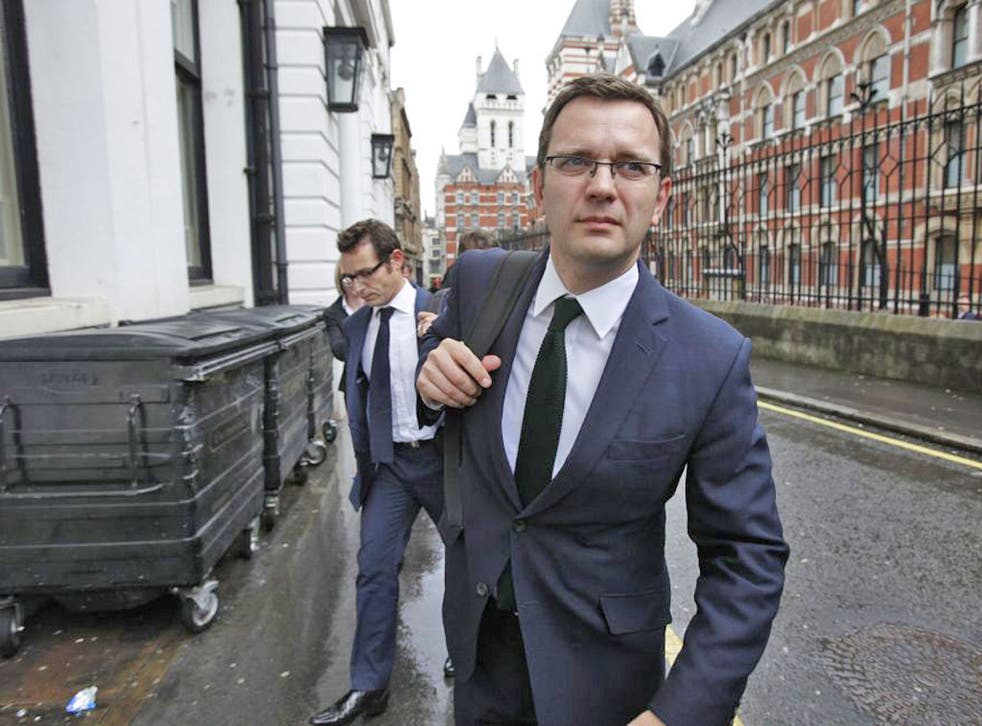 Dressed in a dark suit and a black tie, an ashen-faced Andy Coulson may have looked like he was attending his own political funeral when he took to the witness box at the Leveson Inquiry yesterday. By the time he stepped down, it was clear he had in reality returned to haunt Downing Street.
The Billericay-born ex-editor of the News of the World neatly side-stepped questions about the influence of Rupert Murdoch as he proceeded to create difficulties for David Cameron by making clear the Conservative Party's lack of curiosity about the extent of phone hacking at the defunct Sunday tabloid.
During two and a half hours of questioning, Mr Coulson confirmed for the first the time that the approach to work for the Tories shortly after his resignation from the NOTW in January 2007 had been made over a drink in a London hotel with George Osborne.
The former Downing Street director of communications also revealed that he had been allowed access to top secret documents despite holding a basic level of security clearance and confirmed the revelation by The Independent on Sunday that he held stocks in Mr Murdoch's News Corp, worth £40,000, while working in No 10.
But he generated considerable problems for Mr Cameron, a man he described as an "inspirational boss", by revealing that no-one in the Conservative Party had asked him about the revelation in July 2009 that News International had paid out more than £1m to keep a lid on evidence suggesting its journalists were implicated in illegal newsgathering.
A Guardian article published while Mr Coulson was helping to plot the Conservatives' return to government reported that Scotland Yard held records from private investigator Glenn Mulcaire to show thousands of individuals may have been targeted for voicemail interception. The story, which confirmed the involvement of the NOTW in ordering illegal data searches, stated the evidence raised difficult questions for Mr Coulson.
Asked yesterday by Robert Jay QC, the Leveson Inquiry's chief inquisitor, whether Mr Cameron or anyone else had sought further assurances from him about his lack of knowledge of phone hacking following the story, Mr Coulson said: "Not that I can recall."
His evidence does not sit easily with Mr Cameron's statement last July, which led to the closure of the NOTW, that he had sought "some specific assurances" from Mr Coulson prior to his appointment. The nature of those assurances has not been revealed. Indeed, Mr Coulson, who could not be asked about any of the matters for which he is under criminal investigation, added to his former boss's problems by appearing to say that the only time phone hacking was raised with him by Mr Cameron was during a conversation while he was on holiday in Cornwall to confirm his appointment in July 2007.
Mr Coulson said: "During that conversation I believe he told me that background security checks had been made. He also asked me about the Clive Goodman case." He said he told Mr Cameron he "knew nothing" of the activities of Goodman, the former NOTW royal editor jailed for voicemail interception along with Mulcaire in January 2007.
Labour MP Chris Bryant last night called for Mr Cameron to provide a full account of the efforts he made to question Mr Coulson about phone hacking. He said: "It seems bizarre the Prime Minister never asked the obvious questions, not even when the story broke in 2009. This is all of a piece with Mr Cameron's studied blindness on this issue."
Mr Coulson said he had attended the meeting with Mr Osborne in March 2007 "with a degree of reluctance" because he was not interested in pursuing a career in politics.
He denied he had been hired as Mr Cameron's communications chief solely because of his links with News International, adding that he had underlined to his new employers that his personal links with Mr Murdoch and former Sun editor Rebekah Brooks "should not be seen as some sort of guarantee" that support from The Sun and the NOTW would arrive with him.
The 44-year-old confirmed that as part of a generous severance package from NI he had been given shares in the company worth £40,000, which he failed to disclose to civil servants once he entered Downing Street in May 2010.
Insisting that he had not been involved in policy decisions concerning News Corp's bid to buy out BSkyB, Mr Coulson said he should have "paid more attention" to his stock holdings, but added: "I was never asked about any share or stock holdings and because I knew that I wasn't involved in any commercial issues, including the BSkyB bid."
Downing Street last night said civil servants were required to inform their department of "holdings of shares which they would be able to further as a result of their official position".
Mr Cameron faces fresh embarrassment today when Ms Brooks, who is said to have exchanged texts with him more than 12 times a day on occasions, gives her evidence to Leveson.
Paper 'right' to publish Coulson shares story
The editor of The Independent on Sunday made a defence to the Leveson Inquiry of the paper's publication of an article which revealed the shareholdings of the former Downing Street spin doctor Andy Coulson.
John Mullin was ordered to appear before the inquiry after it emerged The IoS had seen a copy of a statement from Mr Coulson the disclosure of which was banned prior to the former News of the World editor's appearance before Lord Justice Leveson yesterday.
The IoS disclosed Mr Coulson held shares in Rupert Murdoch's News Corporation while he was David Cameron's head of communications and the Government was deciding whether to approve the company's takeover of BSkyB.
Details of the shareholding were set out in his statement to the inquiry. But Mr Mullin told the inquiry the story had been "copper-bottomed" from three sources unconnected with Leveson prior to him being shown Mr Coulson's statement.
The contents of the statement had played no part in the article, he added.
The editor said it would have been "much better" if he had not read Mr Coulson's statement and accepted the paper could have made informal contact with the inquiry prior to publication. But he added this should not be seen as an acceptance that his decision to publish was "entirely incorrect".
Cahal Milmo
Key answers: What Coulson said about it...
On News of the World's coverage of a story about George Osborne in 2005: "I think the idea that we somehow went easy on him is ridiculous."
On whether he disagreed with a tribunal finding that he bullied reporter Matt Driscoll: "Yes, I do."
On his resignation in 2007: "When I went to see [NI chairman] Les Hinton I was clear that I was going to resign and I did so."
On whether David Cameron sought assurances from him after allegations about hacking in 2009: "Not that I can recall."
On whether he viewed top secret documents [despite not having clearance]: "I may have done, yes."
On whether BSkyB was mentioned to Jeremy Hunt: "I don't recall any conversations with Mr Hunt about BSkyB."
Today's witness: Rebekah Brooks
Possible questions for Rebekah Brooks at Leveson include:
1. Did you have any role in the critical coverage of Labour MP Chris Bryant in 2003 after he asked if you had paid police officers for information?
2. How close was your relationship with Tony Blair?
3. Did you threaten to pursue the Labour MP Tom Watson in 2006 after he resigned from the government over Blair's leadership?
4. How often did you meet David Cameron, where and what was discussed?
5. What discussions did you have with Rupert Murdoch in 2009-11 about the way the firm responded to the allegations of law-breaking?
Martin Hickman
Join our new commenting forum
Join thought-provoking conversations, follow other Independent readers and see their replies