Cameron calls on eurozone countries to sort out crisis
Prime Minister tries to head off another Tory rebellion over Europe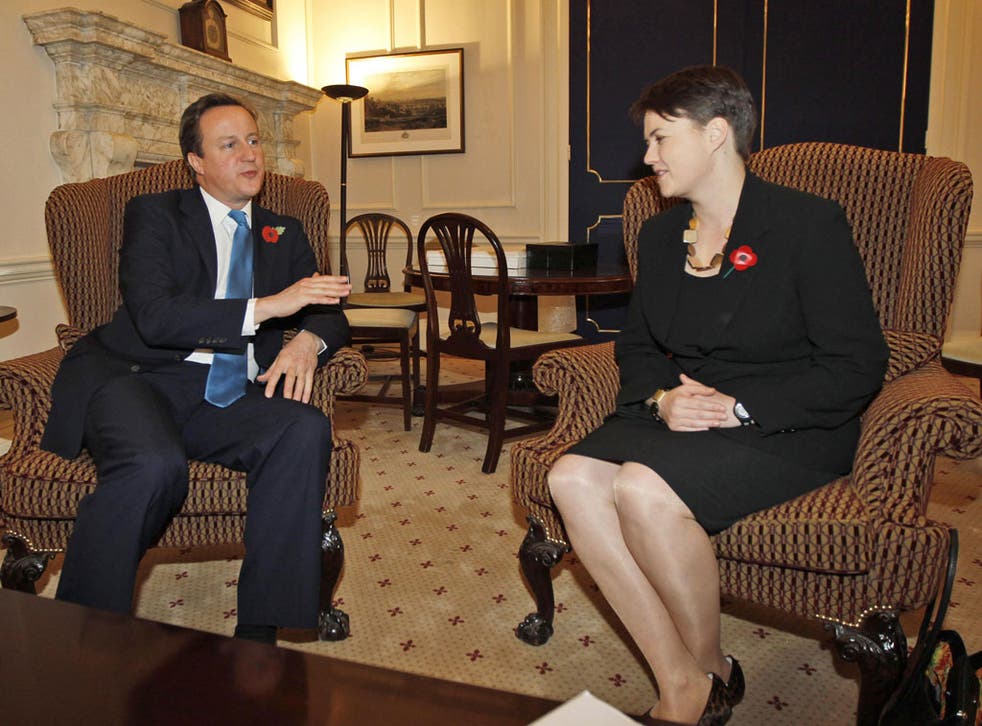 David Cameron told leaders of the 17 countries in the eurozone to put their own house in order as he tried to head off another Conservative rebellion over the European Union.
For the first time, the Prime Minister called on the European Central Bank (ECB) to play the key role in shoring up the single currency. In a Commons debate on last week's unsuccessful meeting of G20 leaders in Cannes, he said: "The world sent a clear message to the eurozone at this summit – sort yourselves out and then we will help, not the other way round."
He added: "It is for the eurozone and the ECB to support the euro, and global action cannot be a substitute for concrete action by the eurozone."
Mr Cameron played down the prospect of a further injection of British taxpayers' money to the International Monetary Fund (IMF), which could also play a role in helping EU countries resolve their debt crisis. He said any additional guarantees or loans would be within the £40bn ceiling agreed by Parliament. But some Tory Eurosceptics expressed fears Mr Cameron was trying to mask Britain's possible role in a eurozone bailout. Douglas Carswell called for an end to "weasel words" and "sophistry" and told the Prime Minister to be "absolutely straight" about what the Government was doing with "other people's money".
Mr Cameron believes the IMF should support countries but not currencies. However, ECB proposals to use eurozone countries' reserves to bolster the bailout fund have run into stiff resistance from Germany's Bundesbank, which fears the inflationary effect.
The Prime Minister hit back at criticism over the £40bn ceiling, which Labour voted against in July. He accused Labour of being "breathtakingly irresponsible" and "putting politics above economics".
He told MPs: "It is in our national interest that countries across the world that are in distress are supported in their efforts to recover. The collapse of our trading partners – whether in the eurozone or not – would have a serious impact on our economy. Businesses would not invest, British jobs would be lost, families across Britain would be poorer."
But Ed Miliband, the Labour leader, accused the Prime Minister of being "complacent" and "out of touch". He insisted: "The sensible step of increasing resources for the IMF should not be done to make up for inadequate eurozone action."
He asked Mr Cameron whether he could "categorically rule out IMF resources being used indirectly in parallel to make up for insufficient funding" from the eurozone bailout fund.
Mr Cameron attacked some EU countries for supporting a financial transaction tax, dubbed a "Robin Hood tax", even though they knew there was little chance of it being introduced.
He said they should not "hide behind proposals for an EU tax as an excuse for political inaction on meeting targets".
Tory Eurosceptics challenged Mr Cameron over Britain's support for fiscal union among the 17 single currency members. Bill Cash asked: "How do you propose to achieve a majority to protect our interests in the context of the fiscal union you are advocating?"
Mr Cameron replied: "The fact is when you have a single currency that is quite dysfunctional, one of the ways it could be made more functional is to have greater fiscal union."
Join our new commenting forum
Join thought-provoking conversations, follow other Independent readers and see their replies