Cameron faces serious Cabinet split over over arming Syrian rebels
Conservative MPs have warned Downing Street they may oppose the Government in any Parliamentary vote on the issue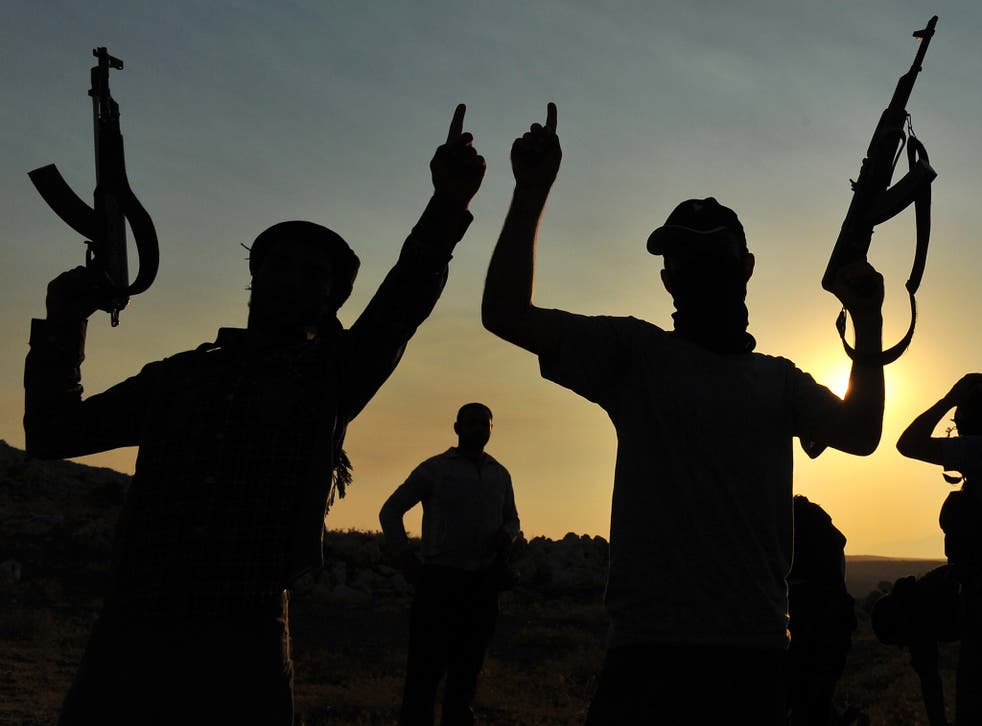 David Cameron is facing a serious Cabinet split over his plans for Britain to take a leading role in supplying Syrian opposition forces with arms, The Independent has learnt.
At least five Cabinet ministers are understood to have raised " serious reservations" about any significant move by the Government to increase Britain's involvement in the conflict.
Their concerns have been echoed by a growing number of Conservative MPs who have warned Downing Street they may rebel against the Government in any Parliamentary vote on the issue.
Cabinet sources admit it could take 18 months of arming rebels to force the Syrian regime to the negotiating table – a bleak assessment which some fear may cause Britain to be sucked into a long military commitment with a highly uncertain outcome.
The ministers, who include the Liberal Democrat leader Nick Clegg, are said to have warned at a recent meeting of the National Security Council that supplying weapons to the Free Syrian Army might only escalate the conflict, killing many more people without any realistic prospect of decisive victory. They also believe it could be "next to impossible" to ensure that British arms do not fall into the hands of Islamist militants.
Others opponents include the Justice Secretary Chris Grayling, the International Development Secretary Justine Greening, the Foreign Office Minister Baroness Warsi and the Cabinet Office minister Ken Clarke.
Senior Whitehall officials say that Mr Cameron has become convinced of the need for Britain to take a much more proactive stance in the Syrian conflict, with one describing it as a "one-man crusade". Another senior Whitehall source said: "He is the one who is driving this. He thinks that it is the right thing to do and that the experience in Libya shows that intervention can work. The danger, as we saw with Tony Blair, is that not all conflicts are the same."
The arguments of the interventionists were strengthened when Francois Hollande, the French President, said the growing evidence of the use of chemical weapons "obliges the international community to act". He insisted, however, that such action would have to be "within the framework of international law".
Cabinet supporters for arming the rebels include the Education Secretary Michael Gove and the Chancellor George Osborne. The Foreign Secretary William Hague is said be broadly supportive but concerned about practical difficulties. The Defence Secretary, Philip Hammond, has made it clear that there can be no significant role for British forces.
The greatest problem for Mr Cameron is the reservations of Mr Clegg, whose party has an effective veto on action because Labour has already indicated it will not support armed intervention.
A Whitehall source said Mr Clegg did not believe "there was a military-only solution to Syria" and would not back any attempt to arm the rebels without co-ordinated international support, including from the Americans.
In the Commons Mr Cameron stressed that, despite the end of the EU embargo on arms to rebel groups in Syria, no decision has been taken. Britain and France led moves last week for the embargo to be lifted, arguing that the move would help bring President Bashar al-Assad to talks. The PM also hinted he would be willing to give MPs a vote on the issue, recalling Parliament if necessary.
However, The Independent understands that Mr Cameron is facing entrenched opposition – and the threat of rebellion – from backbench MPs. Several signed a letter to him urging a full Commons debate before British-made weapons are supplied. It comes after Tory MPs, including the longest-serving Conservative, Sir Peter Tapsell, lined up in the Commons this week to condemn the Anglo-French position.
Julian Lewis, a former shadow Defence Minister, said: "I know a significant number of Conservative backbenchers agree with me that this is playing with fire. I think the Government would struggle to get endorsement in parliament."
John Baron, Tory MP for Basildon and Billericay, said: "Putting more weapons into a civil war can only inflame the violence… on the Tory side, opinion is probably evenly split with growing momentum in our favour."
Mark Field, the MP for the Cities of London and Westminster, said: "I'm concerned last week's EU declaration appears to bring us nearer to aiding and arming people who would be subject to 24-hour surveillance if they lived in this country."
Labour is threatening to force a Commons debate on Syria if Mr Cameron refuses to give MPs a chance to express their views. An early day motion tabled by the Conservative Andrew Bridgen condemning the moves was signed by more than 30 MPs of all parties.
Moral divide: For and against intervention
For
David Cameron Believes the British-French move will add pressure on the Assad regime to step down.
William Hague Warns that inaction is driving moderate rebels to extremism.
Philip Hammond Supports intervention in principle, but worries about the cost.
Michael Gove Takes a hawkish approach to foreign policy issues.
Against
Nick Clegg His party is opposed to armed intervention in foreign countries.
Ken Clarke The veteran Cabinet minister was a fierce critic of the Iraq war.
Baroness Warsi Worries that involvement could complicate Britain's relations in the volatile region.
Justine Greening Argues that the emphasis should be on aiding refugees who have fled Syria.
Register for free to continue reading
Registration is a free and easy way to support our truly independent journalism
By registering, you will also enjoy limited access to Premium articles, exclusive newsletters, commenting, and virtual events with our leading journalists
Already have an account? sign in
Register for free to continue reading
Registration is a free and easy way to support our truly independent journalism
By registering, you will also enjoy limited access to Premium articles, exclusive newsletters, commenting, and virtual events with our leading journalists
Already have an account? sign in
Join our new commenting forum
Join thought-provoking conversations, follow other Independent readers and see their replies