Cameron set to challenge convention over hung parliament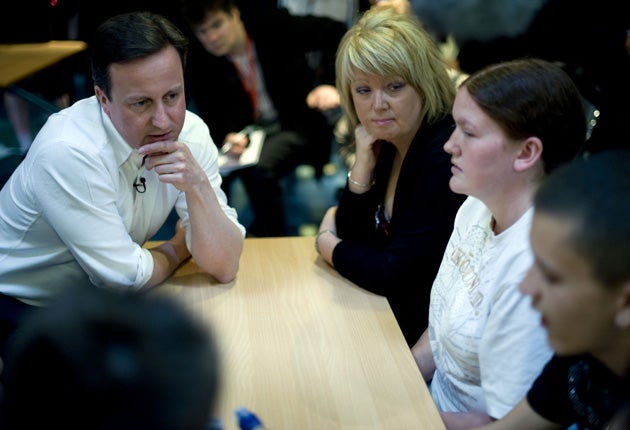 David Cameron is set to claim victory if Labour comes third in Thursday's election even if he fails to win an overall majority.
His plan, revealed in an interview with The Independent, raises the prospect of a constitutional wrangle in which the Conservatives and Labour fight for the right to form a minority government if neither wins outright.
Some cabinet ministers hope that Gordon Brown could defy the disaster of Labour coming third in the share of the vote by joining forces with the Liberal Democrats in a "progressive alliance" to keep the Tories out of power even though Mr Cameron might have won more seats and votes than Labour. They believe Labour could cling on if they prevent the Tories winning 300 seats – 26 short of the number needed for an overall majority.
But, in his first comments on what he might do if Thursday's election is inconclusive, Mr Cameron challenged the Whitehall convention that says that, if Britain votes for a hung parliament, the existing Prime Minister gets the first chance to form a government, even if his party has fewer seats or votes than its main rival. The Cabinet Secretary, Sir Gus O'Donnell, recently reaffirmed that this remains the position.
This rule has fuelled speculation that Mr Brown could hang on and try to forge a deal with the Liberal Democrats even if the Tories win more votes and seats than Labour but fall short of an overall majority – the position reflected by the most recent opinion polls.
In 1974, Edward Heath remained in Downing Street even though his Conservative Party won fewer seats than Labour. However, talks with the Liberal Party failed to reach agreement and he resigned as Prime Minister.
Mr Cameron said: "There is convention and there is practice and they are not always quite the same thing." He added: "In 1974 it was clear the Conservatives had lost and therefore they were out of office."
Sources in all three parties agree it will "depend on the numbers" but admit there are grey areas which could draw Sir Gus – and ultimately the Queen – into the controversy.
Mr Cameron said he had studied the convention when he was at Oxford University, where he took a first in politics, philosophy and economics. Asked if had been studying it again in the past two weeks in case there is a hung parliament, he replied: "I am far too focused on the opportunity of winning an outright majority."
During a visit to Cornwall and North Wales yesterday, Mr Cameron used his interview to highlight a new "equalities charter" he will issue tomorrow. It promises equal rights for gay people and a major drive to ensure more women in the boardrooms. A Tory government would force FTSE companies to have women comprise 50 per cent of their "long list" when directors are appointed. Only 11.7 per cent of board members in FTSE 100 companies are women and, on current trends, it would take 73 years for them to secure half of the directorships.
Polls by the Pink News website suggest that the Tories have lost support after rows over their views on gay rights engulfed the Tory frontbenchers Chris Grayling and Julian Lewis.
Mr Cameron insisted: "The Conservative Party is committed to gay equality. You can see that in our plans to promote civil partnerships and in all we have done to apologise for the mess of Section 28 [the law by the Thatcher government banning councils from "promoting" homosexuality].
"I have never hidden from the gay community that the Conservative Party needed to go on a journey. We did not start from a good place. It has taken some time to get to a better place. Should we have gone further and faster? Yes."
He insists that, for gay people who share his party's values on issues like the economy, "it is easier to vote Conservative this time than it has ever been before".
The Tory leader expressed his hope and belief that public support for a hung parliament is waning after a burst of enthusiasm when Nick Clegg gained the early momentum in the campaign. "Is it really the new thing, or is it politicians bickering and haggling, which we all enjoy but the public don't get much out of?" he asked.
"The truth is that, if you want a government that can start work on Friday, taking decisions to strengthen the country in the long term, a decisive government is better than a hung parliament." Mr Cameron dismissed Liberal Democrat calls for proportional representation (PR) as "old politics". He insisted that the current first-past-the-post system gives voters "the opportunity to throw out a government and put another one in its place", adding: "Under PR you might have permanent hung parliaments and the Prime Minister permanently chosen by the politicians rather than the people.
"We don't support PR or holding a referendum on PR. We think our system, properly amended [to equalise the number of voters in each constituency], is better."
However, he acknowledged that a hung parliament was still a possibility. "We would behave in a responsible way, trying to give Britain the best and strongest government possible." Refusing to speculate further, he said: "I think we should talk about the issues now and the result after it has happened."
Join our commenting forum
Join thought-provoking conversations, follow other Independent readers and see their replies