Cameron targets One Nation as the Tory battleground
PM wants to end Tory party's lurch right with speech that shows off his compassionate side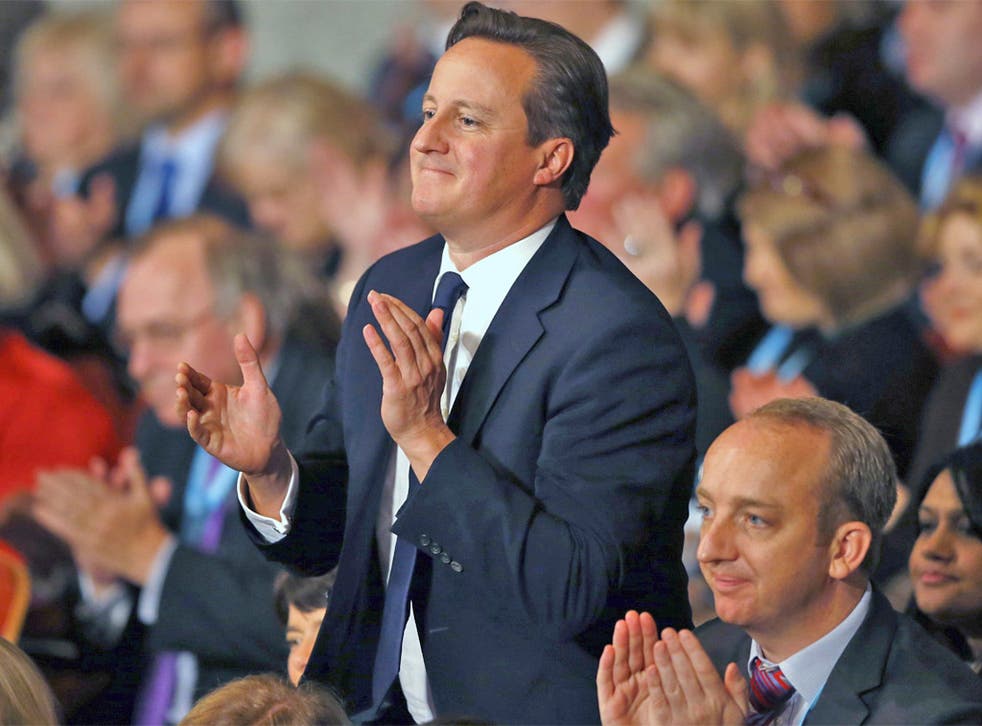 David Cameron will insist today that he has not abandoned "compassionate Conservatism" as he argues that spending cuts and welfare reform will be good in the long run for the poor, weak and vulnerable.
In his closing speech to the Tory conference in Birmingham, the Prime Minister will seek to reclaim the One Nation banner from Labour by answering critics who claim he has lurched to the right to appease his party's restive MPs.
He will issue a stark warning that Britain could be left behind unless "difficult and painful decisions" are taken. "Britain may not be in the future what it was in the past because the truth is that we are in a global race today and that means an hour of reckoning for countries like ours – sink or swim, do or decline," he will argue.
A key theme of his speech will be to position the Tories as on the side of the "strivers" who work hard to achieve their aspirations.
Yesterday, Mr Cameron dismissed Ed Miliband's launch of One Nation Labour last week. "He was signalling he was turning to the right but actually in everything he said he was turning to the left – a tax on wealth creation, a tax on business, a tax on success. You can't preach One Nation and practise class war," he said.
Today he will declare: "My mission since the day I became [Tory] leader was to show the Conservative Party is for everyone: north or south, black or white, straight or gay. But above all – to show that Conservative methods are not just the way we grow a strong economy, but the way we build a big society. That Conservative methods are not just good for the strong and the successful but the best way to help the poor, and the weak and the vulnerable."
His claim that these groups will benefit from a strong economy will anger critics who argue that the most vulnerable are the victims of the cuts and an economic strategy that is failing. Admitting that his party has not yet taken the public with it, Mr Cameron will add: "It's not enough to know our ideas are right. We've got to explain why they are compassionate too."
He will highlight his personal values to answer criticism that his mission is to be in power for its own sake. Aides said he will speak "from the heart" about his family as he sketches out who he is and what drives him.
He will reveal how his late father, who was disabled, helped to look after Mr Cameron's grandmother when her husband "ran off".
Acknowledging his privileged background, he will describe it as "not a hard luck story, but a hard work story".
Mr Cameron will tell the conference: "There is nothing complicated about me. I believe in working hard, caring for my family and serving my country. And there is nothing complicated about what we need today.
"This is still the greatest country on earth. We showed that again this summer – 22nd in world population, third in the [Olympic Games] medals table. But it's tough. These are difficult times. We're being tested. How will we come through it? Again, it's not complicated. Hard work. Strong families. Taking responsibility. Serving others."
Praising those who took part in the Paralympics, he will say: "When I used to push my son Ivan [who died aged six] around in his wheelchair, I always thought that some people saw the wheelchair, not the boy. Today more people would see he boy and not the wheelchair – and that's because of what happened here this summer."
Mr Cameron will launch a strong attack on Labour's calls for an economic Plan B, warning: "Labour's plan to borrow more is actually a massive gamble with our economy and our future."
But yesterday two Conservatives criticised the Government on the economy. Lord Forsyth, a former Cabinet minister, accused the Chancellor, George Osborne, of "hoping something will turn up" and not doing enough to kickstart growth.
He told the BBC's Daily Politics programme: "I think we need to be rather more radical, and that means tax reductions and finding ways to finance them."
Mark Garnier, a Tory MP, told a conference fringe meeting: "The reason we have a low interest rate is because the economy is absolutely screwed."
Cameron's speech: What he must do
Show he is (still) a One Nation Conservative The Tories insist they are not rattled by Ed Miliband's raid on their territory last week. But Cameron must reassure floating voters he has not abandoned the "compassionate Conservatism" he showed as Leader of the Opposition.
Talk up the economy, stupid Cameron needs to show he has a growth strategy as well as a cuts strategy. George Osborne did not mention growth in his conference speech on Monday.
Throw off the 'party of the rich' tag The Tories have talked about cutting the welfare budget, but Cameron must also spell out how the wealthy will share the load.
Spell out his 'vision' The PM needs to convince his party that he has a coherent strategy which can regain him a reputation for competence.
Show he has the X-Factor Boris Johnson showed he has the same stardust Cameron had when he became Tory leader seven years ago. The PM needs to get that back to win over his party.
Andrew Grice
Join our new commenting forum
Join thought-provoking conversations, follow other Independent readers and see their replies