Caught on camera: top lobbyists boasting how they influence the PM
Special undercover investigation: Executives from Bell Pottinger reveal 'dark arts' they use to burnish reputations of countries accused of human rights violations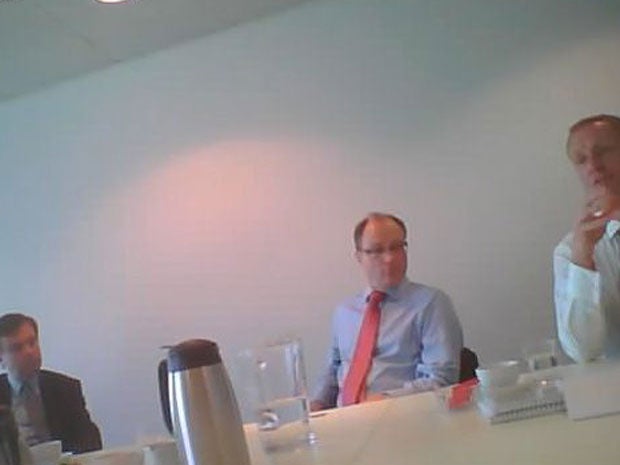 One of Britain's largest lobbying companies has been secretly recorded boasting about its access to the heart of the Government and how it uses the "dark arts" to bury bad coverage and influence public opinion. An undercover investigation by the Bureau of Investigative Journalism, published in The Independent today, has taped senior executives at Bell Pottinger:
* Claiming they have used their access to Downing Street to get David Cameron to speak to the Chinese premier on behalf of one of their business clients within 24 hours of asking him to do so;
* Boasting about Bell Pottinger's access to the Foreign Secretary William Hague, to Mr Cameron's chief of staff Ed Llewellyn and to Mr Cameron's old friend and closest No 10 adviser Steve Hilton;
* Suggesting that the company could manipulate Google results to "drown" out negative coverage of human rights violations and child labour;
* Revealing that Bell Pottinger has a team which "sorts" negative Wikipedia coverage of clients;
* Saying it was possible to use MPs known to be critical of investigative programmes to attack their reporting for minor errors.
Reporters from the Bureau posed as agents for the government of Uzbekistan – a brutal dictatorship responsible for killings, human rights violations and child labour – and representatives of its cotton industry in a bid to discover what promises British lobbying and public relations firms were prepared to make when pitching to clients, what techniques they use, and how much of their work is open to public scrutiny.
In Uzbekistan, child labour is used in cotton fields to fulfil state quotas and the country also has a terrible human rights record: the think tank Freedom House put it on its 2011 list of the "Worst of the Worst" repressive regimes.
'I've been working with Hilton, Cameron, Osborne, for 20 years'
The Bureau contacted ten London firms. Two refused to take the business, several others did not reply, while five including Bell Pottinger appeared to be keen to work with the fictitious Uzbek representatives. Bell Pottinger quoted "£1m-plus" as a fee for carrying out the work.
Their claims – which were secretly recorded – will add to mounting concerns that an absence of regulation has made London the global centre for "reputation laundering", where lobbyists work behind the scenes on behalf of the world's most controversial regimes.
David Cameron pledged to tackle lobbying five years ago and then again last year, saying it was "the next big scandal waiting to happen" and "has tainted our politics for too long, an issue that exposes the far-too-cosy relationship between politics, government, business and money". He said he wanted to shine "the light of transparency" on lobbying so that politics "comes clean about who is buying power and influence".
During two undercover meetings in June and July 2011 at its Chancery Lane offices, senior Bell Pottinger executives showed few signs of being deterred by Uzbekistan's dire reputation. They made it clear that the Uzbek government would need to put genuine reforms in place if it were to improve its image and outlined how it could work with the Government, Parliament and the media to do so.
They talked openly about the work the firm had done with other regimes with questionable human rights records including Sri Lanka and Belarus and how they could navigate the corridors of power for clients.
Tim Collins, managing director of Bell Pottinger Public Affairs, told the reporters he used to be Mr Llewellyn's boss in Conservative Central Office, and had worked with Mr Cameron and Mr Osborne in the Conservative Research Department.
"I've been working with people like Steve Hilton, David Cameron, George Osborne for 20 years-plus. There is not a problem getting the messages through," he said.
His colleague David Wilson boasted the firm was the "most powerful public affairs business in the country". Asked whether he could help organise a meeting between Mr Cameron and the Uzbek President – despite protocol dictating that such meetings are organised by ambassadors – he said: "We can facilitate that".
Mr Collins later clarified that such a meeting might be an "end point" to aim for, once the country was seen to be genuinely improving its human rights record.
'David Cameron raised it with the Chinese Prime Minister'
During the undercover meeting, Bell Pottinger – whose chairman is Margaret Thatcher's former media adviser Lord (Tim) Bell – claimed to have used its influence on behalf of the engineering firm Dyson to ask Mr Cameron to complain about copyright infringement to the Chinese premier Wen Jiabao during a state visit in June 2011.
"We were rung up at 2.30 on a Friday afternoon, by one of our clients, Dyson," Mr Collins explained. "He said 'We've got a huge issue. A lot of our products are being ripped off in China.' On the Saturday David Cameron raised it with the Chinese Prime Minister."
He added that, "He [Cameron] was doing it because we asked him to do it," and because the issue was in the wider national interest. In terms of very fast turnaround and getting things done right at the top of government, if you've got the right message, we can do it," he said.
Mr Collins also recommended a meeting with Daniel Finkelstein, chief leader writer at The Times – who he said was very close to Mr Cameron. "He will sit down and have lunch with just about anybody," he said. "That doesn't mean he's going to agree with them, but occasionally something out of that lunch will get dropped into a future column."
Joint events could be held with influential think tanks close to government, such as Policy Exchange, the firm suggested. Another strategy would include passing information to key academics "so that they are then blogging the right messages out there – so it's coming from an independent," said Mr Wilson.
Mr Finkelstein said last night: "I am flattered if anyone thinks I am interesting enough to have lunch with. But anyone promoting either undemocratic or anti-social policies would find me a pretty closed door and hasn't to my knowledge come knocking".
'We've got all sorts of dark arts'
Discussing techniques for managing reputations online, Mr Wilson mentioned a team that could "sort" Wikipedia.
"We've got all sorts of dark arts," added Mr Collins. "I told him [David Wilson] he couldn't put them in the written presentation because it's embarrassing if it gets out."
A presentation shown during the meeting said it could "create and maintain third-party blogs" – blogs that appeared to be independent. These would contain positive content and popular key words that would rank highly in Google searches.
The pair also explained how the firm enables government videos and articles to move to the top of internet searches, while less favourable stories can move down the rankings.
"The ambition obviously is to drown that negative content and make sure that you have positive content out there online," Mr Wilson said.
The firm cited past examples of its work, included manipulating Google rankings for an East African money transfer company called Dahabshiil. Bell Pottinger executives said they had ensured that references to a former Dahabshill employee subsequently detained in Guantanamo Bay because of alleged links to al-Qai'da disappeared from the first 10 pages of a Google search for the company.
Another defensive method cited in the meeting was the use of politicians to attack a broadcaster.
"There are a lot of people in Parliament who can't stand Channel 4 and can't stand Dispatches," Mr Collins said.
"So if there are any inaccuracies, even if they're fairly minor, you can work with some people who have a track record of not liking Channel 4, wanting to score points against Channel 4 [who will say:] 'Here is another instance of Channel 4 over-reaching themselves and putting out stuff they haven't properly checked'."
'Britain has this sort of moral ethic it thinks it can impose on the world'
Uzbekistan has recently expelled Human Rights Watch. The US think-tank Freedom House has said: "Uzbekistan's government continued to suppress all political opposition and restrict independent business activity in 2010. The few remaining civic activists and critical journalists in the country faced prosecution, fines, and lengthy prison terms."
In addition, Uzbekistan's cotton is the subject of an international boycott by several clothing manufacturers because the country still allegedly uses forced labour, including child labour, in its harvest.
Bureau journalists posed as members of the "Azimov Group" – a group of British and Eastern European investors concerned with exporting cotton textiles. They claimed they had been tasked by the Uzbek government with improving the country's image in the UK, and that the government would be committed to reform.
"A number of [our client] governments have had serious reputational issues," said Mr Collins.
But he also stressed a need for genuine commitment to reform. "Everything we are recommending is predicated on the agreement by the government to change," he said. "[That] justifies why a PR company is representing a country which previously people shouldn't have been talking to. Now it actually wants to change it is fully acceptable."
Another executive stressed, whilst talking about one of the firm's clients: "I wouldn't actually represent a client whom I didn't believe."
He added: "Just trying to sell the situation as it is or to say that things are changing when in reality they aren't is not going to work. Once we're clear that we've got the collateral, the proof that things are changing, then obviously we have the connections to get the message through to the right people."
'This is a £100,000-a-month campaign'
Bell Pottinger told the reporters that they had previously helped convince the EU that Belarus was committed to reform. But shortly after the EU lifted a travel ban on the Belarus President, the country went back to its old ways and the ban was eventually reinstated.
Bell Pottinger and the Belarus government stopped working together in 2009. Last week Belarus courts sentenced two men to death despite pleas for mercy and international outcry.
Changes did not need to be fast, Mr Collins said. "As long as you can see that each year is a little better than before, that's fine."
Bell Pottinger's services do not come cheap. "A million pounds plus," is what Mr Wilson quoted to do the job. "This is certainly a £100,000-a-month campaign, to make it very effective."
This would buy a media-relations campaign, online reputation management and the public-affairs team "working with you on a governmental level".
The country should stress its position as an emerging market, he suggested. "To the Western world it's a developing market so you can always have the message that: 'We are changing with the times – we are emerging, learning as a nation and growing'," he said.
He added: "Britain has this sort of moral ethic it thinks it can impose upon the world still because of our colonial background and the Commonwealth. We forget that 100 years ago we had kids working in cotton mills here."
Asked whether the firm would be prepared to work for the Azimov Group without knowing the identity of the campaign's ultimate funders, Mr Wilson said: "If the media asks us who your [our] client is, there has to be an audit trail." But a few seconds later also said: "In our work for Belarus, nobody knows who paid us."
Lord Bell was provided with details last Friday morning of the above. He responded yesterday via his lawyers, Carter Ruck, attacking the Bureau. Lord Bell said: "The conduct of the Bureau of Investigative Journalism does not remotely constitute responsible journalism. It is an attempt by unethical, deception to manufacture a story where none exists."
A spokeswoman for the Prime Minister said: "It is simply not true that Bell Pottinger or indeed any other lobbying company has any influence on government policy."
Downing Street sources said that the Dyson company's concerns had been raised with the Chinese premier, that it was a legitimate matter to raise and that they were unaware of Bell Pottinger's involvement.
Mr Dyson did not comment last night.
* Caught on camera: top lobbyists boasting how they influence the PM
* The Sting: The fake 'Asimov Group' meets Bell Pottinger
* The Transcript: 'David Cameron raised it with the Chinese Prime Minister'
* We wrote Sri Lankan President's civil war speech, say lobbyists
* Vicious dictatorship which Bell Pottinger was prepared to do business with
* Oliver Wright: Vested interests are entitled to argue their case, but it must be in the open
* Andrew Grice: Plenty of talk about cracking down on lobbying – but still there's no action
* Leading article: Evidence of a lobbying industry out of control

Join our commenting forum
Join thought-provoking conversations, follow other Independent readers and see their replies