Chancellor George Osborne warned that 'mad' Help to Buy scheme could drive up house prices
But ministers insist rules over £12bn mortgage guarantees would ensure only 'responsible lending'
Andrew Grice
Wednesday 24 July 2013 11:21 Comments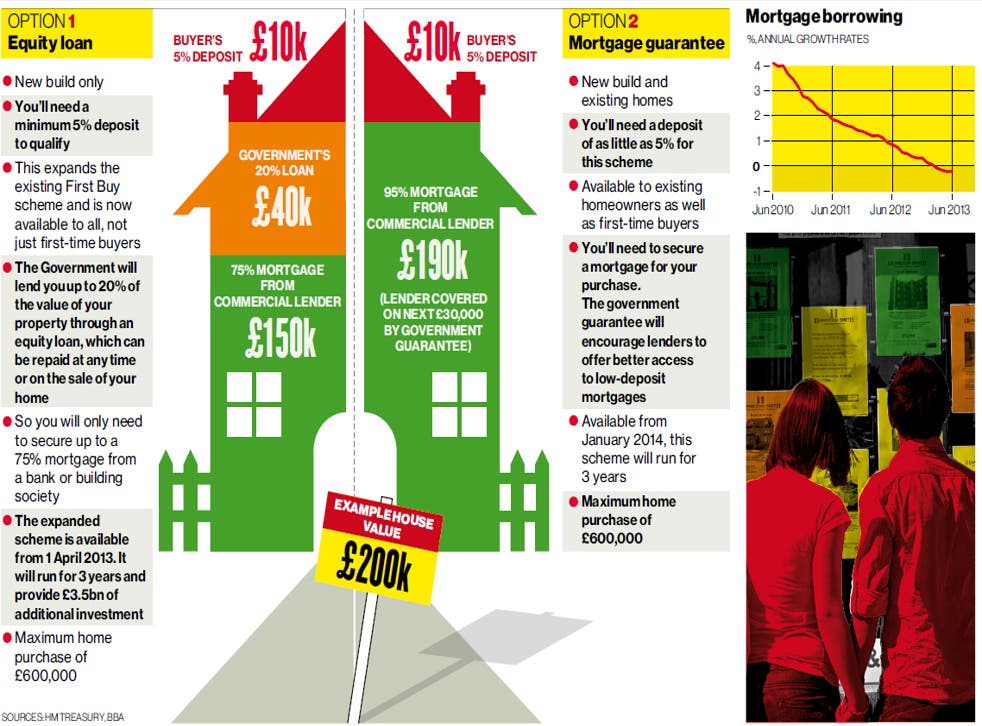 George Osborne was warned today that his flagship scheme to revive the housing market was "mad" because it could drive up house prices and recreate a dangerous property bubble.
Click image to enlarge graphic
But ministers insisted the £12bn of mortgage guarantees under their Help to Buy scheme, available from next January, would not repeat the mistakes which sparked the financial crisis because the rules would ensure only "responsible lending".
In April, a loan scheme was extended from first-time to all buyers, who need only a 5 per cent deposit, with 20 per cent coming from a government loan and a 75 per cent mortgage from a bank or building society. Almost 7,000 reservations of new build homes through the scheme were made in its first four months, boosting the market. The British Bankers' Association said the number of mortgage approvals for house purchases rose to 37,278 in June, up from 36,290 a month earlier to a 17-month high.
On the day Mr Osborne unveiled his plans to underwrite £130bn of mortgage lending, the Institute of Directors (IoD) rang the alarm bell. Graeme Leach, its chief economist, said it would be "difficult politically" for the Government to phase out mortgage subsidies in three years' time as the Treasury promises. He said: "The housing market needs help to supply, not help to buy, and the extension of this scheme is very dangerous. Government guarantees will not increase the supply of homes, but they will drive up prices at a time when it seems likely that house prices are already over-valued. There is a real risk that the housing market will become dependent on the underwriting by government. The world must have gone mad for us to now be discussing endless taxpayer guarantees for mortgages."
The Chancellor's allies dismissed the IoD's criticism as "hysterical" and "publicity-seeking." But it echoed previous warnings about the possible impact on house prices by Lord King, the recently-departed Governor of the Bank of England, the Office for Budgetary Responsibility and the International Monetary Fund. Lord King said the scheme was "too close for comfort" to a general guarantee for mortgages.
Paul Smee, director general of the Council of Mortgage Lenders, said the market is now "open for business" and government support had created more favourable conditions, but insisted it would not move from "famine to feast in one easy step." However, he called for "a clear exit strategy from the scheme so at the end of its three-year life, we don't see a drought coming on after a period where there is much activity."
The Treasury announced yesterday that buyers would have to verify their income and would not be able to "self-certify" as in the past. Buyers would not be helped if their credit history does not meet the Financial Conduct Authority's standards, so anyone with a county court judgment of more than £500 against them in the past three years would be barred. So would foreign buyers with no credit history in Britain, and borrowers could have no interest a property anywhere else in the world. People will not be able to use the scheme to buy a second home and it applies only to properties worth up to £600,000.
After a breakfast meeting with the Chancellor at 11 Downing Street to discuss the January launch, Mark Clare, chief executive of Barratt Housing, said that the number of homes Barratt is building is already up "over 20 per cent" on two years ago, due to the Help to Buy scheme. Pete Redfern, chief executive of Taylor Wimpey believed the second phase will "benefit the whole market, particularly existing homeowners who want to move up the housing ladder but have been unable to do so".
Mr Osborne said: "Help to Buy is about getting behind those who aspire to own a home. The mortgage guarantee will support an increase in high loan-to-value mortgages for people who can't afford large deposits, and it will also boost housebuilding."
Register for free to continue reading
Registration is a free and easy way to support our truly independent journalism
By registering, you will also enjoy limited access to Premium articles, exclusive newsletters, commenting, and virtual events with our leading journalists
Already have an account? sign in
Join our new commenting forum
Join thought-provoking conversations, follow other Independent readers and see their replies