Chilcot inquiry delay: MPs tell Sir John to publish findings into Iraq War now or quit
The investigation into the 2003 Iraq conflict completed its hearings in 2011, but has been beset by delays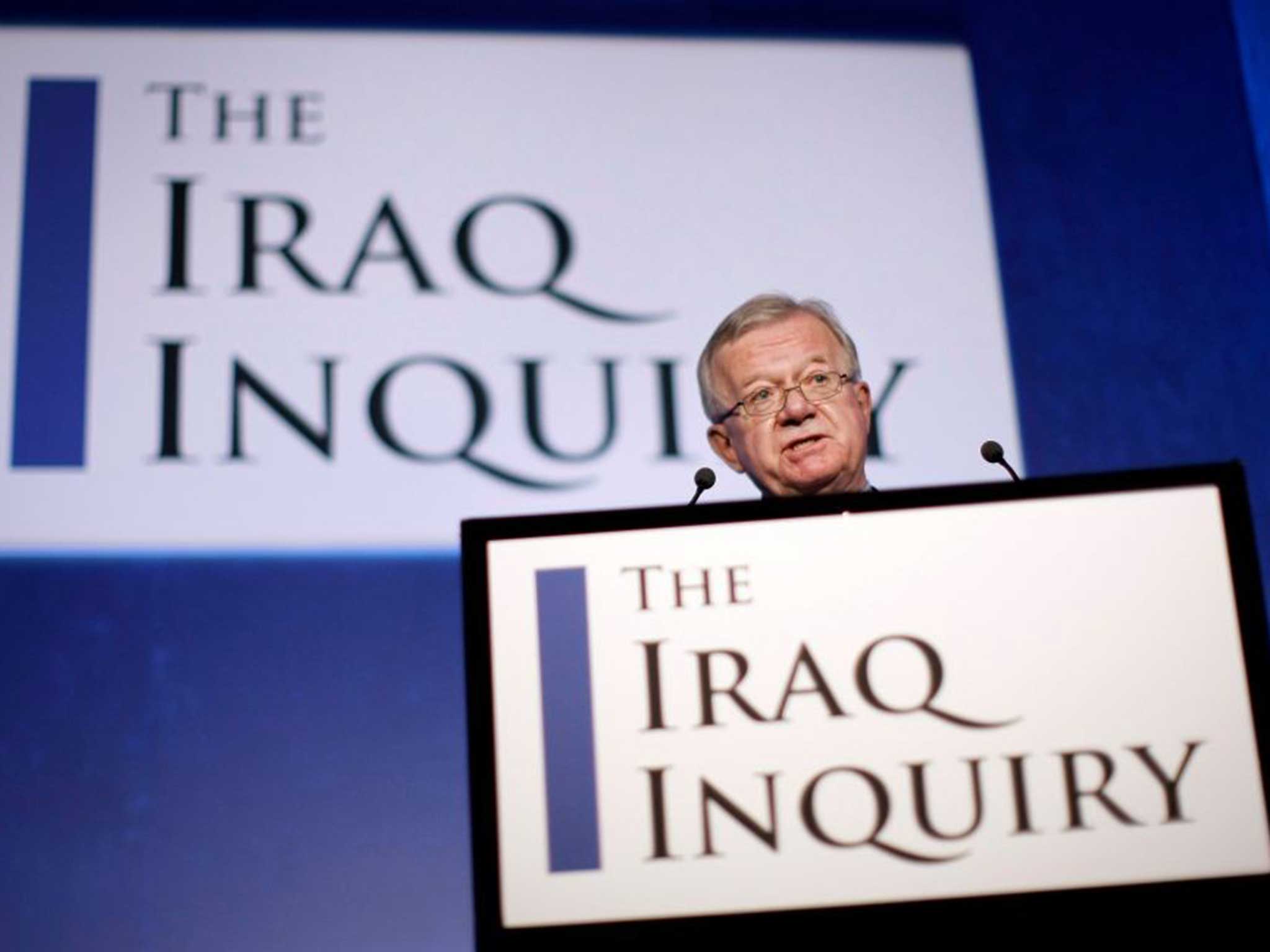 Sir John Chilcot is under mounting political pressure to bring his six-year investigation into the Iraq war to a close, after he revealed that new lines of inquiry could delay his findings for another year.
David Cameron rebuked the former civil servant for the latest delay, warning that he was "fast losing patience" with the process.
Conservative MPs encouraged Sir John to impose a deadline on himself, or to step down to allow the final stages of the inquiry to be managed by someone else.
David Davis, the former shadow Home Secretary, said: "This is agonising for the families who lost loved ones. They will feel utterly exasperated. The purpose is to learn lessons, not write an academic treatise. Since the Iraq war, we have had Libya, Syria and Iraq again and we still don't understand the mistakes we made in 2003." He said Mr Cameron should offer the Chilcot team extra resources to accelerate the process.
The investigation into the 2003 invasion, which claimed the lives of 179 British troops and almost 200,000 Iraqis, has already cost £10m.
The Iraq War: A timeline
Show all 16
Set up in 2009, it completed its hearings in 2011, but has since been dogged by delays – including a dispute over whether memos between former Prime Minister Tony Blair and former US President George W Bush could be published.
In a letter to Mr Cameron delivered on Monday, Sir John said he could not yet give "a realistic timetable for completion" of the report. He explained that the latest setback was caused by the process in which people set to be criticised by his report are given a chance to respond.
"In a number of cases they have opened up new issues or referred to material that was not part of the evidence submitted to the inquiry, which we are considering with care," he said. He insisted his team would complete its task as quickly as possible.
It is understood that about 40 politicians, military figures and civil servants face criticism. Their submissions could mean more official documents need to be declassified. One source close to the inquiry said this could delay publication until as late as May 2016. Mr Cameron, repling to Sir John, said he was "disappointed" by the absence of a timetable.
He added: "Since the establishment of the inquiry nearly six years ago, the British public – in particular those who served in Iraq or lost loved ones in the conflict – have been awaiting the results of your work."
He continued: "They, and I, had hoped for publication of your report by now, and are fast losing patience."
The Prime Minister's strong language was seen as a final warning to Sir John. But allies said Mr Cameron was unlikely to seek to remove him because that would undermine the inquiry's independence.
George Osborne, standing in for Mr Cameron in his new role as Deputy Prime Minister at Prime Minister's Questions, said: "It has been a long time coming and people I think are running out of patience, they want to see that report… It is independent but I think it should get on with it."
Tory MPs demanded government action to bring the process to an end. In a letter to Mr Cameron, Jake Berry, MP for Rossendale & Darwen, cited a report in The Independent on Sunday about the latest delay. "This will mean that the Iraq inquiry will have taken longer to conclude than the Iraq war itself," he said. He urged the Prime Minister to impose a ban on anyone likely to be criticised by the Chilcot report receiving an honour or a public appointment.
Mr Berry said: "If Chilcot cannot do the job, he should think about his own position. He should now set a target date."
Nadhim Zahawi, a Tory member of the Foreign Affairs Select Committee, said it should recall Sir John to explain the latest delay. "It beggars belief," he said. "He has got to get this done."
The issue was raised at Prime Minister's Questions by Angus Robertson, leader of the Scottish National Party at Westminster. He asked Mr Osborne: "Do you feel that you have no moral or political responsibility to get to the bottom of the reasons why we went into this catastrophic war in the first place?"
Later, Mr Robertson said: "The Iraq war was a foreign policy disaster and the ramifications are still being felt today... Answers are long overdue, and the continued delays to the publication of this report are a democratic outrage."
Mr Cameron told Sir John: "The Civil Service continues to be under an instruction from me to provide every assistance to you, and I have asked the Cabinet Secretary [Sir Jeremy Heywood] to meet with you as soon as possible to discuss this."
Mr Blair has strongly denied that he is responsible for the hold-up, after agreement was reached following a long wrangle involving London and Washington over the release of letters and transcripts of his conversations with Mr Bush.
Although Mr Blair is widely expected to be criticised, friends insist he wants to see the report published as soon as possible so he can draw a line under a controversy that has dogged him ever since.
Timeline: Four years of delays
28 May 2009: Last British combat troops leave Iraq.
15 June 2009: Gordon Brown, then Prime Minister, announces Sir John Chilcot will lead an inquiry to "learn the lessons" of the Iraq war.
24 November 2009: Inquiry holds its first public hearing.
2 February 2011: Final public hearing is held.
12 May 2011: Sir John says that his report will be published, at the earliest, in the autumn of 2011.
16 November 2011: Inquiry announces it cannot publish report before summer 2012 if it is to "do justice" to the complexities involved.
16 July 2012: Sir John says that he cannot report before mid-2013.
6 November 2013: Inquiry announces it has stalled thanks to an impasse over the release of key documents, including exchanges between former Prime Minister Tony Blair and ex-President George W Bush.
29 May 2014: It is decided that the "gist" of exchanges between Mr Blair and Mr Bush will be published, but that the full transcripts will remain secret.
16 October 2014: David Cameron says he hopes the report will be published before the 2015 general election.
21 January 2015: Sir John confirms it will not be published before the general election.
Join our commenting forum
Join thought-provoking conversations, follow other Independent readers and see their replies