Chilcot Report: Parents of major killed in Iraq say Tony Blair must face legal action
A leader who sends a country's soldiers to fight unnecessarily must face 'consequences ... because the consequences for the people they send is that some of them die,' father says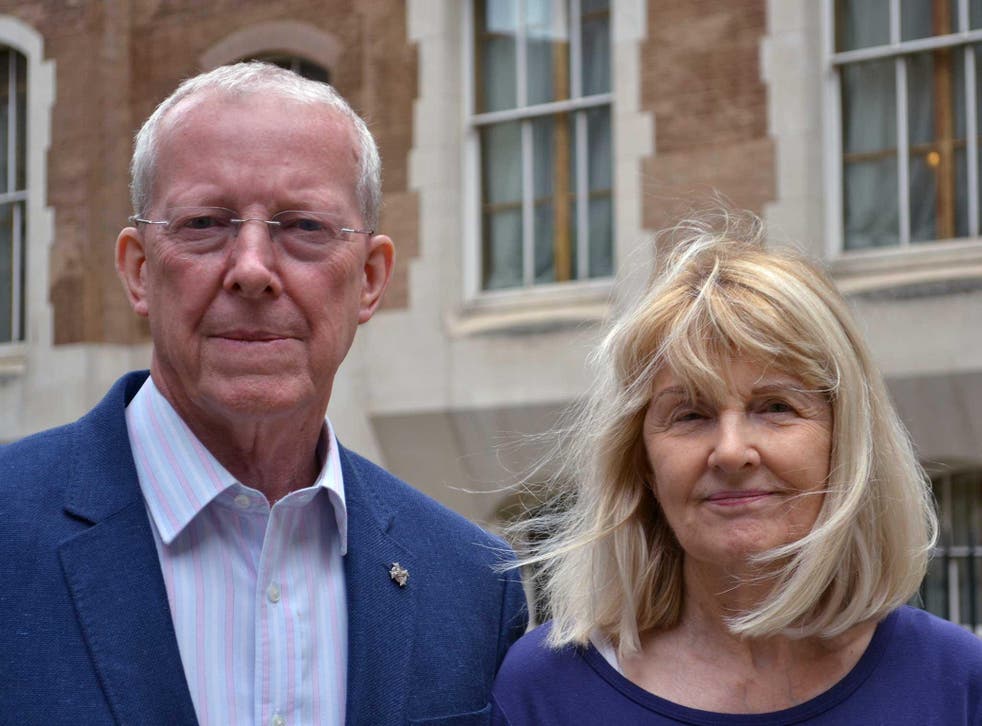 The parents of the 95th British serviceman to be killed in Iraq have said there would be "something terribly wrong with our political process" if the Chilcot Report did not produce grounds for the families of dead soldiers to take legal action over the Iraq war.
Roger and Maureen Bacon lost their son Matthew, 34, a major in the Intelligence Corps, when his Snatch Land Rover was hit by an improvised explosive device (IED) in Basra on 11 September 2005.
Speaking to The Independent hours before the long-awaited publication of Sir John Chilcot's report on the Iraq War, Mr and Mrs Bacon accused Tony Blair of betraying their son and misleading Britain into a war that was "a total and utter catastrophe".
However the former Prime Minister is expected to escape condemnation in the report, although Sir John revealed on the eve of the report's publication that there were "more than a few" decisions which would be criticised.
There is already a growing backlash against the anticipated findings of the Chilcot Report, with Conservative commentator Peter Oborne arguing that "if Chilcot fails to nail Blair's lies, it's final proof our democracy is broken".
And Mr Bacon, a retired police officer, said there had to be "consequences" for leaders who sent soldiers to war unnecessarily.
"Because the consequences for the people they send is that some of them die doing the job they were told to do," he said.
As a result of the Chilcot Report, he added, "there has to be a basis for some kind of [legal] action, to ensure this never happens again. If not, I would say there is something terribly wrong with the political process."
He added that the British and American intervention in Iraq had been "a total and utter catastrophe that was completely unnecessary".
After Major Bacon died, Mr Bacon found himself thrust into the role of an unofficial spokesman for some of the families of the 179 service personnel who died in Iraq.
He was also awarded the British Empire Medal in the 2016 New Year Honours list for his work as the founder chairman of the Bereaved Families Support Group of the Armed Forces charity, SSAFA.
He revealed that he and his wife had been highly sceptical about the grounds for war right from the start. In February 2003 Mrs Bacon, a retired primary school teacher, had even marched through London along with a million others to voice her opposition to military action.
"It was my quiet protest," she said. "There were a lot of people from military families there. The US wanted us to go in, and it was Blair who dragged us in. We were absolutely, completely misled by Tony Blair."
She added that when she told her son she was going on the anti-war march, "he just said 'If that's what you want to do, mum, that's fine".
Mr Bacon explained: "Most soldiers would assume that if their senior officers told them 'You are going to be doing this' it would be the right thing to do – that the whole campaign was the right thing to do, because the Government wouldn't do it otherwise."
Which meant, Mr Bacon said: "From our point of view, Matthew was betrayed. Because the full facts weren't there. Blair was the one who persuaded Parliament.
"We were misled into believing that there were weapons of mass destruction and that the intelligence showed we needed to do something about it."
The most iconic images from the war in Iraq

Show all 20
Mr Bacon added that he had been incredulous when he saw Mr Blair tell Parliament that Saddam Hussein had weapons of mass destruction that were deployable with 45 minutes.
"I thought to myself 'really?!' It was part of the argument to make us feel directly threatened by WMD, as if Saddam had something like a Soviet-style intercontinental ballistic missile system.
"I thought to myself that if he really had that kind of sophisticated system, the intelligence on it would be a lot more solid than just a dodgy dossier."
Mr Bacon also accused Mr Blair of delaying military planning and equipment procurement for the war "because he didn't want it to be seen that he was pre-empting any UN resolution, he was manipulating the system".
The result, said Mr Bacon, was that his son died in a Snatch Land Rover with inadequate detection systems to protect against IEDs that could go through the insufficiently armoured vehicle "like a knife through butter".
Kim Sengupta reflects on his time in Iraq ahead of the Chilcot report
Mr Bacon said: "There were 27 incidents in which a serviceman got killed by an IED while travelling in a Snatch Land Rover. The first incident had been in 2004. With Snatch Land Rovers it was like Russian roulette.
"If the IED had been laid on that patrol's route, and if the insurgents had people in place to set it off, then that vehicle was going to get hit."
Mr and Mrs Bacon said they would wait until they had seen the contents of the Chilcot Report before deciding precisely what legal action they and other bereaved relatives might take.
But when asked what he hoped the Chilcot Report would tell them, Mr Bacon replied: "It's simple really – the truth as to why Matthew died.
"It was completely unnecessary."
Tony Blair responds to war criminal claims with astonishing attack on Jeremy Corbyn
Last March Mr and Mrs Bacon travelled with a BBC Panorama crew to Basra, to see where the spot where their "always smiling, always joking" son died.
"We wanted to see for ourselves why Matthew lost his life," said Mrs Bacon. "You try to make sense of it all … but you don't succeed.
"It doesn't get better. It gets worse. You don't get over it. It doesn't work that way when you have lost your child.
"You make your way through the fog as best you can. Because Matthew wouldn't have wanted us to mope."
Mr Blair, she said, "will be able to go back to his family, but 179 families will live the rest of their lives without their sons or daughters. And then there are all those who were injured, and the hundreds of thousands of Iraqis who died. And after all this time, Iraq is still in a dreadful state."
Mr Blair, she said, had declined to meet with them and other bereaved families.
But she had gone to the Iraq inquiry to see him give evidence.
"He acted his way through," said Mrs Bacon. "It was like going to the theatre and watching a production where everyone had already learned their lines.
"I am sure he will be well rehearsed again when the report comes out. He will pop up abroad again, on a phenomenal salary. What do they call him? Teflon Tony."
Join our new commenting forum
Join thought-provoking conversations, follow other Independent readers and see their replies