Chilcot report on Iraq war 'might be after election'
Inquiry still making fresh requests for release of classified government papers
Oliver Wright
Saturday 13 September 2014 21:49 Comments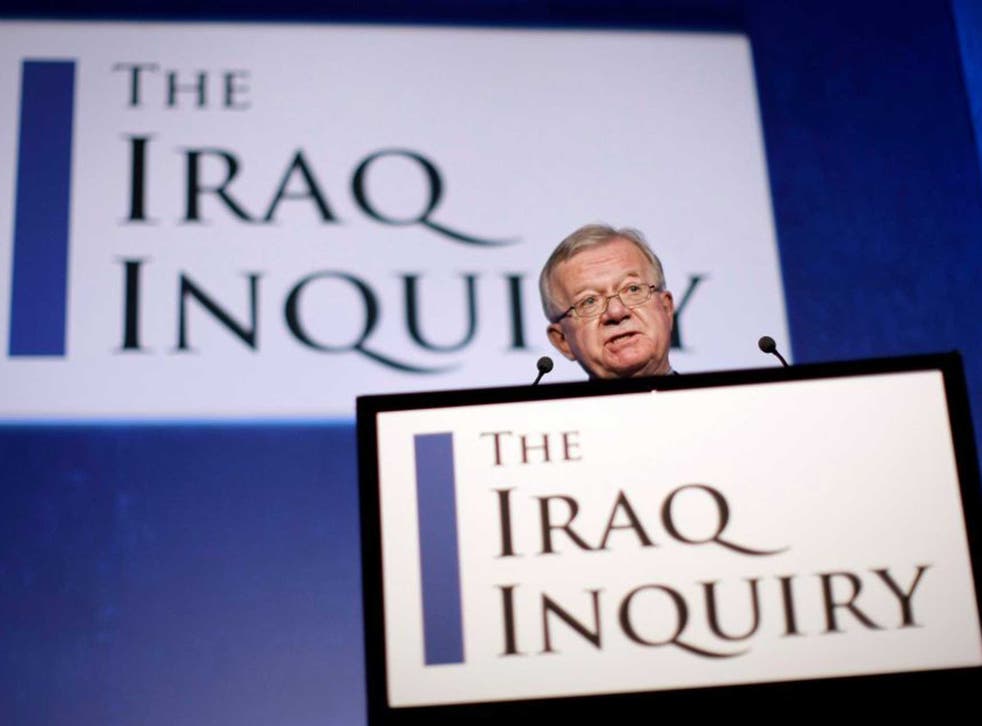 The Chilcot inquiry into the Iraq war is still making fresh requests for the release of classified government papers, suggesting that its report is unlikely to be published before the general election.
Government sources say Sir John Chilcot and his team are still filing a "steady stream" of requests asking civil servants to declassify documents that he wants to quote in his report – meaning it is still being written.
So far the inquiry has cost more than £9m including £1.5m in the last financial year, even though it was not sitting. Senior politicians and officials fear it will not be published before December at the earliest and warn that if it is not ready by the end of February it may have to be delayed until after the election.
A spokesman for the inquiry confirmed yesterday that the process of Maxwellisation, whereby Sir John will warn those he intends to criticise, has not started. That process is expected to take at least two months.
Civil servants had believed the report was close to being signed off and published at the end of May when Sir John struck a deal with Sir Jeremy Heywood, the Cabinet Secretary, to allow some cabinet papers and the "gist" of Tony Blair's conversations with George W Bush before the war to be published.
But, since then, insiders say that Sir John appears not to have finished writing the report as he is still issuing requests to clear papers for publication. One senior source suggested the inquiry chairman may also be having to balance the views of different members of his panel which may be contributing to the delay.
A spokesman for the inquiry said: "Maxwellisation has not recommenced as yet," and referred to evidence given by Sir Jeremy to the Public Administration Select Committee last Monday.
There, Sir Jeremy said: "There has been a delay of sorts as we processed tens of thousands of requests for declassification of very complicated and sensitive documents. It is a very difficult thing. The controversy around this continues today. It is very important that the whole story is told.
"We have tried our level best to break through normal conventions and the legal requirements and the international relations and the nine different categories that the original protocols suggested might be a reason for not publishing material – we have had to work through all of that in good faith as fast as we possibly can to try to make sure the whole story is laid bare."
"I believe John Chilcot is happy on where we have got to on that point. I am absolutely confident that the finished report will be as transparent as it needs to be."
Register for free to continue reading
Registration is a free and easy way to support our truly independent journalism
By registering, you will also enjoy limited access to Premium articles, exclusive newsletters, commenting, and virtual events with our leading journalists
Already have an account? sign in
Join our new commenting forum
Join thought-provoking conversations, follow other Independent readers and see their replies