Church debate: Who'd be a bishop?
The General Synod debates women bishops again today. While they make up their minds, John Walsh weighs the palaces and puce robes against the political powerlessness
Church debate: Who'd be a bishop?

Show all 3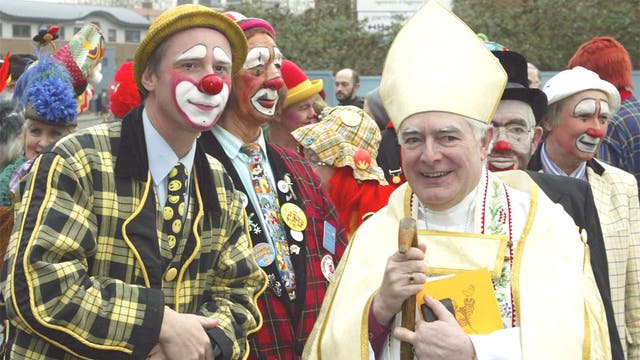 Olympics and Diamond Jubilee apart, 2012 may be the year that female bishops are at last introduced to the Church of England. The National Synod doesn't in fact vote until July to approve the legislation that will allow women to wear the episcopal purple; but the battle between traditionalists and reformers is already being waged from day to day. On Monday, the Right Reverend Peter Price, Bishop of Bath and Wells, suggested that a "No" vote for women bishops might plunge his entire organisation into a state of anaphylactic shock: "[If the vote doesn't succeed] it is extremely difficult to see how we will proceed without going through a very substantial period of shock."
Yes but one can't help asking: why would a woman, or anyone else, want to be a Church of England bishop? What's the attraction? Yes, you wear fancy puce robes, the headgear and accessories – mitre, crozier and ring – and (provided you're a diocesan bishop rather than a suffragan) you get to live in a palace. But have you seen the hard times bishops have endured lately?
Last month, Dr John Sentamu, Archbishop of York, the nation's top bishop after Canterbury, protested (mildly) that for the Government to allow same-sex "marriage" in British law would be to overrule the historical (and biblical) concept of marriage; in retaliation, furious demonstrators chanted songs and waved placards outside York Minster, and the Uganda-born Sentamu received, according to the police, "abusive and threatening emails of a racist nature".
It's not, of course, the first time that bishops and homophobia have been bracketed in the same sentence. Last summer the Church of England published a legal clarification that gay clergymen could in theory become bishops – but only if they promise that they're not having sex with anyone and have no plans to indulge in any in the future. Would-be bishops have to suffer the further indignity of being interviewed about any gay hanky-panky in their past, and will be encouraged to repent for it – or they won't get the job.
There was, of course, no legal ruling about whether lesbian clergywomen would have to make the same undertaking. But presumably it will come if women bishops are introduced in July.
You think that, because bishops sit in the House of Lords, they have political clout? Yes and, then again, no. Of the UK's 44 diocesan bishes, only 26 are allowed to sit on the red leather. The government is trying to cut the number to 12. They're known as The Lords Spiritual and have to leave the Lords when they retire from bishop duties, at 70.
While there, they have two functions: to lead people in prayer and to look to the well-being of the most vulnerable. They certainly do the former: one of them leads the prayers in the Lords Chamber every day. As to the latter, a group of five bishops this week helped defeat the Government's plans to cap benefits given to families. They did it from high-minded motives – to ensure the vulnerable young don't suffer from spending cuts – but protests broke out about their presence in the Lords, as an unelected "Christian party".
"People who sit in Parliament shouldn't be there as a result of holding another position," said a spokesman for Unlock Democracy. "That particularly applies to religious groupings." To dismay them further, Lord Carey, the former Archbishop of Canterbury, piled in and said they were wrong, and couldn't "lay claim to the moral high ground".
Trying to decide the exact location of the moral high ground is fraught with problems. In October, Richard Chartres, the Bishop of London, was embroiled in the Occupy protests around St Paul's. Canon Giles Fraser supported the demonstrators. The Bishop thought the best outcome was to have the demonstrators confront representatives of the banking sector, provided they disbanded first. He said he was thinking of asking police to help evict them – and Canon Fraser promptly resigned, leaving the cathedral's top brass in disarray and London's top clergyman looking like an autocratic bully.
And if you think bishops can take long holidays, think again. Poor Bishop Chartres took a two-month sabbatical in 2006 – his first in 33 years – on a cruise ship, lecturing on theology. For this he was crucified by high-minded newspapers, who said he should be attending to his Easter duties.
To sum up, then: the job of bishop is to preach God's word in a comprehensively secular, increasingly atheistic society, to enjoy decreasing political power in the Lords, to be bitched at for having political opinions, to be accused of homophobia, to be forced to relinquish the Wrong Kind of sexual activity, to never be allowed a holiday and to have one's dignity punctured by the media for the slightest transgression. Are you quite sure it's the right job for you?
Join our new commenting forum
Join thought-provoking conversations, follow other Independent readers and see their replies