The food poverty scandal that shames Britain: Nearly 1m people rely on handouts to eat – and benefit reforms may be to blame
600 religious leaders from all denominations combine to condemn 163 per cent increase in food bank use in past year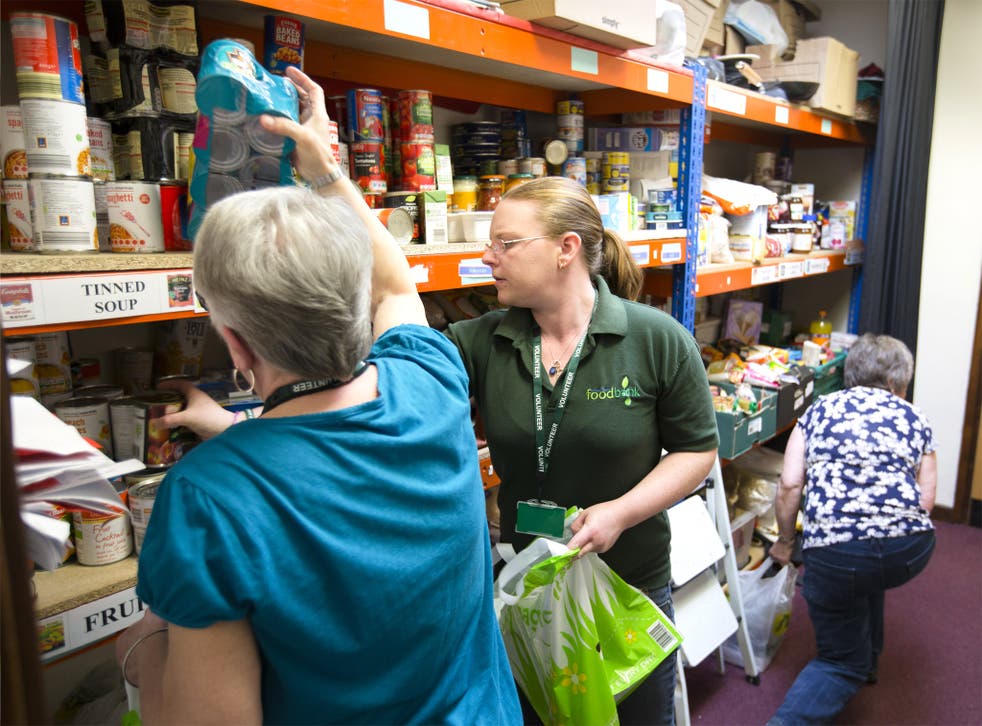 The shocking scale of food poverty in Britain is exposed today by new figures showing record numbers of people are reliant on handouts because of punitive benefits sanctions.
More than 900,000 people were given emergency food in the past year, an increase of 163 per cent, according to figures from the Trussell Trust, the biggest food bank charity. The explosion in demand has coincided with an increase in those seeking help following a benefit sanction.
A coalition of anti-poverty charities, including the Trussell Trust, claims the figures show that the UK is breaching international law by violating the human right to food.
Separately, 600 church leaders from all major denominations, including 36 Anglican bishops, are writing to the Government today, calling for urgent action to address hunger among the poor.
The letter will say that Lent has been "a time of sorrowful reflection" on the huge rise of those using food banks. It marks the biggest Christian intervention on UK food poverty in modern times.
In its most hard-hitting report to date, the Trussell Trust said the Government's use of sanctions was "increasingly harsh" and that half of those referred to food banks in 2013-14 were as a result of benefit delays or changes. Eight out of 10 of their food banks saw more cases relating to benefit sanctions over the past year. Tougher punishments for those on jobseeker's allowance were introduced by the Coalition last October, raising the minimum sanction from one to four weeks. Benefits can now be stopped for up to three years.
In total, 913,138 people received three days' emergency food from Trussell Trust food banks in 2013-14, compared with 346,992 in 2012-13

Static incomes, rising living costs, low pay, under-employment and other problems related to welfare reform also contributed to the increased demand, the charity said.
The Trussell Trust chairman, Chris Mould, said the figures were " shocking in 21st century Britain". He added: "Perhaps most worrying of all, this figure is just the tip of the iceberg of UK food poverty. It doesn't include those helped by other emergency food providers, those living in towns where there is no food bank, people who are too ashamed to seek help or the large number of people who are only just coping by eating less and buying cheap food."
The latest Trussell Trust figures show that demand has increased in well-established food banks, refuting Government claims that the opening of new food banks has fuelled demand. Food banks that have been open for three years or more saw  an average increase of 51 per cent in the numbers helped in the past year compared with 2012-13.
The shadow Work and Pensions Secretary, Rachel Reeves, said: " Food banks have become a shameful symbol of David Cameron's Government's failure to tackle the cost-of-living crisis. Ministers must take urgent action to fix the broken system in which benefit delays or changes have led to 50 per cent of all referrals to food banks."
More than 20 charities including the Trussell Trust, the Child Poverty Action Group and Church Action on Poverty have signed a statement accusing the UK of violating the basic right to food.
"It is our opinion that the UK has violated the human right to food and breached international law.
"This state of affairs is both avoidable and unnecessary. We call on the Government to take immediate action to ensure that the no one in the UK is denied their most basic right to sufficient and adequate food," their common statement says.
A public vigil will be held opposite Parliament at 6pm today by members of the End Hunger Fast campaign. Rabbi Laura Janner-Klausner, Senior Rabbi at Movement for Reform Judaism, will give the first public support of the Jewish community for it.
The Bishop of Oxford will be among those presenting a letter from religious leaders protesting against hunger to David Cameron's constituency office in Witney.
Keith Hebden, spokesman for End Hunger Fast and Mansfield parish priest said: "With benefit changes, poverty wages and failing food markets leaving more than 900,000 needing food aid, Britain has become the hungry man of Europe.
"The Government ignores this call at its peril. I have never before seen religious leaders so united on an issue and I hope our collective words and prayers reach the ears of politicians who have the power to act."
Leaders of the Methodist Church, Baptist Union of Great Britain and United Reformed Church said the figures should spark "shock and anger". Methodist president the Rev Ruth Gee said: "Hunger should not and need not be a problem in a rich country like the UK – and yet clearly it is."
A Department for Work and Pensions spokesman said: "We're spending £94bn a year on working age benefits so that the welfare system provides a safety net to millions of people who are on low incomes or unemployed so they can meet their basic needs.
"Even the Organisation for Economic Co-operation and Development say there are fewer people struggling with their food bills compared with a few years ago, benefit processing times are improving, and even the Trussell Trust's own research recognises the effect their marketing activity has on the growth of their business. The employment rate is the highest it's been for five years, and our reforms will improve the lives of some of the poorest families by promoting work and helping people to lift themselves out of poverty."
Join our new commenting forum
Join thought-provoking conversations, follow other Independent readers and see their replies