Conservative conference: Capitalism failing 'ordinary people' warns Philip Hammond in landmark speech
'Too many people feel that they have lost control, that they are working for the system – but the system isn't working for them'
Rob Merrick
Deputy Political Editor
Monday 01 October 2018 20:22 Comments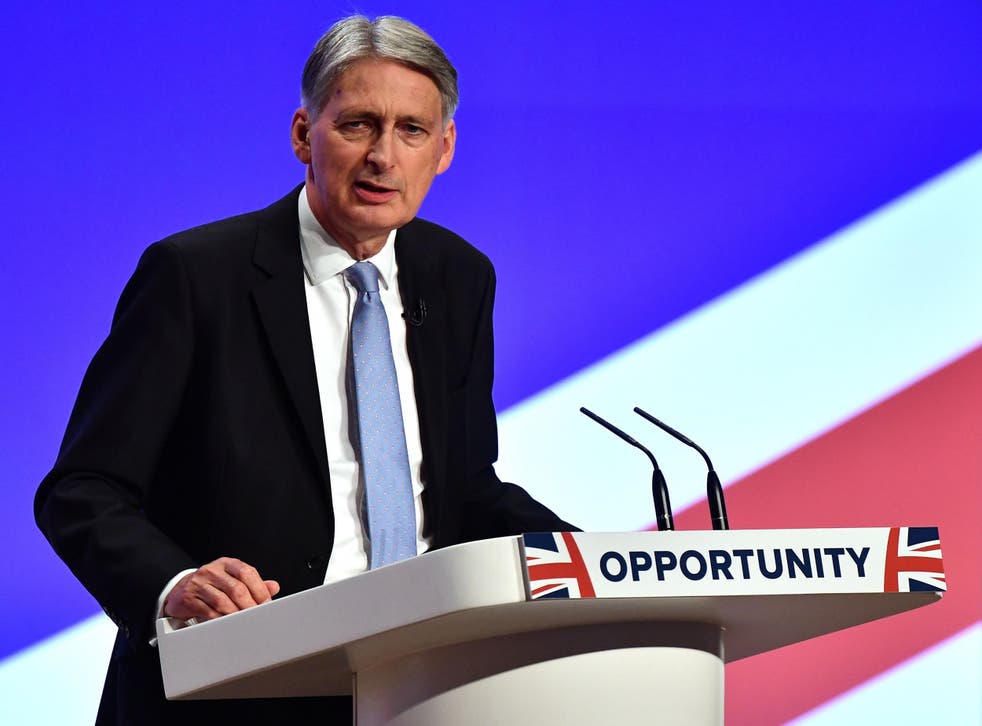 Capitalism is failing "ordinary people" who believe "the system isn't working for them", Philip Hammond has warned the Tory faithful.
In a landmark speech for a Conservative chancellor, Mr Hammond said supporters of free-market economics had to acknowledge it no longer matched "the reality" for many British people.
"Too many people feel that they have lost control, that they are working for the system – but the system isn't working for them," he admitted, in language normally heard from Labour politicians.
Mr Hammond added: "Too many people have experienced years of slow wage growth, too many struggle to make ends meet.
"They feel less secure in their jobs, and have seen the housing market spiral beyond their reach.
"And as they look around them, they feel a growing concern that they are falling behind. And that when they voice those concerns, the political system doesn't seem to hear them."
Mr Hammond told the conference that "our challenge is to ensure that 21st century capitalism delivers for them".
Nevertheless, the speech appeared to reflect Conservative fears that Labour, under Jeremy Corbyn and John McDonnell, have struck a chord with their calls for radical change.
Mr Hammond also won applause from the conference when he urged Tories to stand "foursquare behind the prime minister" to rescue her Chequers plan for Brexit.
The Chancellor rejected claims from both pro and anti-EU Tories that the proposals were dead, after their mauling by the EU – insisting they could still deliver an agreement.
The biggest issues facing UK on leaving EU

Show all 8
"Mr Tusk [the European Council president] says it won't work – but that's what people said about the lightbulb in 1878," he told the Conservative conference. "Our job is to prove him wrong."
The run-up to the Birmingham conference was dominated by pressure on Theresa May from both Tory left and right to accept the Chequers blueprint is doomed.
But Mr Hammond said the priority was ensuring firms could still trade with the EU with "no more delay or bureaucracy than they would crossing the border from England into Wales".
"Our businesses, and the workers whose jobs depend on them, need that friction-free access to continue," he said.
"That is why I share the prime minister's determination to get the Chequers plan agreed."
And he added: "Negotiating and preparing for Brexit is one of the most complex tasks ever undertaken by a peacetime government.
"So, over the next few weeks we must stand together, four-square behind the prime minister, to get the best possible outcome for Britain."
The chancellor also made the bold boast of a "deal dividend" when the UK strikes a satisfactory deal with the EU.
"I'm going to stick my neck out here today and make a prediction to you – that when the prime minister gets a deal agreed, there will be a boost to our economic growth, a "deal dividend."
Vince Cable, the Liberal Democrat leader, poured scorn on the claim, saying: "He is aping Boris Johnson's mendacious claim of some sort of dividend from 2016.
"There is no deal dividend: the government's own impact assessments show our economy is damaged under any form of Brexit. Indeed, the Bank of England has said that the spectre of Brexit has already lowered GDP."
Register for free to continue reading
Registration is a free and easy way to support our truly independent journalism
By registering, you will also enjoy limited access to Premium articles, exclusive newsletters, commenting, and virtual events with our leading journalists
Already have an account? sign in
Join our new commenting forum
Join thought-provoking conversations, follow other Independent readers and see their replies