Conservatives-DUP talks: Unionists 'refused to answer Theresa May's calls for 36 hours'
Discussions halt after Northern Irish party demands £2bn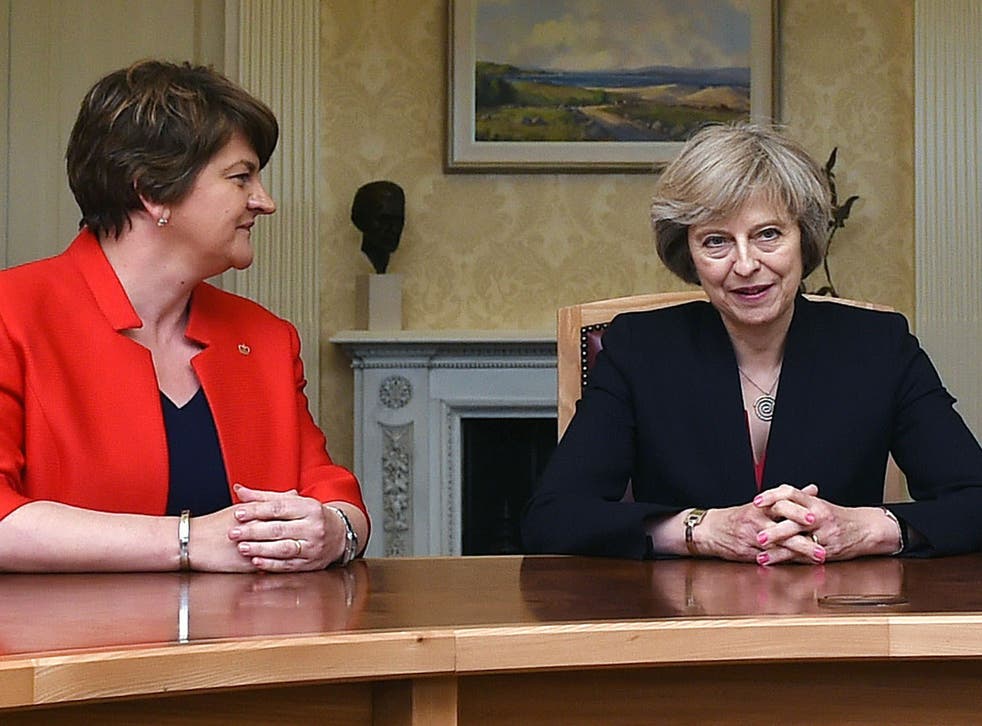 Talks between the Democratic Unionist Party (DUP) and Theresa May reportedly became so tense the Northern Irish party refused to answer the phone to the Prime Minister's advisers for 36 hours.
The DUP has demanded £2bn investment in health and infrastructure in Northern Ireland, with the party warning it cannot not be "taken for granted".
After an upset at the general election in which the Conservative Party lost its Commons majority, Ms May's administration needs the support of the 10 DUP MPs in order to govern.
A "confidence and supply" arrangement between the parties – where DUP politicians would support the Tories on a vote-by-vote basis – is being considered.
Damian Green: DUP coalition is only a 'possibility'
But the negotiations between the parties recently teetered on the brink of collapse as the DUP made its financial demands clear, the Telegraph reported, with the Northern Irish party stopping speaking to Ms May's team for a day and a half.
The DUP is understood to want £1bn pumped into the health service in Northern Ireland and another £1bn into infrastructure projects.
Funding for devolved nations is usually allocated through the Barnett formula, which is designed to keep financial changes proportionate across the UK.
Every £1 spent in Northern Ireland requires an additional £35 to be found for Scotland, England and Wales under the system, meaning the price-tag to the taxpayer of the DUP's demands would far exceed the £2bn figure.
Number 10 declared that a deal had been struck with the DUP 48 hours after the election, but retracted that announcement the next day.
DUP sources have been disparaging about the Conservative Party, saying it lacks "negotiating experience" – damning criticism just days after Brexit talks got underway.
UK news in pictures

Show all 50
Damian Green, the effective "deputy Prime Minister", cast fresh doubt on DUP-Tory negotiations on Wednesday when he said the deal was only a "possibility" and warned: "All talks of this kind take a long time."
The First Secretary of State insisted the talks went "much wider" than just the Northern Ireland party's calls for extra spending and tax breaks.
Ms May's minority government was forced to scrap a host of her most controversial policies in Wednesday's Queen's Speech, junking plans to cut universal school meals for children, introduce a "dementia tax" and expand grammar schools.
Join our new commenting forum
Join thought-provoking conversations, follow other Independent readers and see their replies