Conservative MPs tell Osborne to reverse child benefit cuts
Critics say the cuts are too complicated, a 'tax on aspiration', and will alienate Tory supporters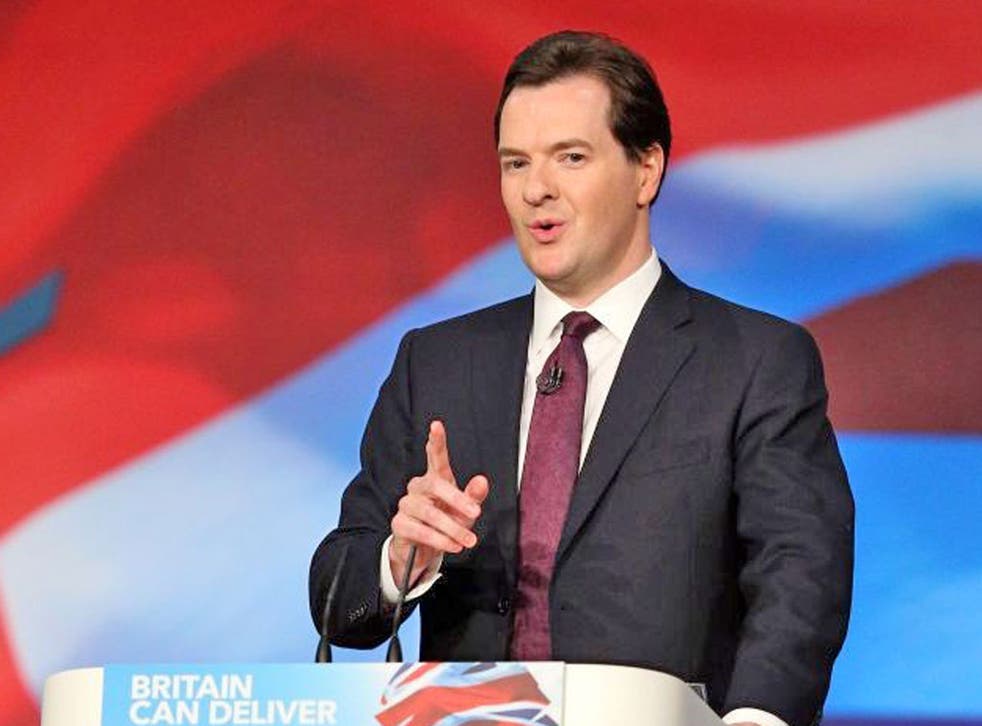 George Osborne faced demands from Conservative MPs today to shelve – or at least delay – plans to remove child benefit payments from middle-class parents from January.
Families with a higher-rate tax-payer will lose up to £1,056 a year if they have one child, £1,752 if they have two and £2,450 if they have three.
The Chancellor is being warned that the policy – condemned by its critics as highly complicated and a "tax on aspiration" – is provoking anger among natural Tory supporters.
Under the moves, families with one parent earning more than £60,000 a year will lose the benefit, which is currently £20.30 a week for the first child and £13.40 for each younger child.
Families with a parent earning between £50,000 and £60,000 will lose some of the money on a sliding scale.
Letters will be sent out next week to 1.2 million households warning them that the change comes into effect in the New Year.
Nearly half of the families affected will have to complete self-assessment forms declaring to HM Revenue and Customs they are no longer entitled to the cash. Several MPs have protested direct to Mr Osborne and David Cameron over the impact that the move – designed to save £2.5bn – will have on middle-class families struggling to make ends meet.
Mark Field, the MP for London and Westminster, warned the Chancellor today there was a "head of steam" among Tories who wanted to reconsider the controversial move.
"The big concern many of us as Conservatives have is that it's a tax on aspiration," he said. "If you are on £40,000 a year, you aspire to earning £50,000 and you think, 'I'm going to be losing this if I have two or three children'."
He claimed the system would create "perverse disincentives" against earning more and could present a bureaucratic "nightmare" when couples separate. Mr Field added: "My sense is it might be delayed – the sensible thing would be at least to begin it at the start of the beginning of the next tax year [April 2013]."
Another MP, who is a ministerial aide, said: "I fear this is about to become the No 1 issue in my constituency. I have lots of people who work hard, want to do well for their children and cannot understand why Conservatives are pushing through this sort of measure."
Mr Osborne originally announced "tough but fair" plans two years ago to remove child benefits from any household with a higher-rate tax payer – just under £44,000 at the time.
He was forced to modify the proposals in the face of uproar among Tory MPs by raising the incomes threshold to £60,000 and introducing a tapered withdrawal of the benefit for earnings between £50,000 and £60,000.
Last night a senior Treasury source said there was "no chance whatsoever" the child benefit plan could be altered. He said: "The policy is going ahead as planned."
An HMRC spokesman said: "Letters explaining the new child benefit rules will be issued in batches from next week, according to plan. There are no delays, and plenty of time for those affected to consider their options and make an informed choice in time for the 7 January rule change."
He added that the HMRC was about the launch a section on its website designed to explain the changes.
Register for free to continue reading
Registration is a free and easy way to support our truly independent journalism
By registering, you will also enjoy limited access to Premium articles, exclusive newsletters, commenting, and virtual events with our leading journalists
Already have an account? sign in
Register for free to continue reading
Registration is a free and easy way to support our truly independent journalism
By registering, you will also enjoy limited access to Premium articles, exclusive newsletters, commenting, and virtual events with our leading journalists
Already have an account? sign in
Join our new commenting forum
Join thought-provoking conversations, follow other Independent readers and see their replies