Controversial Ukip MEP Godfrey Bloom loses party whip after calling women 'sluts' at conference event and hitting television reporter around the head
Bloom's bizarre behaviour overshadowed the first day of Ukip's annual party's conference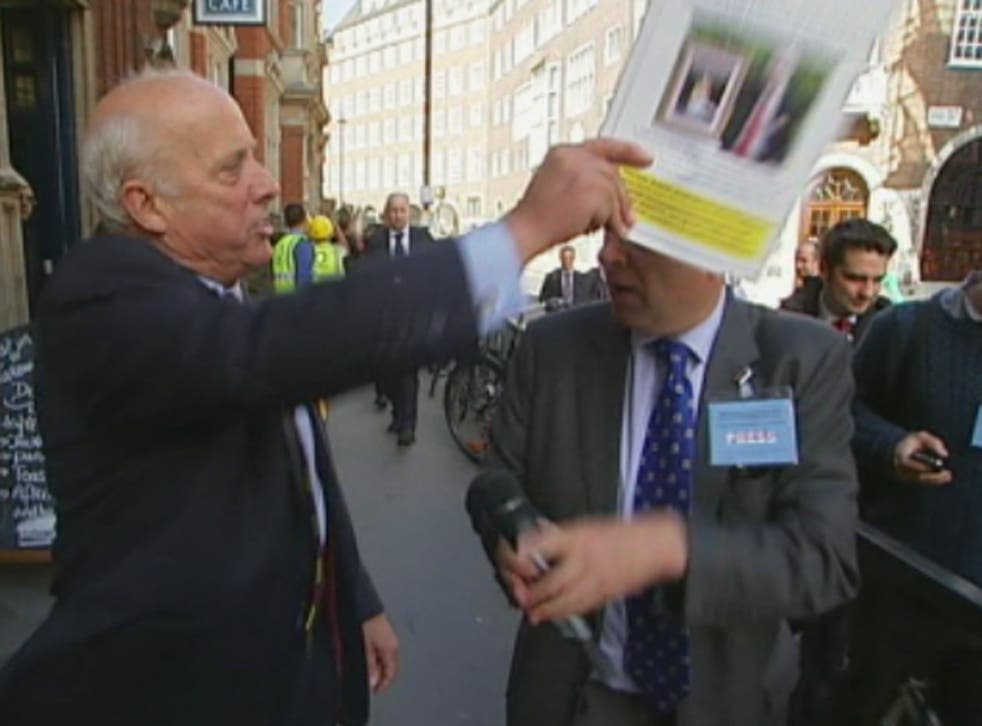 An outspoken Euro-MP has lost the UK Independence Party whip after he jokingly described women as "sluts" and hit a television reporter around the head with a copy of the party's conference agenda.
Godfrey Bloom's bizarre behaviour – which came after the party's leader Nigel Farage admitted controversial comments by senior figures presented "occasional difficulties" – overshadowed the first day of Ukip's annual gathering.
Tonight Mr Farage condemned the latest comments by Mr Bloom, who has created a succession of embarrassing headlines for the party in recent months.
He added: "My opinion is Godfrey has gone beyond the pale. He's a friend of mine and I'm sorry to say it but he has gone beyond the pale and I think we have no option but to remove the whip from him."
Shortly afterwards the party's chairman, Paul Crowther, confirmed he had been stripped of the party ship.
The episode was an unwelcome distraction for Ukip, which had intended to use the London conference to boost its appeal to the voters after a hugely successful year. It has witnessed a dramatic surge of support in parliamentary by-elections and contests for council seats and has now set its sights on winning the largest number of votes in the European Parliament elections next May.
Mr Bloom found himself in hot water with party chiefs after heckling from the sidelines during a fringe event at the conference to discuss the issue of gender quotas.
Referring to the Euro-MP's notorious comment eight years ago that women did not clean often enough behind the fridge, two female speakers light-heartedly discussed their cleaning habits.
Mr Bloom provoked laughter as he responded loudly: "This place is full of sluts."
Confronted by reporters moments later about his aside, he said: "I made a joke and said 'oh well you're all sluts' and everybody laughed, including all the women."
His problems multiplied after he was tackled by Michael Crick, the Channel 4 political correspondent, about the absence of black faces on the front of the party's conference agenda.
Mr Bloom stormed: "What a racist comment is that? How dare you? That's an appalling thing to say. You're picking people out for the colour of their skin, you disgust me."
As he was chased down the road by Mr Crick, he snatched a copy of the booklet out of the broadcaster's hand and hit him around the head with it.
The fracas follows a recent attack by Mr Bloom on the allocation of British aid to countries in "bongo bongo" land and a call for small firms to get the power to sack employees who become pregnant.
In his address to activists, Mr Farage acknowledged that being "the most independent-minded body of men and women" ever seen in British politics "presents occasional difficulties".
He said: "We have some people with overactive Facebook accounts. And we have some who make public pronouncements that I would not always choose myself."
He pointed the finger at Mr Bloom and Stuart Wheeler the party's treasurer, who has suggested women should not be promoted to company boards because they were not as good as men at chess, bridge or poker.
"I had the most blistering row with Godfrey Bloom in a Strasbourg restaurant the other day. He wants to fight for his beliefs and I was saying that we need to stick to the big messages. I don't always agree on policy with Stuart Wheeler either.
"But the essence of our recent success is our ability to push the boundaries of debate and with that, the national debate on many issues."
Mr Farage told the London conference that Ukip was on course to "cause an earthquake" by winning next year's European elections in what he hopes will become a referendum on Britain's membership of the European Union.
He claimed that council elections on the same day could prove even more important by building up concentrations of support that could translate into parliamentary seats in 2015.
His argument was underlined by Ukip's capture of a council seat in Kent from the Conservatives yesterday.
Join our new commenting forum
Join thought-provoking conversations, follow other Independent readers and see their replies