Cornered Cameron rejects inquiry on Hunt
Furious Cameron forced to bow to will of Parliament
Oliver Wright
,
James Cusick
Tuesday 01 May 2012 11:14 Comments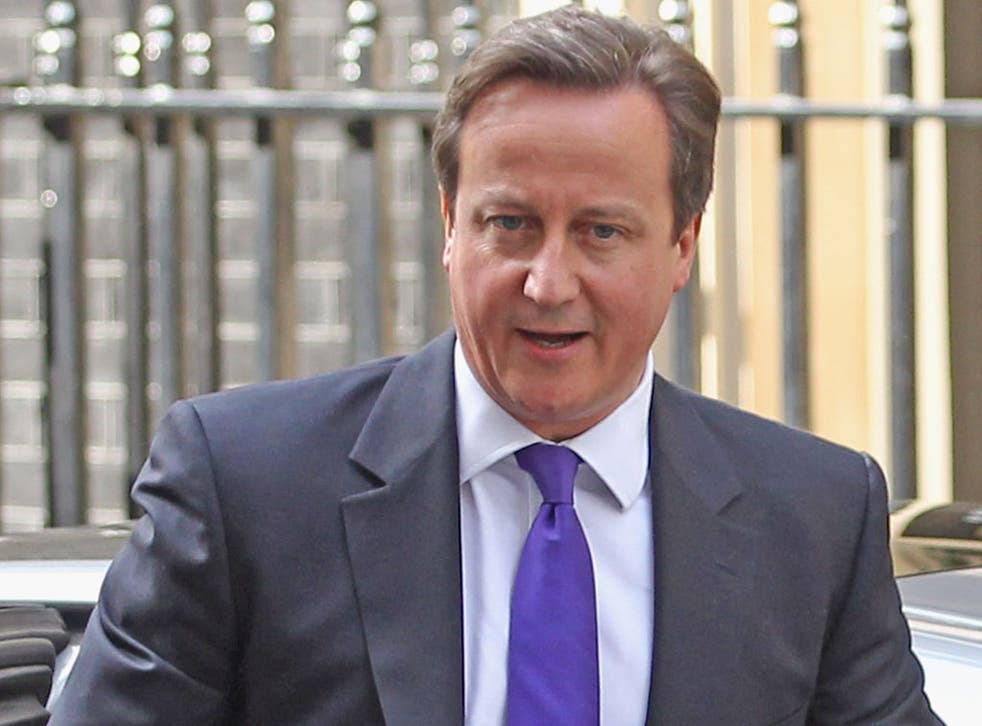 The Prime Minister was dragged to the House of Commons yesterday to face hostile questioning from MPs on why he still refuses to allow an inquiry into whether his Culture Secretary broke ministerial rules over the BSkyB deal.
Downing Street was angered after David Cameron was forced to cancel an election visit to Milton Keynes to be pulled before Parliament. Facing criticism that he was using Lord Justice Leveson's inquiry as a "smokescreen" to avoid a full investigation into the conduct of Jeremy Hunt, an irate Mr Cameron admitted that Lord Leveson did not have the power to adjudicate on breaches of the Ministerial Code.
The Prime Minister declined to act now and said that he would wait until Mr Hunt had given evidence to the inquiry, rather than order his own investigation. Pressure will intensify today as a DCMS report will criticise James Murdoch of failing to provide parliament with a full account of News International's internal knowledge of phone hacking at the News of the World.
Mr Cameron's unscheduled appearance before Parliament – which was sanctioned by the Commons Speaker, John Bercow, who granted an urgent question on the affair to the Labour leader, Ed Miliband – also incensed Tory backbenchers who are already at loggerheads with Mr Bercow.
They were furious at Mr Bercow's intervention which they privately suggested was politically motivated. Mr Cameron and Mr Bercow have long had a fractious relationship. Mr Miliband claimed the Culture Secretary had committed three breaches of the Ministerial Code and the only reason he was still in a job was that Mr Cameron needed the cabinet minister to survive for his own protection. "The Prime Minister is defending the indefensible and he knows it," Mr Miliband said.
"The Culture Secretary has to stay to protect the Prime Minister. The Prime Minister has shown today he is incapable of doing his duty: too close to a powerful few, out of touch with everyone else."
Mr Hunt had told MPs he had published all the exchanges between his department and News Corp but, Mr Miliband said, "he has now admitted that he knew when he gave that answer that there were exchanges he himself authorised between his special adviser and News Corporation". The second accusation was the leaking of "confidential inside information" ahead of a parliamentary statement.
The third alleged breach was over taking responsibility for the action of Adam Smith, the Labour leader said. "The Culture Secretary would have us believe that his special adviser was on a freelance mission. Six months of daily emails, texts, leaks and the leaking of confidential information about what opposing parties were saying.
"Is the Prime Minister really reduced to the News of the World defence: one rogue individual acting alone?"
Mr Cameron had arrived in the chamber to raucous cheers from his backbenchers and in a sideswipe at the Speaker appeared to express surprise at his being called. "Last Wednesday I answered questions on this issue and the Culture Secretary made a full statement but let me set out the position again," he began.
During almost an hour of questioning Mr Cameron attacked Mr Miliband as "weak and wrong". Mr Cameron also took a swipe at his own Business Secretary, Vince Cable, criticised the chair of the Public Accounts Committee, Margaret Hodge, and suggested the veteran Labour MP Dennis Skinner should retire.
Mr Cameron said the reason he had not referred Mr Hunt to his independent adviser on ministerial interests, Sir Alex Allan, was that he felt it was better dealt with by Lord Justice Leveson's inquiry.
He said this had been agreed by the Cabinet Secretary, Jeremy Heywood, and repeated that if any evidence emerged that questioned the actions of Mr Hunt he would take action under the code. "What we have is a judge-led inquiry, witnesses required to give evidence under oath, full access to papers and records, cross-examination by barristers, all live on television. There is nothing this tough or this rigorous that the Civil Service or the independent adviser could provide."
He acknowledged it was not Lord Justice Leveson's role to adjudicate on the code: "That is an issue for me and I will deal with it properly. I will not wait until the end of Leveson to take action if action is needed.
"If new evidence emerges from the Inquiry that the Ministerial Code has been broken, I will either seek the advice of Sir Alex Allan or take action directly, but there was no need for an investigation to duplicate, cut across or possibly pre-empt what Lord Justice Leveson is doing", he said.
The PM's answers – and what is the truth
The question: Did the Permanent Secretary at the Department of Culture agree that Jeremy Hunt's special adviser, Adam Smith, should liaise with News Corp over the BSkyB bid?
Cameron's answer: Mr Cameron was very careful in the way he phrased his response. He said: "The Permanent Secretary of the department approved the approach his department took to the quasi judicial process which included a small number of people acting as contact points with News Corporation as is required in such a process. The Permanent Secretary has stated that he was 'aware and content' for contact to be made between the Culture Secretary's special adviser and News Corp."
What is the truth? Mr Cameron was very careful not to say that the Permanent Secretary "agreed" for Adam Smith to have the role and in the coded world of Whitehall such semantics are important. What Labour suspect is that the Permanent Secretary had deep reservations about Mr Smith's role but was persuaded by Mr Hunt not to kick up a fuss. The reason this matters is that if Mr Hunt did pressure his most senior civil servant to include Mr Smith in the deal it suggests he wanted him to act as a "back channel" to the company and play exactly the role, he now claims, he had no knowledge of.
The question: Ed Miliband referred to a statement by Jeremy Hunt in the Commons last March when he said that "all the exchanges between my department and News Corp are being published". Mr Miliband said emails disclosed by the Leveson Inquiry showed that was inaccurate. He asked: "Will the Prime Minister confirm to the House that this is a breach of para 1.2c that says that ministers must provide full and accurate information to parliament?"
Cameron's answer: "If he (Miliband) had done his research he would have seen that the Secretary of State set out in full the proper answer to the honourable member for Bassetlaw in September 2011." He added: "If you are going to make these accusations, get your facts right."
What is the truth? Mr Cameron is being, at best, disingenuous. He was referring to a written question by John Mann which asked Jeremy Hunt to reveal what contacts a whole host of people in the Culture Department had with News Corp. The standard Whitehall reply came back that this information would cost too much to collect. It did not answer the question that was put, as Mr Cameron implied it did.
Oliver Wright
Register for free to continue reading
Registration is a free and easy way to support our truly independent journalism
By registering, you will also enjoy limited access to Premium articles, exclusive newsletters, commenting, and virtual events with our leading journalists
Already have an account? sign in
Join our new commenting forum
Join thought-provoking conversations, follow other Independent readers and see their replies