'It was not appropriate': Government pulls 'crass' advert telling ballet dancer to retrain in IT
'The government recognises the challenge to the cultural industry,' says Downing Street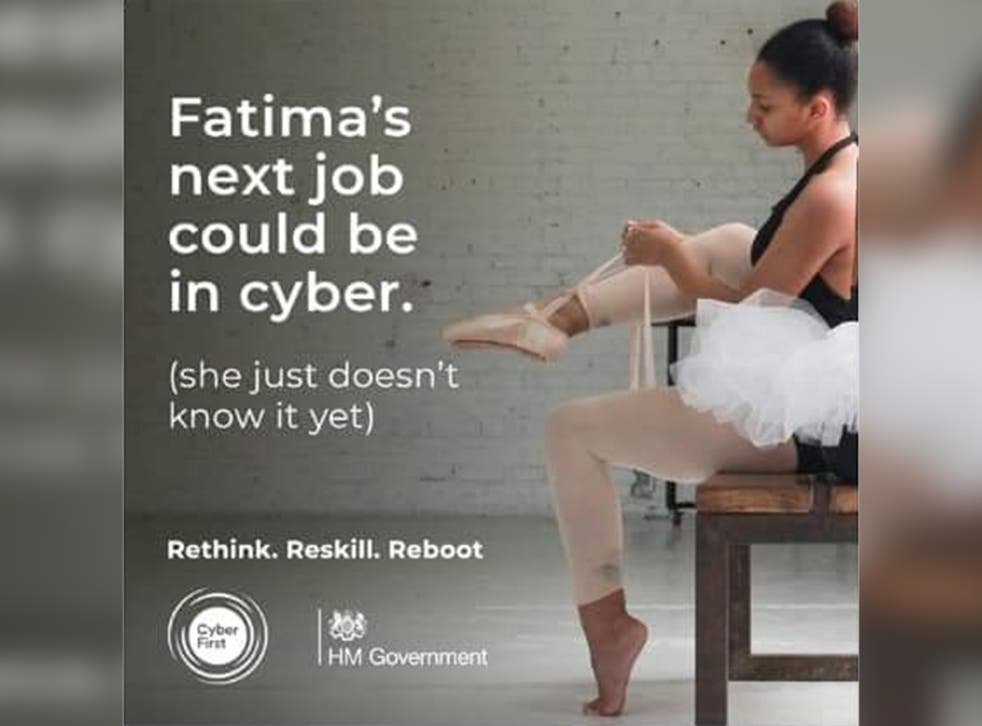 The government has pulled a heavily criticised advert that suggested a ballet dancer could "reboot" her career and retrain as an IT worker amid the coronavirus pandemic.
Prime minister Boris Johnson's official spokesperson admitted the advert, which was launched amid anger at the relative lack of government financial support for the creative industries, was "inappropriate".
The spokesperson said: "This is part of a campaign encouraging people from all walks of life to consider a career in cyber-security. This particular piece of content was not appropriate and has been removed from the campaign.
"The government recognises the challenge to the cultural industry and today the culture secretary has announced £257m of funding to help support 1,385 theatres, art venues, museums and cultural organisations across England."
The advert is part of the government's Cyber First campaign and featured a young dancer tying up her ballet shoes, with the caption: "Fatima's next job could be in cyber. (She just doesn't know it yet)"
It adds the slogan: "Rethink. Reskill. Reboot."
Earlier on Monday, culture secretary Oliver Dowden distanced himself from the advert, calling it "crass" and insisting the poster had not been produced by the Department for Culture, Media and Sport (DCMS).
He tweeted shortly after the hashtag "Fatima" began trending on Twitter: "To those tweeting re #Fatima. This is not something from DCMS and I agree it was crass. This was a partner campaign encouraging people from all walks of life to think about a career in cyber security.
"I want to save jobs in the arts which is why we are investing £1.57bn."
Mr Dowden announced that £257m of funding from the government's £1.57bn Culture Recovery Fund will be distributed to organisations and venues including the London Symphony Orchestra, the Bristol Old Vic Theatre and Liverpool's Cavern Club.
But the newly allocated funding was eclipsed by criticism of the advert, which writer Caitlin Moran quipped appeared to have been created by a new "Hopes & Dreams Crushing Department".
Register for free to continue reading
Registration is a free and easy way to support our truly independent journalism
By registering, you will also enjoy limited access to Premium articles, exclusive newsletters, commenting, and virtual events with our leading journalists
Already have an account? sign in
Register for free to continue reading
Registration is a free and easy way to support our truly independent journalism
By registering, you will also enjoy limited access to Premium articles, exclusive newsletters, commenting, and virtual events with our leading journalists
Already have an account? sign in
Join our new commenting forum
Join thought-provoking conversations, follow other Independent readers and see their replies