Craig Mackinlay: Conservative MP cleared of election expenses fraud during 2015 campaign
Prosecutors claimed South Thanet MP failed to declare £60,000 overspend in battle against Nigel Farage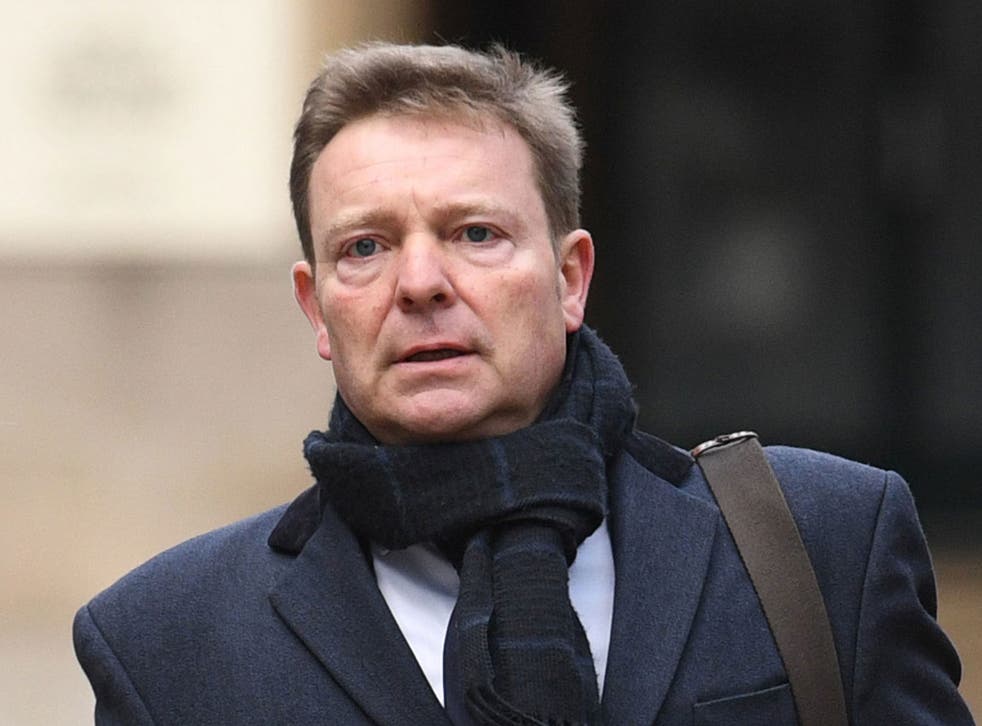 Conservative MP Craig Mackinlay has been cleared of falsifying expenses during his 2015 general election campaign.
The South Thanet MP stood accused of failing to declare more than £60,000 spent during a hotly-contested battle for the Kent seat against then-Ukip leader Nigel Farage.
However, one of his co-defendants, senior Tory party worker Marion Little, was found guilty of two counts of intentionally encouraging or assisting an offence. She was cleared of a further count of the same charge.
A jury had deliberated for a total of 53 hours and 29 minutes before reaching a verdict, having first retired on 5 December last year.
Speaking outside Southwark Crown Court following his acquittal, Mr Mackinlay described the trial as a "dreadful" time for his family.
"It has been nearly three years of pure hell, for my family particularly. But I have got real thanks for the people of South Thanet," he said.
"They knew I was charged with these offences just six days before the election of 2017 and they still supported me.
"This has been a really tough time as you can imagine for my wife, for my family and for friends, and for the association, and to them I would like to thank them for the support throughout, every single day."
The court had previously heard how "the law was simply abandoned" by Tory officials during the campaign, as the party became increasingly focused on defeating Mr Farage at a time when Ukip was enjoying a surge in popularity.
Jurors were told the Conservatives ignored strict spending limits in South Thanet, ploughing money into staffing, hotels and advertising while masking the overspend by falsely declaring it as national expenses.
The constituency was visited by a number of high-profile Tory figures during the course of the campaign, including Theresa May, George Osborne, Boris Johnson and former footballer Sol Campbell.
Declared spending came in under the £52,000 limit, but prosecutors claimed the party failed to declare more than £60,000 in additional costs.
Mr Mackinlay, of Ramsgate, told jurors his aides had been cautious over the election budget, fearing a challenge by Mr Farage.
"Of any seat in the country, this would be the one looked at and pored over very carefully," he said.
Mr Mackinlay's election agent Nathan Gray, 29, from Hawkhurst, Kent, was earlier acquitted of making a false election expenses declaration.
However, Little, an experienced party official whom the court heard was parachuted into the constituency to shore up the campaign, will be sentenced later.
Support free-thinking journalism and attend Independent events
Mr Justice Edis told the court she had falsified documents, before presenting them to Mr Mackinlay and Mr Gray for signing, which "they did so in good faith not knowing what she had done".
"No one can know whether her misconduct had any effect on the outcome of that election, but she plainly intended that it would," the judge added.
"I'm quite satisfied that of those who worked on the Mackinlay campaign, she was the author and origin of this falsehood."
Mr Mackinlay eventually secured the South Thanet seat by a majority of 2,800 over Mr Farage in what was described during the trial as a "nasty" campaign.
UK news in pictures

Show all 50
Jurors were told his victory could have been rendered void if the claimed overspend had been declared on election expenses returns.
When asked if he accepted his expenses return had in fact been over the limit, Mr Mackinlay said he had "no idea".
"That's something for central office to actually answer," he added. "I think the electoral law is so vague I really can't be sure.
"The one thing I do know, I was not responsible for any of those expenses."
Additional reporting by PA