David Cameron accused of cronyism over New Year Honours list
Award recipients include long-serving MPs and Tory party donors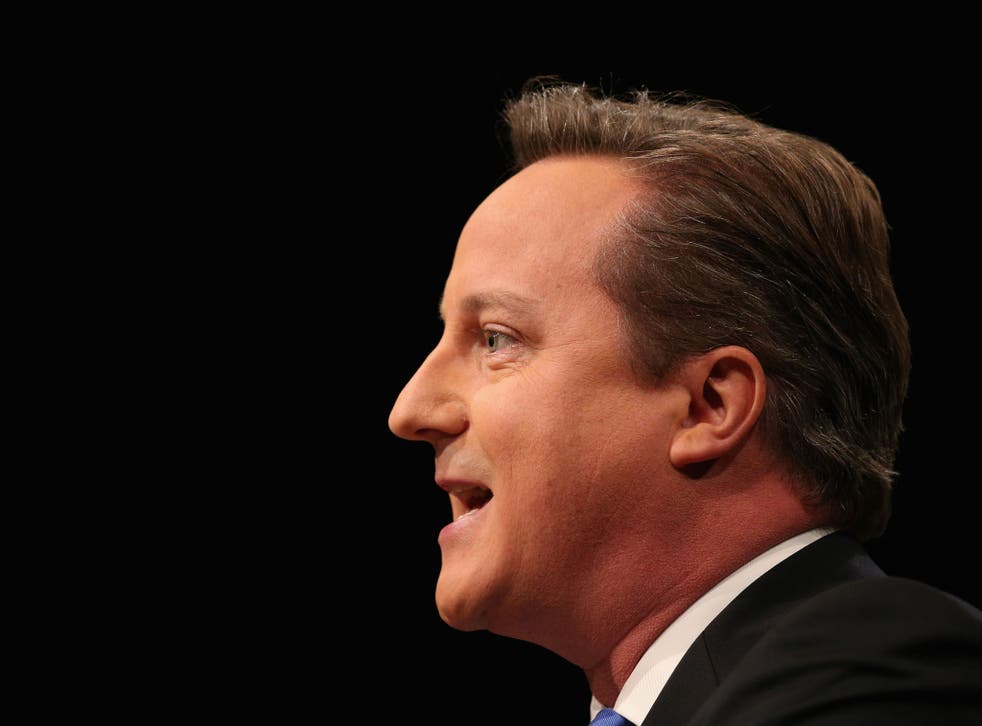 David Cameron is facing accusations of cronyism after a succession of senior Conservatives and supporters of the party were recognised in the New Year Honours list.
The roll call of awards for serving the nation included senior aides to the late Baroness Thatcher, long-serving MPs, Tory stalwarts in the Prime Minister's Oxfordshire heartland, two Tory donors and a public relations chief who has holidayed with Mr Cameron.
It also featured the star of The Apprentice, Karren Brady, who is appointed CBE for services to entrepreneurship and encouraging women in business. She is being wooed by the Tories to become a MP in 2015 or to stand as Mayor of London the following year.
Labour MP John Mann said: "It's inappropriate to use the honours system for political patronage. That's what's happening – everyone can see that. It is demeaning for David Cameron to use his position as Prime Minister like this."
The row threatened to overshadow a shift in the distribution of the awards, which saw the number of women receiving a gong outnumber men for the first time in the modern era of the honours system, which began in 1917 with the advent of the OBE. Of the 1,195 people named in the list, 51 per cent are women, compared to 40 years ago when the figure was just 17 per cent. As recently as 2004, the number of women receiving honours stood at barely a third of the total.
The change is in part due to efforts by Whitehall to encourage more nominations of women from public bodies and communities. Among this year's recipients are a Wiltshire postmistress who set up her business in her living room in 1977 to serve her village.
The Conservative Party insisted the process of deciding honours remained independent, despite the prominence of its supporters in the awards list.
The Mid-Worcestershire MP Peter Luff, who lost his job as Defence Minister in the last reshuffle, and the Croydon South MP Richard Ottaway, a former Tory frontbencher, are both knighted, along with the Labour MP Kevin Barron. The same honour goes to Julian Seymour, the former director of Lady Thatcher's private office, and Mark Worthington, her private secretary. Both men remained at her side until the former Prime Minister's death in April.
An OBE is awarded to Simon Mort, the president of the Oxford West and Abingdon Conservative Association, and an MBE to Marion Dowding, the former deputy chairman of the association in Mr Cameron's Witney constituency.
Alan Parker, the founder of the public relations company Brunswick, which represents many of Britain's largest companies, is knighted in recognition of his philanthropy. He is close to both Gordon Brown and David Cameron and has been on holiday with the Prime Minister, who was also a guest at his wedding.
An OBE is awarded to Peter Emerson Jones for services to business in the North-west of England. His property company has contributed £38,600 to Tory funds in the past five years, most of it to Chancellor George Osborne's Tatton constituency in Cheshire. Lady Marina Hobson, who is appointed OBE for her philanthropy and support for ballet, has donated £34,000 to the Tories in the past five years.
Knights and Dames: Notable recipients
Arts & Entertainment
Antony Gormley, the celebrated sculptor whose works include The Angel of the North, said his knighthood was "a good thing" for the art form. The 63-year-old, who won the Turner Prize in 1994 and was appointed OBE in 1997, added: "I think it's a feeling that these sort of awards went to people that have served the country in obvious ways militarily, politically or industrially. And now they also go to people that have opened people's minds and this reflects that shift."
The acclaimed conductor Sir Simon Rattle is elevated to the Order of Merit, an exclusive club celebrating individuals of great achievement in the arts, learning, literature and science, which can have only 24 members at one time. Penelope Keith, who starred in The Good Life, becomes a Dame, as does Murder She Wrote's Angela Lansbury. The film and theatre producer Michael Codron receives a knighthood. The actress and Loose Women panellist Lynda Bellingham, who was diagnosed with cancer this year, is created OBE. She said it had been "a tough year but this award is a fantastic way to move forward".
Anthony Horowitz, the author of teenage spy novels featuring Alex Rider, is appointed OBE for services to literature. Mezzo-soprano Katherine Jenkins said she was "incredibly humbled" to receive the same honour for services to charity and contribution to music. Writer and broadcaster Sandi Toksvig is also created OBE. Ruth Jones, writer and star of Gavin & Stacey, called her MBE "bang tidy". The same honour goes to DJ Pete Tong.
The ballet dancer Carlos Acosta, Michael Crawford, star of Some Mothers Do 'Ave 'Em, and Just A Minute presenter Nicholas Parsons are all created CBEs.
Business
Paul Tucker, the former deputy governor of the Bank of England, is knighted for services to central banking. He said the honour was a tribute to the many people with whom he had worked in pursuit of "stability, without which the economy cannot flourish".
Also knighted is Ian Cheshire, the chief executive of Kingfisher, the multinational home-improvement firm that owns B&Q, for services to "business, sustainability and the environment". Michael Gifford, a former Lord Mayor of London, is knighted for services to international business, culture and the City of London. From public relations, Alan Parker, the founder and chairman of Brunswick, is also knighted. Mr Parker, who is also chairman of Save the Children, is honoured for services to business, charitable giving and philanthropy.
Charities and communities
The parents of the murdered schoolboy Jimmy Mizen, who are both created MBE for setting up a charity that raises young people's awareness of the consequences of violent crime, said they were "honoured and humbled" by the award. Barry and Margaret Mizen, whose 16-year-old son was killed by another youth in 2008 during an unprovoked altercation in a south-east London bakery, said the honours were a reward for their entire family and others who work for the Jimmy Mizen Foundation. Mr Mizen, 62, said: "We meet a lot of parents bereaved by violence, and it is so easy to be destroyed by it... The work of the foundation is about bringing something good from what happened."
The awards are among many recognising work done in maintaining communities. Diane Bell, 63, who set up shop as a postmistress in her Wiltshire living room 36 years ago, receives a British Empire Medal after working to provide residents of Nettleton village with "lifeline" services.
The co-founders of Netmums, Sally Russell, 47, Siobhan Freegard and Cathy Court, also appointed OBE for setting up the network of websites run by mothers. It is one of the UK's largest for parents and has 27 million page views a month.
Sport
A quirk in the system means that because Wimbledon champion Andy Murray and footballer-turned-sporting ambassador David Beckham have already received other honours, they must wait to be on the list of knighthoods.
Instead, awards go to the former long-distance runner David Bedford, who is created OBE for his 20 years directing the London Marathon. Ann Jones, who won Wimbledon in 1969 and has since worked in tennis, receives a CBE for services to the sport. The England and Arsenal Ladies footballer Rachel Yankey is appointed OBE and Katy McLean, captain of the England women's rugby team, is created MBE.
Nick Clark, Cahal Milmo and Ben Chu
Join our new commenting forum
Join thought-provoking conversations, follow other Independent readers and see their replies