David Cameron and Nick Clegg make nice and hint at another Coalition following the next election
Party leaders point to their achievements and suggest hung parliament could result in a second crack at power sharing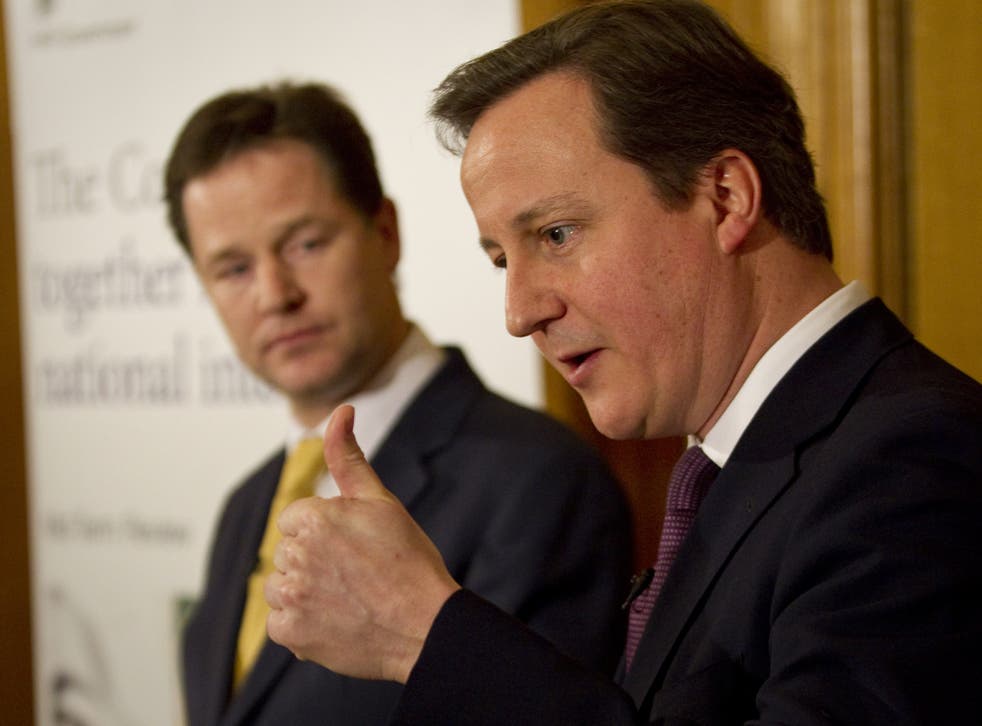 David Cameron and Nick Clegg have trumpeted the Coalition's achievements in a broad hint they could work together again if next year's general election results in another hung parliament.
The Prime Minister and his deputy said that today's final Queen's Speech before the election showed that their Government had not run out of steam and declared that the Coalition had confounded critics who warned it would not last. Mr Cameron and Mr Clegg put recent rows between their parties, notably over education, behind them as they put on a united front.
In another peace-making move, Theodore Agnew – a Conservative Party donor – withdrew from the race to become the new chair of Ofsted in a move warmly welcomed by the Liberal Democrats. He had put his hat in the ring after Michael Gove, the Education Secretary, refused to give a second term to Baroness (Sally) Morgan, a Labour peer.
Mr Agnew, the millionaire sponsor of a chain of academy schools in Norfolk, said: "It should not be a politically motivated appointment. It should be a post that is supported by all the political parties. It's a very important role and if it had not been considered controversial I would have applied for it."
The joint Cameron-Clegg statement will worry some MPs and activists in both coalition parties. Some Liberal Democrat ministers believe their party's members would never approve another coalition with the Tories after their disastrous results in last month's Euro elections.
And many Tory MPs would urge Mr Cameron to run a minority government if the party fails to win an overall majority.
The two leaders will hose down speculation about a continuing partnership until after the election. Mr Cameron will insist he is going all-out for a majority, while Mr Clegg will insist the Liberal Democrats are "equidistant" between the Tories and Labour.
In their joint statement, the Tory and Liberal Democrat leaders said: "This Queen's Speech marks the next big step in our long-term plan for Britain. Its aim: to secure the recovery for our country... We may be two parties, with two different philosophies, but we understand one thing: countries rise when their people rise. So this Queen's Speech is unashamedly pro-work, pro-business and pro-aspiration."
Mr Cameron and Mr Clegg said the centrepiece would be "the biggest transformation" of the pensions system since its inception.
A pensions Bill will give people "total control" over their retirement funds by scrapping the requirement to buy an annuity. Members of workplace pensions will be allowed to pool their funds in new Dutch-style schemes to get "greater certainty" about their retirement income.
Mr Cameron and Mr Clegg said: "It is easy to forget when we first came together in the national interest just how sceptical people were about how long the Coalition could last and how much change we could effect.
"Four years on, our parties are still governing together and still taking bold steps. Four years on, no one can deny the progress we have made... Of course, there is still a long way to go. But this Queen's Speech marks a significant step."
Labour will claim that the Coalition has run out of ideas and created a "zombie parliament" even though there is almost a year to go until the election.
Ed Miliband said: "We would have a Queen's Speech with legislation which would make work pay, reform our banks, freeze energy bills and build homes again in Britain... which signals a new direction for Britain, not one which offers more of the same."
Tory or Lib Dem? The Queen's Speech Bills
Pensions Bill
To allow private workplace schemes to become collective pensions to provide more certainty to savers
Whose idea? George Osborne announced most of the plan in his Budget but the Lib Dems say it was "conceived and driven" by their Pensions Minister Steve Webb
Tax-free childcare
To give 1.9 million families up to £2,000 a year per child towards cost of childcare
Whose idea? Nick Clegg was instrumental, but Tories claim joint ownership
Recall of MPs
To allow constituents to petition for a by-election when their MP behaves badly
Whose idea? Lib Dems were keener than the Tories, who blocked it an one point
Shale gas
Reform of trespass law to allow shale gas exploration companies to drill under private property without the owner's permission
Whose idea? The Tories
Modern slavery Bill
To make it easier to prosecute the organised criminals behind the practice and allow victims to be compensated by them
Whose idea? Tories – Theresa May was the driving force
Garden cities
To allow locally led plans for a new wave of garden cities to provide more housing
Whose idea? Lib Dems, a Nick Clegg priority
Join our new commenting forum
Join thought-provoking conversations, follow other Independent readers and see their replies