Britain will be fighting Islamic State terror threat for decades, says David Cameron
Prime Minister unveils plans for legislation to allow seizure of militants' passports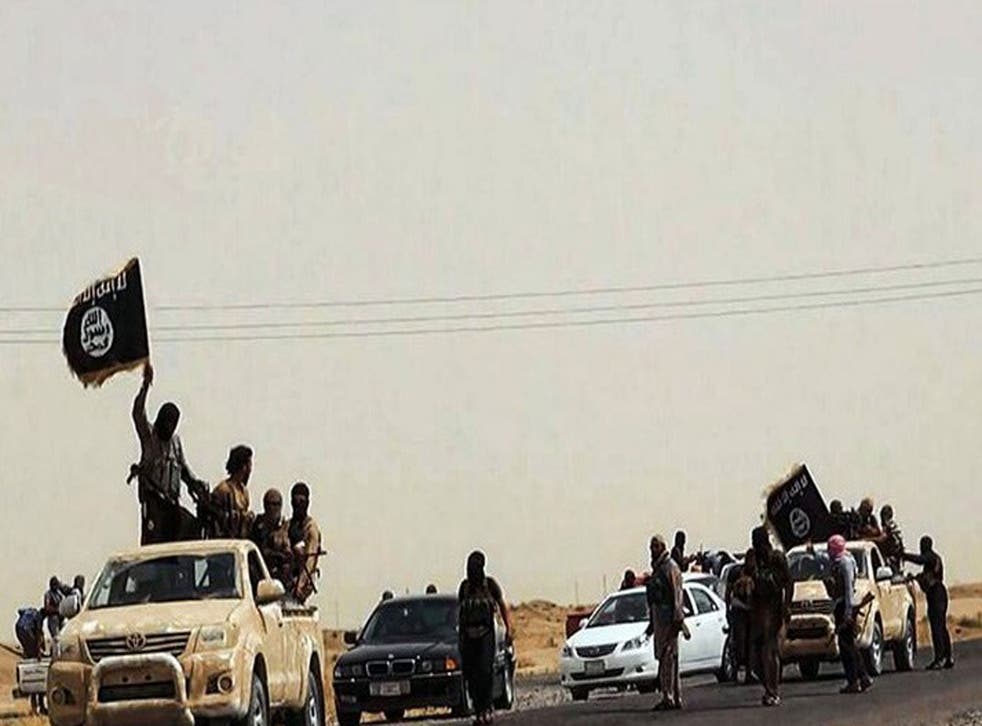 Britain faces a terrorist threat lasting for decades, David Cameron has warned, as the official alert level was raised due to events in Iraq and Syria.
The Prime Minister announced new laws to give the authorities greater powers to seize the passports of suspected terrorists amid rising concern about the danger posed by Islamic State (IS, the group formerly known as Isis). Mr Cameron told a Downing Street press conference: "What we are facing in Iraq now with IS is a greater and deeper threat to our security than we've known before."
He added: "We are in the middle of a generational struggle against the poisonous and extremist ideology that I believe we will be fighting for years and probably decades".
On the advice of security experts, the threat level in Britain was raised from "substantial" to "severe" – but still remains lower than the highest level of "critical".
The United Nations said Syria's civil war has forced three million people out of the country, including more than one million in the past year. It means that about one in eight Syrians has now fled across the borders, with 6.5 million others displaced inside Syria since the conflict began in March 2011.
In pictures: The rise of Isis

Show all 74
Although Downing Street has received no formal request from President Barack Obama to support air strikes against IS in Iraq and Syria, the US is sounding out potential allies in Britain, Australia and the Gulf States about whether they would bomb the parts of Syria to where IS jihadists retreat after taking action in Iraq.
Mr Cameron argued that military action should not be ruled out completely, saying that "learning the lessons of the past does not mean there is not a place for our military".
Writing in The Independent, Ed Miliband warns that IS will not be defeated by military means alone. In his first detailed statement on the new threat, the Labour leader calls for a political and diplomatic effort including countries from the region.
"In the face of this danger I am clear we cannot ignore IS or simply shrug our shoulders and hope it goes away," he writes. In a reference to the ill-fated US-UK invasion of Iraq in 2003, Mr Miliband says: "If we learn anything from the events of the past decade, it is that we must proceed with clarity about our objectives and the means to achieve them."
A year ago, Mr Miliband scuppered US-UK plans for air strikes against the Assad regime in Syria after it used chemical weapons against its own people. Labour's opposition led to a humiliating Commons defeat for Mr Cameron.
In today's article, Mr Miliband keeps open the option of backing UK air strikes against IS in Iraq and Syria, while joining Mr Cameron in ruling out British "boots on the ground." Allies said last night that the Labour leader favours "active multilateralism", is not an isolationist and that last year's approach on Syria was "a decision not a doctrine."
Labour officials refused to be drawn on what they called a "hypothetical question" about UK air strikes.
Mr Cameron will be wary about any hint that Labour might support UK involvement, which would require the support of MPs. He expected Labour to support him in last year's Syria vote, and was furious when Mr Miliband decided to vote against, ensuring the Government was defeated by 285 votes to 272. Mr Miliband feels vindicated since Russia's intervention then ensured the destruction of most of the Assad regime's chemical arsenal.

Mr Miliband writes today: "This multilateral strategy should have a number of objectives: to tackle the root causes of support for IS from within Iraq; to starve them of backing from outside; to bring regional powers together for a lasting political settlement and greater stability; and to provide humanitarian help to those facing the horrific consequences of this conflict."
UK security sources have warned ministers that IS may to try retaliate against Western targets, including carrying out attacks on the streets of Britain, as air strikes against the group by a US-led coalition move from Iraq to its bases in Syria.
However, even without any Western intervention in Iraq and Syria attacks would have been attempted, say officials. IS has overrun swathes of territory, creating the Islamic State, but has not yet staged a "spectacular" terrorist act abroad like al-Qa'ida, which has become its rival for influence among jihadists, and that is one of the ambitions of the IS leadership under Abu Bakr al-Baghdadi.
Up to 500 British Muslims have travelled to Syria and Iraq to join the jihad and some of them are already back in this country, according to officials. IS, they say, have been training its fighters to carry out bombings and shootings in urban surroundings as well as the semi-conventional warfare its carrying out in the Middle East.
Unlike some other Islamist militants, IS make great effort to protect its communications with some success. However, a "pattern of activities" has emerged suggesting that they are planning operations in the West, it is claimed.
British and other Western nationals who have joined other hardline Islamist organisations, like Jabhat al-Nusra, may also pose a potential terror threat to the UK, but while influence can be brought to bear on these groups through countries which have been funding them, those avenues no longer exist with IS.
Where the parties are likely to stand on military action
Conservatives
David Cameron is anxious to avoid repeat of last year's disastrous Commons defeat over air strikes in Syria. But the PM is keeping the option open as part of a wider campaign against IS. He has ruled out British "boots on the ground" . Although 30 Tory MPs voted against action in Syria a year ago, senior party figures believe most backbenchers would back intervention to help Kurdistan.
Labour
Ed Miliband believes the only way to defeat IS is a "multilateral alliance" for political, diplomatic and humanitarian action including countries in the region. He has not ruled out backing air strikes but opposes sending ground forces. Some Labour MPs who opposed bombing Syria a year ago may back action against IS.
Liberal Democrats
Nick Clegg backed David Cameron over action in Syria last year, although nine Lib Dem MPs voted against. The Deputy PM is wary of repeating the 2003 mistakes in Iraq but Mr Cameron might try to persuade him to endorse air strikes as part of a multilateral effort. Some Lib Dem MPs might oppose such a move.
Register for free to continue reading
Registration is a free and easy way to support our truly independent journalism
By registering, you will also enjoy limited access to Premium articles, exclusive newsletters, commenting, and virtual events with our leading journalists
Already have an account? sign in
Register for free to continue reading
Registration is a free and easy way to support our truly independent journalism
By registering, you will also enjoy limited access to Premium articles, exclusive newsletters, commenting, and virtual events with our leading journalists
Already have an account? sign in
Join our new commenting forum
Join thought-provoking conversations, follow other Independent readers and see their replies