David Cameron built fewest houses of any Prime Minister since 1923
Former shadow housing minister John Healey says findings reveal 'six years of Tory failure'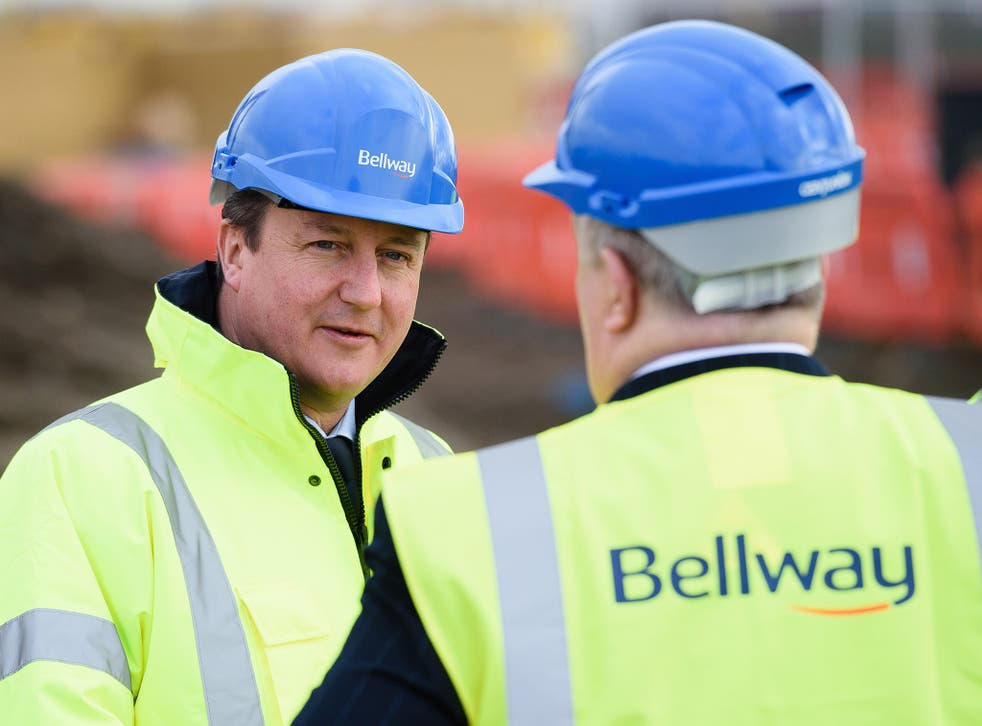 David Cameron had the worst housebuilding record of any Prime Minister since 1923, new figures have revealed.
An average of 123,560 houses were built in England and Wales during each year of the former Conservative Party leader's premiership, according to data released by the independent House of Commons library.
John Healey MP, the former shadow housing minister who commissioned the research, said it revealed Mr Cameron's "legacy of six years of failure" on housing.
He added: "Alongside reforms on land, planning and investment, Labour's answer to the country's housing crisis is to make the strong progressive case for handing out more power to local communities and regions.
"It's not just more democratic, it's also that good government action can often fix and shape markets better at a local than a national level. And hope that politics can help with the pressures people are facing is the best antidote to the fear and uncertainty which was both the cause and consequence of the UK's vote to leave the EU.
"With the Conservative failure on housing now fully exposed, a Labour alternative is more important than ever."
It is the worst post-war housebuilding record in England – 14 per cent fewer homes were built in England than under Gordon Brown (136,490) and 21 per cent fewer than under Tony Blair (148,149). The last time so few were built was under the Conservative Party's Stanley Baldwin in 1923.
Launching a new report in Parliament, Mr Healey callied for a new "progressive devolution" of housing, aiming to give disadvantaged areas fresh powers and funding.
The report, written by the Smith Institute, found devolution in housing has widespread support, but progress is "slow, piecemeal and undermined" and undermined by "inappropriate" national programmes.
Mr Cameron, who resigned as Prime Minister last week, told the Conservative party conference last year: "We need a national crusade to get homes built."
Roger Harding, director of policy and campaigns at Shelter, told The Independent: "Decades of failure to build the homes we need has left millions with no choice but to remain stuck in expensive, unstable private renting.
Every day at Shelter we hear from the people bearing the brunt of our drastic housing shortage, desperately struggling to meet their monthly housing payments and with no hope of ever putting down roots in a home they can call their own.
"The new Prime Minister and Minister for Housing now have a real chance to turn things around, and we look forward to working with them to start building homes that people on ordinary incomes can actually afford to buy or rent."
Figures released on Tuesday revealed London house prices have increased by more than 90 per cent over the last decade, reaching £472,163.
A spokesperson for the Department of Communities and Local Government defended Mr Cameron's record, saying it has "Britain building again".
It said in a statement: "The 2008 economic crash devastated the housebuilding industry leading to the lowest levels of 'starts' for any peacetime year since the 1920s.
"And since 2010 over 300,000 households have been helped into homeownership through Government-backed schemes.
The world's least affordable cities for housing

Show all 10
"The groundbreaking Housing and Planning Act will allow us go even further delivering our ambition to build an additional one million homes."
Join our new commenting forum
Join thought-provoking conversations, follow other Independent readers and see their replies