David Cameron launches assault on lawyers filing 'spurious' allegations against Iraq war veterans
The PM said: 'This is unacceptable and no way to treat the people who risk their lives to keep our country safe – it has got to end'
Ashley Cowburn
Friday 22 January 2016 12:45 Comments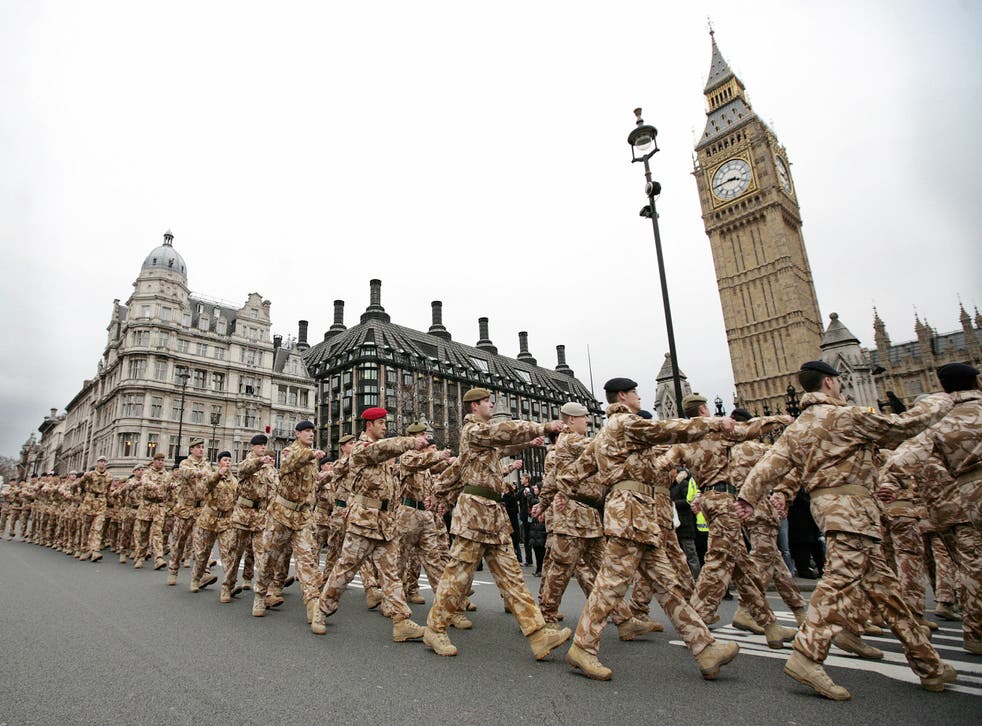 David Cameron has launched an assault on lawyers filing "spurious" allegations against veterans of the British armed forces who fought in the Iraq war.
In a strongly worded post on the Prime Minister's official Facebook page it said the National Security Council will produce a plan to stamp out the industry of lawyers profiting on claims lodged against those in the armed forces. "This is unacceptable and no way to treat the people who risk their lives to keep our country safe – it has got to end," the post said.
It added that it will include "proposals to clamp down on no win, no fee schemes used by law firms, speeding up the planned legal aid residence test, and strengthening investigative powers and penalties against firms found to be abusing the system". Mr Cameron also vowed to take firm action against those who have abused the system historically to "pursue fabricated" claims.
It continued: "Our armed forces are rightly held to the highest standards, but our troops must know that when they get home from action overseas this Government will protect them from being hounded by lawyers over claims that are totally without foundation."
The law firm Leigh Day has already been referred to the Solicitors Disciplinary Tribunal as a result of the failure to disclose a key document to the Al-Sweady inquiry.
The inquiry was established to investigate whether British soldiers tortured and murdered detainees after the Battle of Danny Boy in southern Iraq on 14 May 2004. In its final report the inquiry concluded that the allegations were based on "deliberate lies, reckless speculation and ingrained hostility".
A Leigh Day spokesperson told the Independent: "Over the last 12 years many cases of abuse made against the MoD during the course of the occupation of Iraq have come to light and been accepted by the Government. They include the appalling torture and murder of Baha Mousa in 2003. In addition, the Government has paid compensation for over 300 other cases relating to abuse and unlawful detention of Iraqis...the vast majority of serving army soldiers do a first class job in protecting this country but the evidence shows that this is by no means the case for all.
"We have a system in this country that enables people to obtain justice if they have suffered abuse, damage or loss at the hands of anyone. No-one is above the law, not us, not the British Army and not the Government. We cannot imagine that the Prime Minister is proposing that this should change.
"We have made it very clear that we refute all of the allegations that have been laid before us by the Solicitors Regulatory Authority. We will contest those allegations vigorously before the Solicitors Disciplinary Tribunal. Our statement in relation to these allegations is on our website and we are unable to comment further."
Register for free to continue reading
Registration is a free and easy way to support our truly independent journalism
By registering, you will also enjoy limited access to Premium articles, exclusive newsletters, commenting, and virtual events with our leading journalists
Already have an account? sign in
Join our new commenting forum
Join thought-provoking conversations, follow other Independent readers and see their replies