David Cameron pledges to turn Britain into an 'aspiration nation' during Conservative Party Conference speech
In his 50-minute closing speech to the Tory conference, the Prime Minister rejected Labour's portrayal of 'cartoon Conservatives who don't care'.
Andrew Grice
Wednesday 10 October 2012 18:48 Comments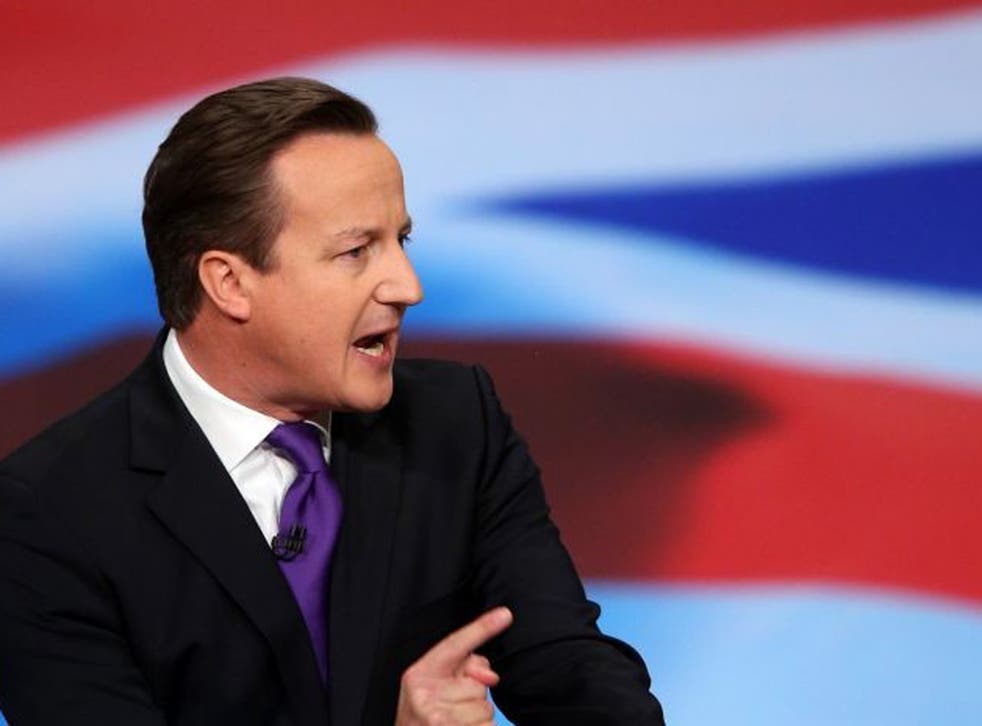 David Cameron today pledged to turn Britain into an "aspiration nation" as he insisted he would fight the 2015 election as a "modern compassionate Conservative."
In his 50-minute closing speech to the Tory conference, the Prime Minister rejected Labour's portrayal of "cartoon Conservatives who don't care" and defend the interests of the rich. Spelling out his values and what makes him tick, he made clear that championing "aspiration" was not a throwback to Thatcherism, which Tory strategists admit is now seen as a "selfish and survival of the fittest" creed.
Instead, Mr Cameron promised to be on the side of the "strivers" who work hard to get on, pledging that the welfare and education systems would help them fulfil their ambition and potential.
Critics will contrast his attempt to reclaim the One Nation mantle from Labour with right-wing signals from other ministers to the Tory faithful this week on crime, immigration and benefits. Mr Cameron positioned himself above that in a speech aimed more at the country than his own party in which he trumpeted higher spending on the NHS and overseas aid.
His address was almost entirely rewritten in the past couple of weeks. Aides insisted that was not due to Ed Miliband's launch of One Nation Labour last week. But Mr Cameron did hit back at the Labour leader, saying: "We don't preach about one nation but practise class war, we just get behind people who want to get on in life. The doers. The risk takers. The young people who dream of their first pay-cheque, their first car, their first home – and are ready and willing to work hard to get those things."
He went on: "While the intellectuals of other parties sneer at people who want to get on in life, we here salute you. They call us the party of the better-off. No: we are the party of the want to be better-off, those who strive to make a better life for themselves and their families – and we should never, ever be ashamed of saying so…Line one, rule one of being a Conservative is that it's not where you've come from that counts, it's where you are going."
Acknowledging his own privileged background, Mr Cameron said: "I went to a great school and I want every child to have a great education. I'm not here to defend privilege, I'm here to spread it. I don't have a hard luck story."
He spoke emotionally about his son Ivan, who died aged six, his late father and grandfather as he linked his upbringing to his values and policies today—"hard work, strong families, taking responsibility, serving others."
Defending a tougher welfare regime to prevent people choosing to live on benefits, Mr Cameron said: "Those who can should, those who can't we will always help….Work isn't slavery, it's poverty that's slavery. It's us, the modern compassionate Conservative Party who lead the fight against poverty in Britain today."
He said the Government would consider ending "automatic access" to housing benefit for under-25s, asking: "If hard-working young people have to live at home while they work and save, why should it be any different for those who don't?" However, the move may be blocked by the Liberal Democrats.
The Prime Minister's other big theme was the global economy, on which he spotted an opening after Mr Miliband avoided it last week. "Unless we take difficult, painful decisions, unless we show determination and imagination, Britain may not be in the future what it has been in the past, " Mr Cameron warned. But the Olympics and Paralympics had shown that Britain could deliver and "do big things."
Insisting there was no alternative to the Government's deficit-reduction plan, he conceded: "The damage was worse than we thought, and it's taking longer than we hoped."
Rehearsing the Tory lines for the 2015 election, he said: "Britain is on the right track." He made a lengthy attack on Labour's commitment to higher borrowing, describing it as "the party of one notion – more borrowing."
Mr Cameron argued that the Tories were on a moral as well as an economic mission. They would ensure "those with the broadest shoulders would bear the biggest burden" but did not spell out how in a speech free of policy announcements.
Although his tone on the economy was sometimes downbeat, he insisted: "Don't let anyone tell you Britain can't make it in this world – we're the most enterprising, buccaneering, creative, dynamic nation on earth….To get Britain on the rise we need a whole new economy, more enterprising, more aspirational."
Register for free to continue reading
Registration is a free and easy way to support our truly independent journalism
By registering, you will also enjoy limited access to Premium articles, exclusive newsletters, commenting, and virtual events with our leading journalists
Already have an account? sign in
Join our new commenting forum
Join thought-provoking conversations, follow other Independent readers and see their replies