David Cameron urged to cancel invitation to Egypt's 'regime of terror' dictator President Sisi
Egypt's President Sisi is expected to arrive in London next week, with President Nazarbayev of Kazakhstan to follow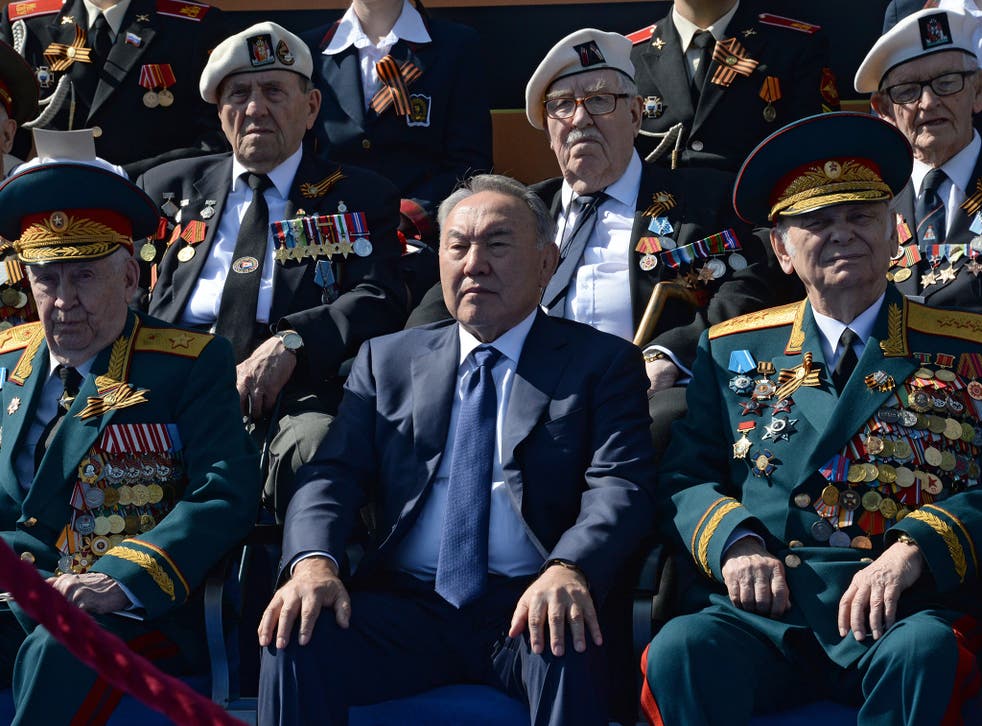 As if welcoming the Chinese President to Downing Street had not provided the UK with a sufficient crisis of conscience over relations with authoritarian regimes last week, another two controversial leaders are due to arrive in the coming days.
Preparations are entering the final stages for the arrival of Egypt's President Abdel Fattah al-Sisi in London next week, despite concerns from campaigners that Britain is sending the "wrong signal" to the rest of the world after Cairo's orders for mass executions.
Kazakhstan President Nursultan Nazarbayev is also due to visit the UK shortly, amid concerns from Amnesty International that there has been no improvement in reports of human rights violations in the former Soviet state.
Shadow Chancellor John McDonnell is among 55 signatories to a letter urging David Cameron to cancel the invitation to Mr Sisi on the grounds that he is a military dictator responsible for a "regime of terror".
University lecturers, the filmmaker Ken Loach and union leaders are among others who have raised concerns – with thousands of activists expected to host protests against the visit. "President Sisi's arrival in the UK will be another key test of whether David Cameron is prepared to do more than roll out red carpets for authoritarian leaders," said Amnesty International UK spokeswoman Karla McLaren.
"We want to see David Cameron personally raising human rights issues in face-to-face talks with President Sisi.
"There have been horrifying mass death sentences since President Sisi came to power - some after grossly unfair trials - and thousands have been detained in an attempt to quash all opposition.
"During the Chinese president's visit, the world got the distinct impression that the UK had sidelined human rights in favour of Chinese money for things like power stations. We need to see a more principled approach from Mr Cameron when it comes to Mr Sisi's visit."
Mr Cameron was criticised for inviting Mr Sisi to the UK when news emerged of his impending arrival in July, despite widespread concern about the former chief of the Egyptian armed forces' human rights record.
The invitation was confirmed after an Egyptian court upheld a death sentence against the country's elected Islamic predecessor, president Mohamed Morsi, who was ousted in a military coup. Whitehall said at the time of the announcement that "no issues" would be off the table during the visit. Mr Cameron's official spokeswoman said at the time it was important for the UK to engage with countries where there were issues that were in the UK's national interest.
Activists who have launched a "Stop Sisi" campaign are planning to protest against the president's arrival outside Downing Street on 4 November.
They claim the visit signals an "explicit endorsement" by Britain of human rights abuses. They claim 40,000 political prisoners have been arrested in Egypt since he came to power.
"We are calling upon the British government to hold al-Sisi accountable to the human rights abuses and believe that a clear, unequivocal message of disapprobation needs to be sent."
The visit of the Kazakh leader is also concerning some activists. In their most recent report on the country, Human Rights Watch cautioned that Mr Nazarbayev's regime "heavily restricts freedom of assembly, speech, and religion". It also noted that although "police officers faced charges of torture but impunity remains the norm".
Amnesty has also said that the country's governmental system had "prevented victims of torture and their relatives from obtaining justice".
Downing Street is yet to comment on the visits.
Coming soon: Red-carpet dictators
Egypt Abdel Fattah al-Sisi was elected President in 2014. As chief of the armed forces, he ousted President Mohamed Morsi in 2013, launching a crackdown that left 1,400 dead and 16,000 in jail. He faced only one opponent in the election, which was boycotted by most parties including the Muslim Brotherhood.
Kazakhstan President Nursultan Nazarbayev has been in power virtually unchallenged since the country gained independence from the Soviet Union in 1991. He is widely credited for the country's economic growth, but has been criticised for resisting democracy. He polled more than 97 per cent in the most recent election, prompting concerns about its conduct.
Join our new commenting forum
Join thought-provoking conversations, follow other Independent readers and see their replies