David Cameron vows to slash benefits cap to £23,000 and remove housing benefits for under 21s within first week of general election win
The Conservative leader says current cap of £26,000 will be reduced by £3,000 should his party emerge victorious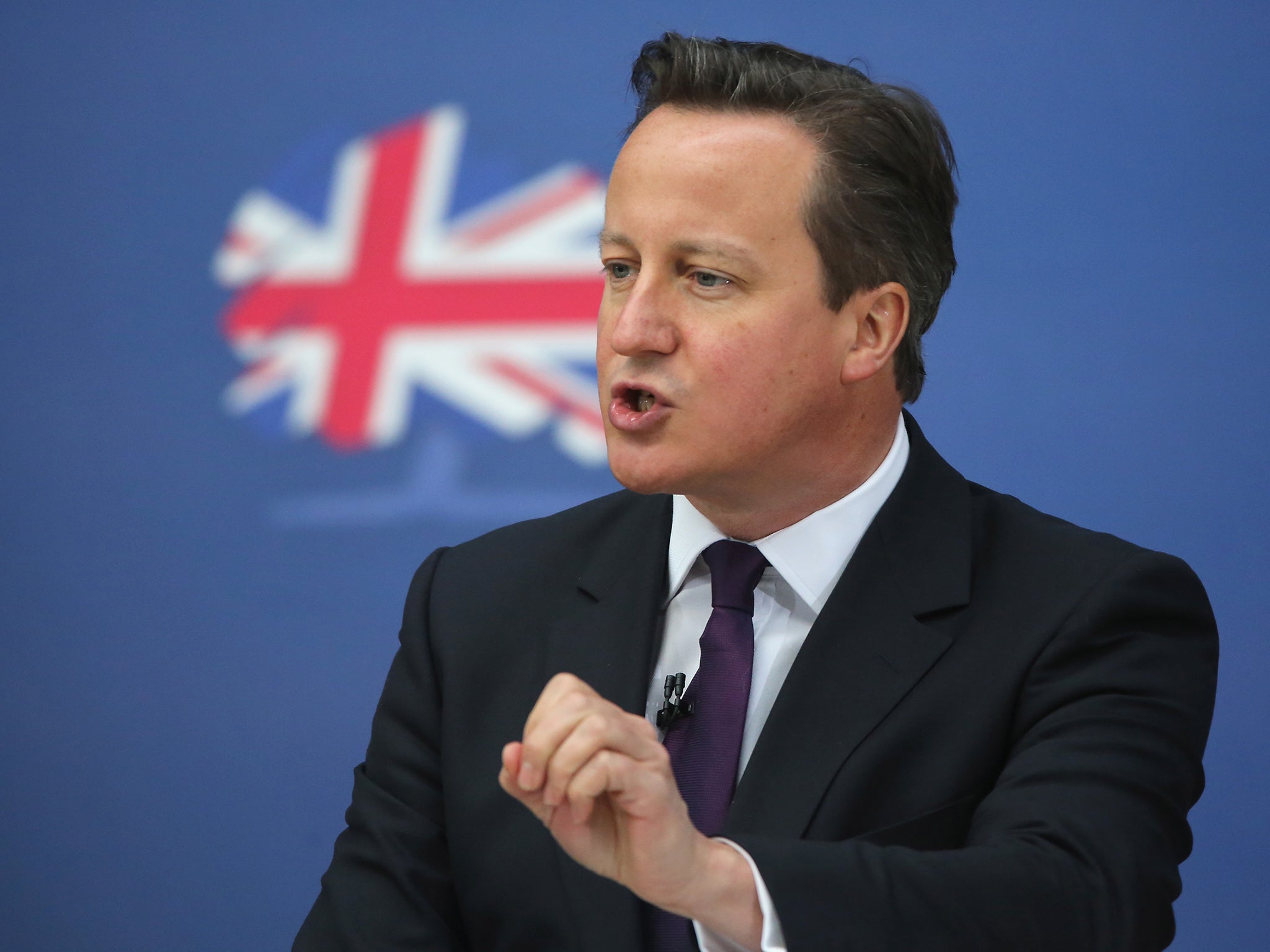 David Cameron has vowed to reduce the annual benefits cap from £26,000 to £23,000 "within the first few days" of a Conservative victory in the general election.
The Prime Minister said the £135 million in savings generated by this further squeeze for benefit claimants would be used towards funding three million apprenticeships by 2020, a scheme expected to cost £300 million annually.
The maximum loss - on top of the effects of the existing cap - would be £60 a week to households, with an average weekly loss of around £40 or £25 for those newly capped.
Another £120 million would be derived from removing housing benefit from 18 to 21 year olds on Jobseekers' Allowance.
Mr Cameron said the introduction of the cap in 2013 created a "stampede to the job centre" as the message was received that benefits were a safety net, not "a lifestyle choice".
"This tells you everything you need to know about our values. Conservatives believe we should be giving people the chance of a better future while encouraging people on benefits back into work," he told The Daily Telegraph.
Experts' predictions for the general election
Show all 10
"We want to put people's hard-earned taxes into lifting people up, not holding them down. Over the next five years millions of young people will get a decent start in life, learning a trade, and knowing the purpose and pride that comes with that."
Campbell Robb, chief executive of housing charity Shelter, said taking away housing benefit for young people "would be a disaster".
"For the small number of young people who need help while they find work or get back on their feet, this part of the safety net is often the only thing that stands between them and the streets," he said.
Paul Noblet, Head of Public Affairs at the youth homelessness charity Centrepoint, warned that for the most vulnerable young people, housing benefit is a lifeline, not a lifestyle choice.
"The young people we support simply cannot return home because their families already live in overcrowded accommodation or because they have suffered violence or abuse. Removing more benefits from young people will only cause further misery and homelessness."
The Prime Minister announced the proposed cap as the Labour leader Ed Miliband was poised to pledge longer home visits by social care workers and 5,000 new home care staff members when he sets out its 10-year plan for the NHS.
The Tories accused Mr Miliband of "weaponising" the NHS for political gain and claimed a Labour government would put the health service at risk by bringing "economic chaos" to Britain.
Shadow work and pensions secretary Rachel Reeves said the Labour party supports a cap on benefits and will ask an independent commission to assess whether the cap should be lower in some areas.
"But David Cameron can't hide from the fact that his government has spent £25 billion more than planned on welfare because of his failure to tackle the low pay that leaves millions dependent on benefits to make ends meet," she said.
"And nobody will believe promises on apprenticeships from a government that had seen the number of apprenticeships for young people fall."
Additional reporting by PA
Join our commenting forum
Join thought-provoking conversations, follow other Independent readers and see their replies