David Cameron: Young people under 25 would not be able to claim employment or housing benefits under Tory government
PM offers prospect of income tax cuts as he pleads for chance to 'finish the job' of balancing nation's books in closing speech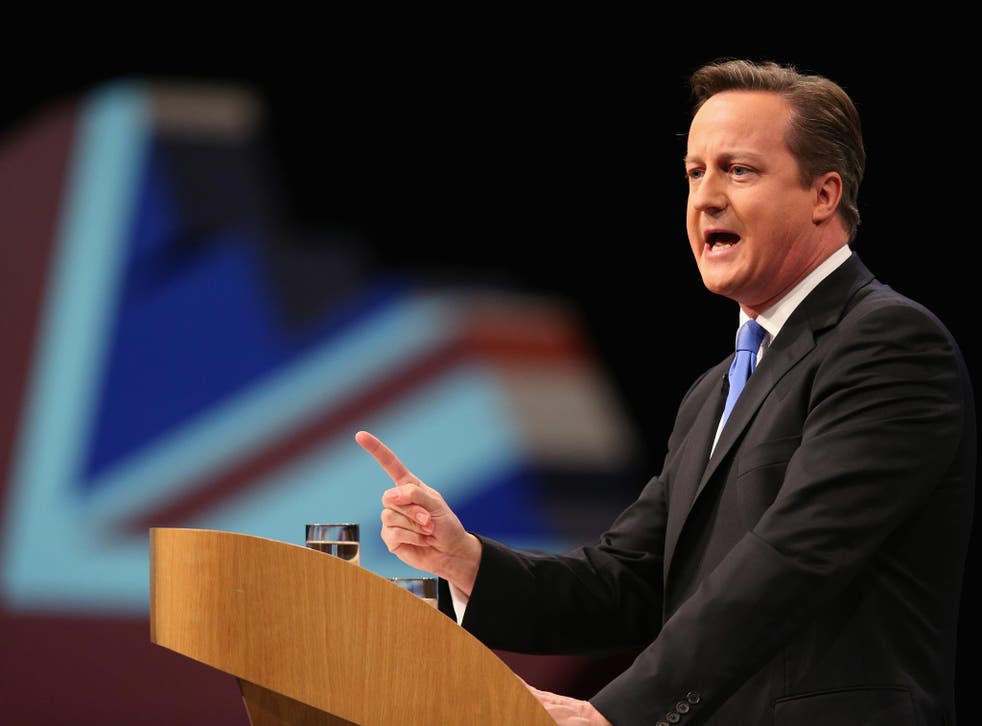 Young people under 25 could lose their state benefits if they are not in work, education or training in the next round of Conservative welfare reforms, David Cameron revealed today.
In his closing speech the Tory conference in Manchester, the Prime Minister disclosed that his party's manifesto for the 2015 election would include proposals to tackle the problem of "Neets" – young people not in education, employment or training.
Later Tory officials confirmed that under-25s would lose their automatic right to Housing Benefit and Jobseeker's Allowance if they refused to take up offers of work, training or education. The move is unlikely to be introduced before the 2015 election because the Liberal Democrats have already blocked proposals by Tory ministers to curb Housing Benefit for under-25s.
Extending American-style "workfare" to young people would be controversial at a time when many young adults, including graduates, point to the lack of job opportunities. The Tories will have to decide whether young single parents would be hit, since they account for an estimated 40 per cent of Housing Benefit claims by under-25s.
The "earn or learn" scheme would aim to ensure that all under-25s were either in education, training, work or an apprenticeship. By merging education and welfare policies, Mr Cameron wants the state to intervene at the earliest possible stage to prevent young people being trapped in a cycle of unemployment and benefit dependency.
The issue is being studied by the Tory MP Jo Johnson, who heads the Downing Street Policy Unit, and Sir Jeremy Heywood, the Cabinet Secretary. At present, the young jobless lose their benefits if they train for more than 16 hours a week. As a result, the system pays them if they are not in training - but stops supporting them when they are. The Heywood review is looking at ways of supporting young people after they start training.
Mr Cameron said: "There are still over a million young people not in education, employment, or training. Today it is still possible to leave school, sign on, find a flat, start claiming housing benefit and opt for a life on benefits.
"It's time for bold action here. We should ask, as we write our next manifesto, if that option should really exist at all. Instead, we should give young people a clear, positive choice: go to school. Go to college. Do an apprenticeship. Get a job. But just choose the dole? We've got to offer them something better than that."
The Tory plans met a hostile reaction. Grainia Long, chief executive of the Chartered Institute of Housing, said: "This would be a dangerous move. How do you build the economy without a young, mobile workforce? It would mean that young people would be unwilling to take risks such as moving for work because there would be no safety net for them."
Frances O'Grady, the TUC general secretary, said: "Given the government's awful track record of helping young people find jobs, the Prime Minister's threat to ban the dole for under-25s will simply push hundreds of thousands of young people, including those with young families, even deeper into poverty."
Sally Hunt, general secretary of the University and College Union representing staff in further and higher education, said: "Educational underachievement costs the UK economy an estimated £22bn a year. We will not resolve this massive problem by forcing young people into unstable, low paying employment or inadequate training."
In his speech, Mr Cameron attacked Ed Miliband for "bashing business", warning that was "crazy" because it would deter foreign investment and undermine Britain in the global economic race.
The Prime Minister dangled the long term prospect of income tax cuts before the public as he pleaded for the chance to "finish the job" of balancing the nation's books. He sketched out the battle lines for the 2015 election as he responded to Mr Miliband's pledge last week to impose a 20-month price freeze on the unpopular energy companies.
Without defending the "big six" energy giants, Mr Cameron said: "I know that bashing business might play to a Labour audience. But it's crazy for our country. So if Labour's plan for jobs is to attack business, ours is to back business."
Mr Cameron admitted that the Tories needed to "do more" to help people struggling in what Labour has dubbed the "cost of living crisis." But his answer was to reduce income tax rather than the "quick fix" offered by Labour.
He insisted that the Government needed to cut the deficit to keep mortgage rates low, grow the economy, create jobs and cut taxes. "We're Tories. We believe in low taxes. And believe me – we will keep on cutting the taxes of hardworking people."
Insisting the battle to clear the deficit had not yet been won, Mr Cameron said: "This struggle will only be worth it if we as a country finish the job we've started…We still haven't finished paying for Labour's debt crisis. If anyone thinks that's over, done with, dealt with, they're living in a fantasy land." He raised his party's sights beyond the age of austerity to his mission – building a "land of opportunity for all."
Mr Cameron emphasised his "one nation" credentials by heaping praise on social workers who wrestle with agonising decisions on whether to put children into care.
"Social work is a vital and noble calling," he said. "I have to make some tough decisions in my job, but none as tough as whether to break up a family and rescue a child, or try to stitch that family back together."
Join our new commenting forum
Join thought-provoking conversations, follow other Independent readers and see their replies