Brexit Secretary David Davis indicates EU exit could be stopped even after Article 50 is triggered
The cabinet minister also set himself up for a clash with Chancellor Philip Hammond over a potential trasitional deal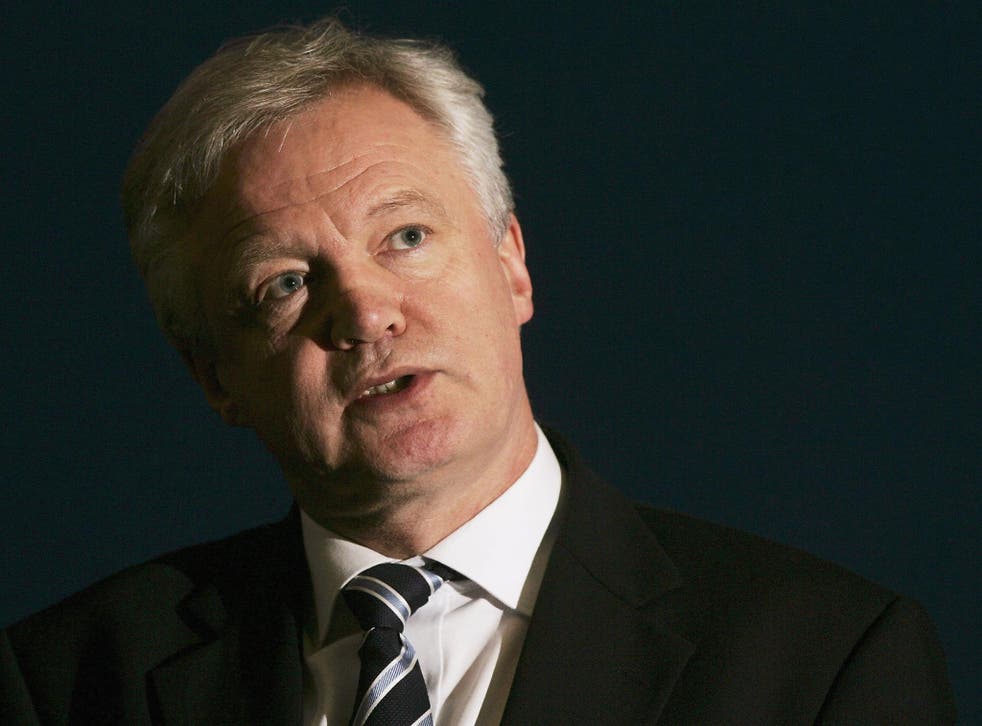 David Davis has become the first cabinet minister to indicate that Brexit could be stopped by the Government even after Article 50 is triggered.
The Brexit Secretary admitted he did not know whether Article 50 could be reversed, despite the Government having fought a case at the Supreme Court on the basis that it could not be.
The surprising admission will give a boost to political opponents and critics who may want to pressure ministers into backing down on Article 50 after it has been invoked.
Speaking at a select committee, Mr Davis also set himself up for a clash with Philip Hammond by saying a "transitional deal" favoured by the Chancellor to ease the pain of Brexit should only be accepted if "necessary".
He said immigration would not form part of the UK's negotiating agenda in Brexit talks, cementing one of the Government's few known positions – that it will refuse to accept freedom of movement. The statement does raise questions, however, about Theresa May's commitment to securing good access to the single market.
David Davis does not rule out a transitional Brexit in Committee hearing
In the wide-ranging hearing, Mr Davis went on to rule out publishing Ms May's promised plan for Brexit in January – telling MPs it would take longer to draw up.
Campaigners who recently took the Government to court to force Ms May give Parliament a say on triggering Article 50 argued that once it was invoked the process was irreversible, something Government lawyers decided not to refute.
Up to now senior figures in Europe have said the UK could draw back from Article 50 once it is triggered if it wanted to, but Downing Street has stuck doggedly to the line that it would not reverse it, choosing not to engage with the question over whether it is legally possible or not.
But addressing MPs in the Brexit Select Committee Mr Davis went further. After initially repeating Ms May's pledge that Britain does not "intend" to halt the two-year Article 50 process, he provoked surprise by adding: "It may not be revocable – I don't know."
Labour MP claims it's 'highly probable' Russia interfered with Brexit referendum
At another committee this week, Mr Hammond said "thoughtful" politicians recognised that a transition deal would be "generally helpful" to avoid the shock of a sudden cliff-edge to new arrangements post-withdrawal, and suggested further negotiations may go on during the period. It was seen as a challenge to hardliners in his own party calling for a hard and fast Brexit.
Hitting back, Mr Davis said: "A transitional arrangement means many things to different people. An implementation phase? If it is necessary and only if it is necessary.
"But the British people want this done with some degree of expedition, they want it done properly and soon and that is what we are trying to do."
The Brexit Secretary said he believed Mr Hammond's comments on politicians related to those in other EU states, adding wryly: "I hope you can classify me as a thoughtful politician."
Will you be able to remain an EU citizen after Brexit?
In a move that will cheer sections of the media, Mr Davis said immigration and the Government's stance of refusing to accept free movement would not form part of the UK's negotiating position.
The statement all but rules out the UK having full access to the single market, although ministers have always indicated that they are aiming for "best possible" access, suggesting they may gun for partial access for certain sectors.
Mr Davis told the committee: "Broadly speaking, we are sticking to the overarching aim: maximum possible access, services, goods, networks, and so on."
On the spectrum of possible outcomes being considered by the Government, he said: "The four I have in mind are inside the customs union, a 'partially inside' Turkish model, outside with a free trade agreement and a customs arrangement, and completely outside."
Brexit Concerns

Show all 26
MPs voted last week for the plan to be made public before the triggering of two-year withdrawal talks under Article 50, which Ms May has said she will evoke by the end of March.
But Mr Davis refused to commit to publishing a detailed White Paper on the plan, saying it would depend on the content, before revealing the Government's plan will not be published before February.
Asked when it would come he said: "As soon as we can, once all of the research and policy is completed. It won't be next month. The policy work is still under way, there are quite a few decisions still to be made."
Theresa May aims for 'red, white and blue Brexit'
Asked whether the Government was considering a special arrangement to allow Northern Ireland to remain in the customs union, in order to ensure that its border with the Republic remains open, Mr Davis said: "That's not one of the options we have been looking at – so far, anyway."
He said ministers were "determined to maintain that as an open border", suggesting it might be possible to replicate arrangements on the border between Norway, which is outside the Customs Union, and Sweden, which is a member.
The Brexit Secretary told MPs that he expected his department to be wound up within about two and a half years.
Join our new commenting forum
Join thought-provoking conversations, follow other Independent readers and see their replies