Cabinet Office rule out investigation into David Davis trips involving RAF flights
Exclusive: Critics had accused the Brexit Secretary of using the public purse to pay for 'Air David Davis'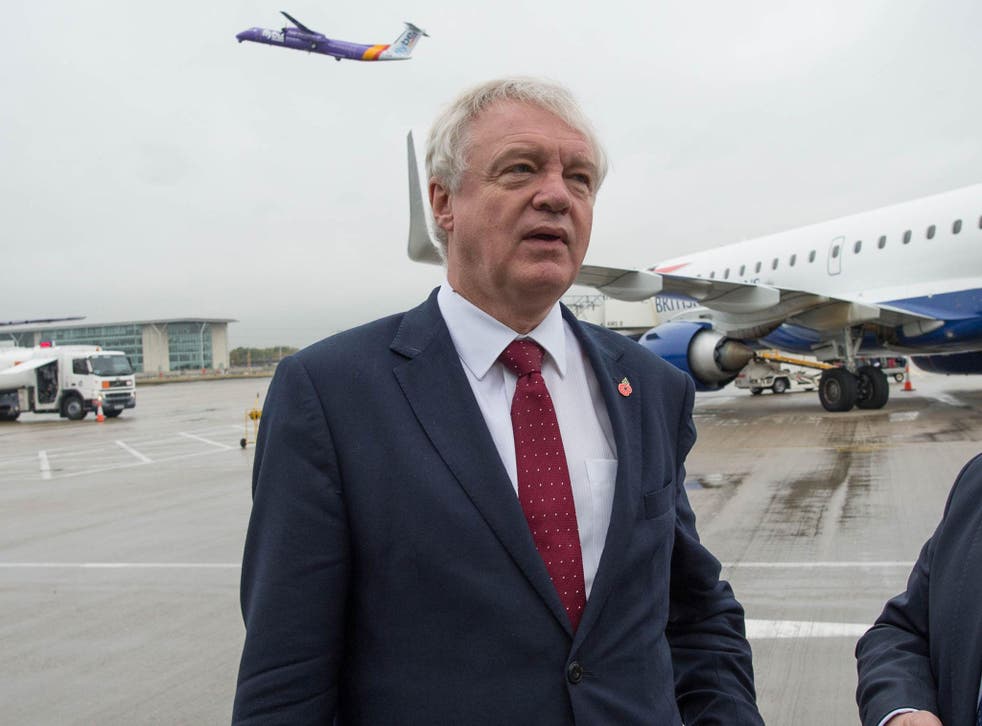 The Cabinet Office has ruled out an investigation into trips taken by Brexit Secretary David Davis after his department spent tens of thousands of pounds jetting him around Europe.
Newly released data shows his officials spent almost £50,000 in less than a year for 11 trips that involved RAF flights to shuttle Mr Davis to European capitals.
On two occasions the Brexit Secretary's department booked trips to Brussels costing some £2,500 – including one which saw Mr Davis criticised after being pictured at talks without any work papers in front of him.
A Cabinet Office source said: "There is no question of an investigation. This is a politically motivated attack without substance."
In a letter seen by The Independent, Stephen Doughty MP asked Cabinet Secretary Sir Jeremy Heywood to investigate whether Mr Davis's travel breached the ministerial code, which demands it to be "cost-effective".
He went on: "After seven years of austerity, the British people rightly expect those who govern our country to do everything they can to minimise the cost of their transport to the public purse wherever possible – not least when huge cuts are being threatened to our armed forces.
UK news in pictures

Show all 50
"Of course David Davis's role requires frequent travel to European capitals, but there is no reason why he could not use cheaper commercial services."
Mr Doughty, a leading supporter of Open Britain, said on Friday: "The public voted for Brexit to save money for our public services, not blow it on Air David Davis."
It was claimed in a political book earlier this year that Downing Street allowed Mr Davis to use the Government's fleet of RAF jets after he threatened not to undertake negotiating trips to Europe otherwise, though it was dismissed as gossip by the minister's aides.
The newly released data shows that between December 2016 and September 2017, the Brexit Secretary and his team used RAF planes during 11 trips.
The most expensive was a trip to Brussels, Madrid and Rome for policy discussions in June costing more than £9,000 for Mr Davis and three officials to travel.
Then in July of this year he flew to Brussels with two officials on what was described at the time as a "lightning" trip, ahead of the second round of Brexit talks.
It cost £2,526 for all three to fly, though a return ticket on the Eurostar can at times be booked for as little as £65 per person.
It was after this trip that Mr Davis was mocked as having "no plan", when he was pictured sitting at what appeared to be the Brexit negotiating table with no documents, while his EU counterpart Michel Barnier thumbed a thick file of papers.
A few days later Mr Davis went back to Brussels with more officials, a travelling group of five in total, but did one of the legs on the Eurostar, with the total travel costs coming in lower, at £2,411, despite the higher headcount.
David Davis on Brexit: 'You don't have to be very clever to do my job'
A spokesman from the Brexit Department said the Secretary of State often uses other means of travel when appropriate, such as the Eurostar, adding that he has also taken a number of commercial flights.
The spokesman said: "The Brexit negotiations are critical to the nation's future and it is absolutely right that the Secretary of State has access to whatever mode of transport is most appropriate.
"RAF aircraft have been used to transport senior ministers from governments over many years because they provide security, flexibility and value for money, especially when travelling in large groups and in multi-legged trips."
It was reported earlier this month that the Ministry of Defence had banned Philip Hammond from using the fleet of RAF aircraft, because the Treasury owed a six-figure sum to the MoD for previous flights.
The nearly £23,000 of public money spent by Mr Fox on overseas trips included nearly £9,000 to visit the Philippines, Malaysia and Indonesia.
A spokesman from his department said: "As an international economic department, we are responsible for promoting exports and inward investment from around the world. Over the last year we have achieved record inward investment and helped encourage UK exports worth more than £550bn.
"Our staff are located across more than one hundred countries and as we prepare to leave the EU, you'd expect our ministers to travel overseas to build relationships with key global trading partners."
Register for free to continue reading
Registration is a free and easy way to support our truly independent journalism
By registering, you will also enjoy limited access to Premium articles, exclusive newsletters, commenting, and virtual events with our leading journalists
Already have an account? sign in
Join our new commenting forum
Join thought-provoking conversations, follow other Independent readers and see their replies