Boris Johnson mounting Trump-style assault on human rights, warns Labour
Lammy accuses PM of 'waging grubby culture war designed to stir up division'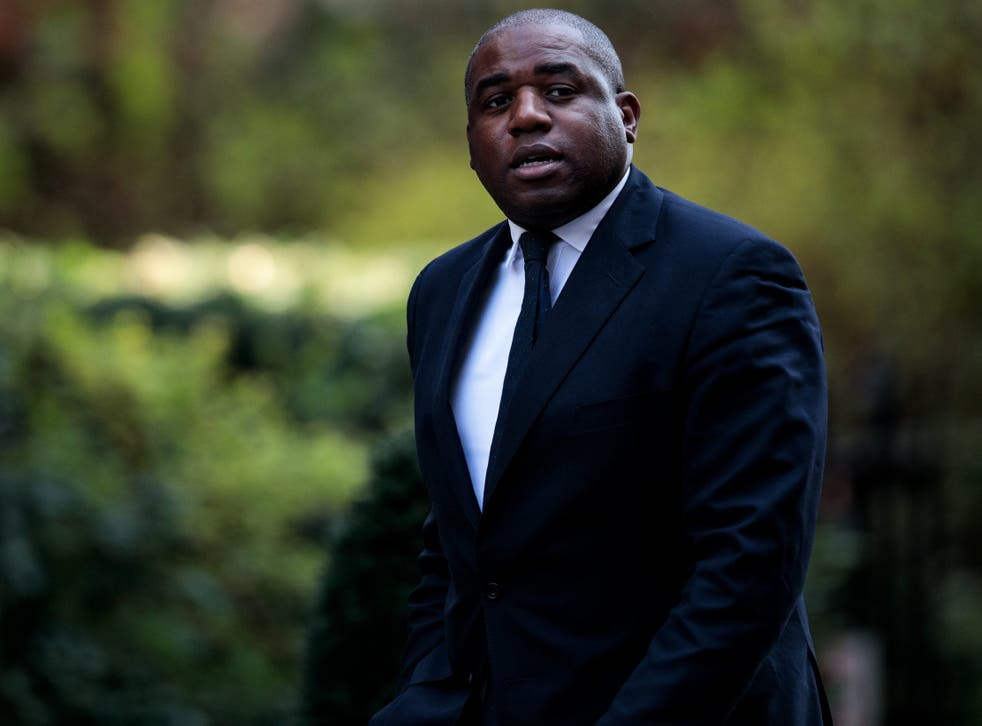 Labour has accused Boris Johnson of a populist assault on human rights drawn "straight from Donald Trump's playbook" with the aim of stirring up division in British society.
In a searing broadside against the prime minister's "grubby culture war", shadow justice secretary David Lammy accused Mr Johnson of lining up with nationalist autocrats like Hungary's Viktor Orban and India's Narendra Modi.
The Johnson administration is the first in recent British history to "swim against the current of human progress" by diluting the protections against an over-mighty state provided by the Human Rights Act and judicial review, said Mr Lammy in a keynote speech setting out new Labour commitments to strengthen rights in the UK.
He said Mr Johnson's approach contrasted starkly with his Conservative predecessor Sir Winston Churchill, who was one of the first world leaders to set out a vision for "a charter of human rights, guarded by freedom and sustained by law" and with the Tory author of the European Convention on Human Rights David Maxwell Fyfe.
"Until the arrival of the current prime minister, mainstream politicians in both parties have supported human rights," said Mr Lammy. "And both parties have recognised the importance of judicial review for the public to be able to challenge the government when it breaks the law.
"Sadly, Boris Johnson wants to divide us by putting our shared rights and freedoms under threat."
Mr Lammy pointed to the PM's review of the Human Rights Act, ministers' efforts to make it more difficult to bring judicial review proceedings against the government and proposals in the Policing Bill, as well as Downing Street briefings suggesting that Mr Johnson is considering "opt-outs" that would threaten the UK's place in the European Convention on Human Rights.
"This is the first British government in my lifetime which appears determined to swim against the current of human progress, as well as to roll back our rights and the rule of law," said Mr Lammy.
"Rather than uniting Britons around the common values we share, he is intent on waging a grubby culture war designed to stir up division."
Mr Lammy said that the rights set out in the Convention after the horrors of the Second World War provide "the hidden foundations that help us live together freely and fairly to this day", preserving individuals' liberties to express their opinion, enjoy protection from abuses and access education, fair pay and a decent place to live.
"Make no mistake. Boris Johnson is cribbing notes straight from Donald Trump's playbook," said Mr Lammy.
UK news in pictures

Show all 50
"In doing so he is allying himself to the world's populist nationalists: from Viktor Orban in Hungary to Narendra Modi in India.
"We would be naïve to take our rights for granted at this moment. They are under threat.
"Labour's response to Boris Johnson's culture wars must be to refuse to take part.
"Instead we will focus on strengthening the common values, interests and rights we all share."
Mr Lammy committed Labour to legislating to put the UN Convention on the Rights of the Child into domestic law.
The party will consult on extending the Human Rights Act to ensure that private sector providers of public services are bound by the same responsibilities as those with public authority status.
And he said Labour would "explore" the possibility of doing the same with international treaties on health, social security, adequate housing and other socio-economic rights.
Mr Lammy said that the Johnson administration's attack on rights comes at a time when the justice system has "never been more vulnerable", with massive backlogs of cases after 11 years of cuts and court closures.
Human rights empower everyone in society, and not just those "who happen to vote for the winning party" in elections, he said.
And he added: "Let us not forget how difficult it was to win these rights in the first place.
"It took the tyranny and the bloodshed of two world wars in half a century for until European leaders to come together to learn the lessons of a fascist dictatorship that was popularly elected.
Mr Lammy said: "Human rights are an integral part of Labour's mission to make the UK the fairest country in the world.
"Any politician who attacks them attacks all of us.
"Labour will strengthen your rights. Because Labour will stand up for you."
Join our new commenting forum
Join thought-provoking conversations, follow other Independent readers and see their replies