The day Hollande won over England
The Prime Minister may have refused to meet him, but Michael McCarthy was on hand to greet François Hollande in London yesterday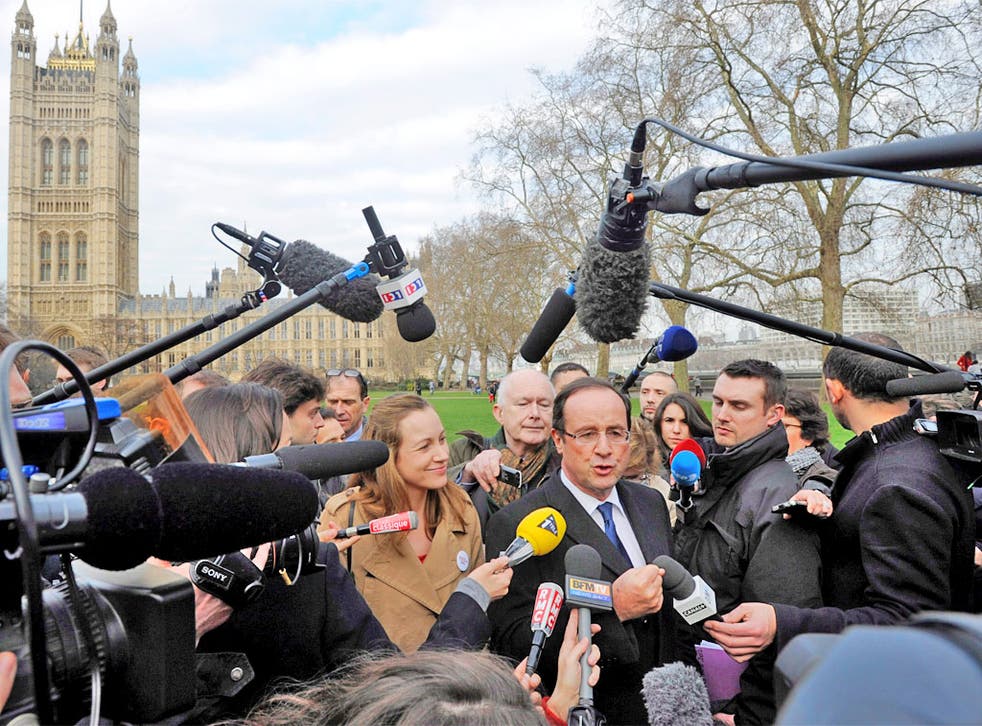 Bon, said Philippe Brun, which is not only French for good, but also the French for "right then". "First chant: François – President! Second chant: All together, socialists! (Tous ensemble, socialistes!) Third chant: Go, go, go, Hollande! (Allez, allez, allez, Hollande!). He added in an aside to me: "That one to the tune of Yellow Submarine."
I didn't think this was how the French in London comported themselves. I thought all 400,000 of them – yes, it's that many – were besuited bankers who worked in Canary Wharf and went home in the evening to South Kensington where they consumed exquisite patisseries. I was wrong.
Outside St Pancras Station yesterday morning, waiting for the Eurostar from Paris bearing their presidential candidate, the members of France's Parti Socialiste (London Branch) were displaying their organised radical fervour, and making it clear that, in undertaking a special campaigning trip to London, François Hollande might well pick up some serious votes in the forthcoming electoral battle with Nicolas Sarkozy.
They were mostly young and clean-looking, his supporters, wearing white T-shirts bearing the party emblem, a red rose (though not any namby-pamby, New Labour-style red rose; the French socialist rose is clenched in a fist that is coming straight for your face). And they weren't bankers – 20 year-old Philippe is a student doing an internship at the Electoral Reform Society; and they didn't all live in South Kensington – Amandine Courtin, the head of the welcoming party with a bunch or red roses, lives in Bethnal Green; and they were full of enthusiasm for a politician who has promised to take the bankers on, curb their bonuses and bring in a marginal tax rate of 75 per cent for anyone earning more than one million Euros a year.
In fact, such was the enthusiasm, that when M Hollande finally emerged, he was lost in a scrum of photographers so frenzied that it was several minutes before he reappeared, a life spent in the back rooms of socialist politics clearly not having prepared him for rock-star adulation, as he wore the astonished toothy smile of a cosmetic dentist who has just won the lottery.
And he was small, I realised with surprise; in fact I wondered if he were as small as his rival Sarkozy, though Eric Hacqemand, political correspondent of Le Parisien, put me right. "He's about four centimetres taller," he said.
But it was serious business, this visit to London, not least because France now has a "Northern Europe" voting constituency which will return its own MP to the French parliament, and most of the voters will be London-based; and also because the French display a certain anguish about all their young people who prefer the British capital, considering it a far more dynamic city than Paris in which to do business. They argue about the dynamism of "the Anglo-Saxon model" versus the lethargy of the "French social model". Is that why 400,000 French men and women are now living in London, I managed to ask M Hollande, by judicious use of elbows in photographer ribs and the shoving of a tape recorder right under his nose. "No," he said. "They are here to work in the service of the European economy and it is good that there are young people who everywhere put their talents and capacity to work to good use."
He was off then for talks with the Labour leader Ed Miliband at Westminster: a joint statement about the need for growth and for financial regulation (although Mr Miliband politely declined to endorse the call for a 75 per cent tax rate); the presentation of a bottle of single malt Scotch; and a lunch of roast beef with the Shadow Cabinet.
Afterwards, M Hollande strolled out for a photocall by the Thames and he spoke to his countrymen who have crossed the channel for their careers. "These French are the same as the French in France," he said. "They wish for economic recovery; they wish to have the best future possible; and they wish for justice, because they consider that effort should be shared. So I address all French people, wherever they live, to say that the change is now, and everywhere."
He might not quite look presidential yet, but in French it was eloquent and moving. Who knows? He might even win.
Join our new commenting forum
Join thought-provoking conversations, follow other Independent readers and see their replies