Deaf and blind man fears losing home over "bedroom tax" as disabled legal challenges mount
Martin Styles, whose wife and son are also deaf, needs his 'spare' room to keep equipment that he needs to communicate
Adam Sherwin
Monday 28 October 2013 18:17 Comments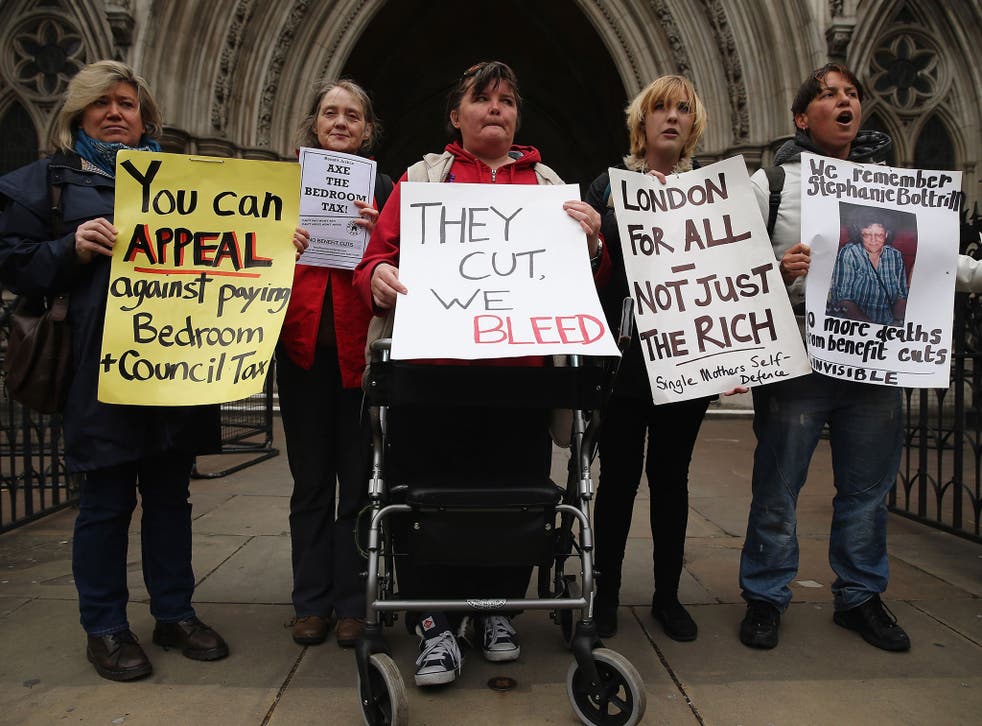 A deaf and blind man who uses his spare bedroom to store braille equipment fears that he could lose his home due to the "bedroom tax" as lawyers warned that the controversial measure is having a discriminatory impact on the disabled.
Iain Duncan Smith, the Work and Pensions Secretary, is facing mounting legal challenges from organisations representing disabled tenants affected by the tax, which argue that it has a disproportionate impact on the most vulnerable, and may breach human rights.
Severely disabled Martyn Styles, 50, of Tunbridge Wells in Kent, fears he will be forced to choose between having a carer and keeping his home as a result of the tax, which penalises tenants if they have a "spare" bedroom by reducing their housing benefit by up to 25 per cent.
Mr Styles lives in a three-bedroom house with his wife and 16-year-old son, who are also deaf, and uses the spare bedroom to store Braille equipment and a specialised computer. He now faces paying more than £40 a week in bedroom tax.
With the help of a communicator guide, Mr Styles used touch, tapping and hand movements to explain his plight.
"I won't be able to afford a carer if I continue to pay my bedroom tax and my benefit reduces as a result," he told Kent and Sussex Courier. "I will be left with no quality of life. A disabled person like me with a family fears this added expense because there is so much else that I need to pay for."
Mr Styles is unable to read print, lipread or hear, and is only able to communicate with specially-trained carers. "I also need to pay out extra money elsewhere for things like cutting the grass and keeping the access clear," he said. "These are things that sighted people could do or even leave undone, but for me it's so important."
Kari Gerstheimer of Sense, a legal advice team for disabled people contacted by Mr Styles, said: "Our legal team has had a significant increase in the number of calls received from deaf-blind people and their families struggling to make ends meet and fearful of being forced to leave their homes as a result of the bedroom tax.
"The tax has had a disproportionate impact on disabled people as many have been found to have a so-called extra room despite requiring it because of their disability. Alongside other benefits being cut housing benefit has been the final blow for many disabled people."
Lawyers representing adults and children with disabilities have already won permission to challenge the benefit reform in the Court of Appeal. An appeal judge has ruled ten test cases should be heard, as they raise issues of public importance.
The appeal is against a High Court decision in July upholding the legality of new housing benefit regulations critics say are unjustified and unlawfully discriminate against the weak and vulnerable in society.
In Scotland, a woman who has multiple sclerosis this month won her appeal against Glasgow City Council's decision to apply a 14 per cent deduction for her single "spare" bedroom at a tribunal hearing.
Imposing the policy would breach the woman's human rights, the presiding judge ruled, because her disability meant her husband had to use the second bedroom. It is thought to be the first legal decision of its kind over the tax.
More than 50,000 people affected by the so-called bedroom tax have fallen behind on rent and face eviction, figures given to The Independent last month show.
Ministers say the "under-occupancy penalty" is intended to ensure that the best use is made of social housing and reduce the housing benefit bill, currently more than £20 billion a year.
Iain Duncan Smith has denied that the Tories' flagship welfare reforms were in chaos after a huge backlog of fitness-to-work tests caused major delays in the new disability benefits system.
Ministers wanted to push Disability Living Allowance claimants on to a new Personal Independence Payment from this week.
But a hold-up in eligibility reassessments carried out by private contractors Atos and Capita now means that only a small number can be switched.
Mr Duncan Smith's office admitted that reassessing people for the new scheme was taking longer than expected and it would now be rolled out gradually.
Rachel Reeves, the shadow Work and Pensions Secretary, said it showed there was "chaos" in the department.
Mr Duncan Smith has already been under fire over problems with other welfare reforms such as Universal Credit and welfare-to-work schemes.
Last week the minister engaged in a spat with former Prime Minister Sir John Major, who took a swipe at the former Maastricht rebel, saying his "genius was unproven".
Mr Duncan Smith, whose Universal Credit is seen as one of the Coalition's highest-risk policies, hit back, saying: "I'm always happy to be in awe of someone whose own intellect delivered us the cones hotline."
A DWP spokesperson said: "We are giving local authorities £190m extra funding this year so vulnerable claimants get the help they need during the welfare reforms, with £25 million specifically aimed to help disabled people who live in specially adapted accommodation.
"Even after the reform we still pay over 80% of most claimants' housing benefit, but the taxpayer can no longer pay for spare bedrooms in the social housing sector."
Register for free to continue reading
Registration is a free and easy way to support our truly independent journalism
By registering, you will also enjoy limited access to Premium articles, exclusive newsletters, commenting, and virtual events with our leading journalists
Already have an account? sign in
Join our new commenting forum
Join thought-provoking conversations, follow other Independent readers and see their replies