Deliveroo, Uber and Amazon accused of exploiting workers with 'unintelligible' contracts
Committee of MPs says the hard to comprehend contracts seem designed to stop workers asserting their rights – and one Uber driver tells The Independent the contract he signed was 'absolutely impenetrable and brutally exploitative'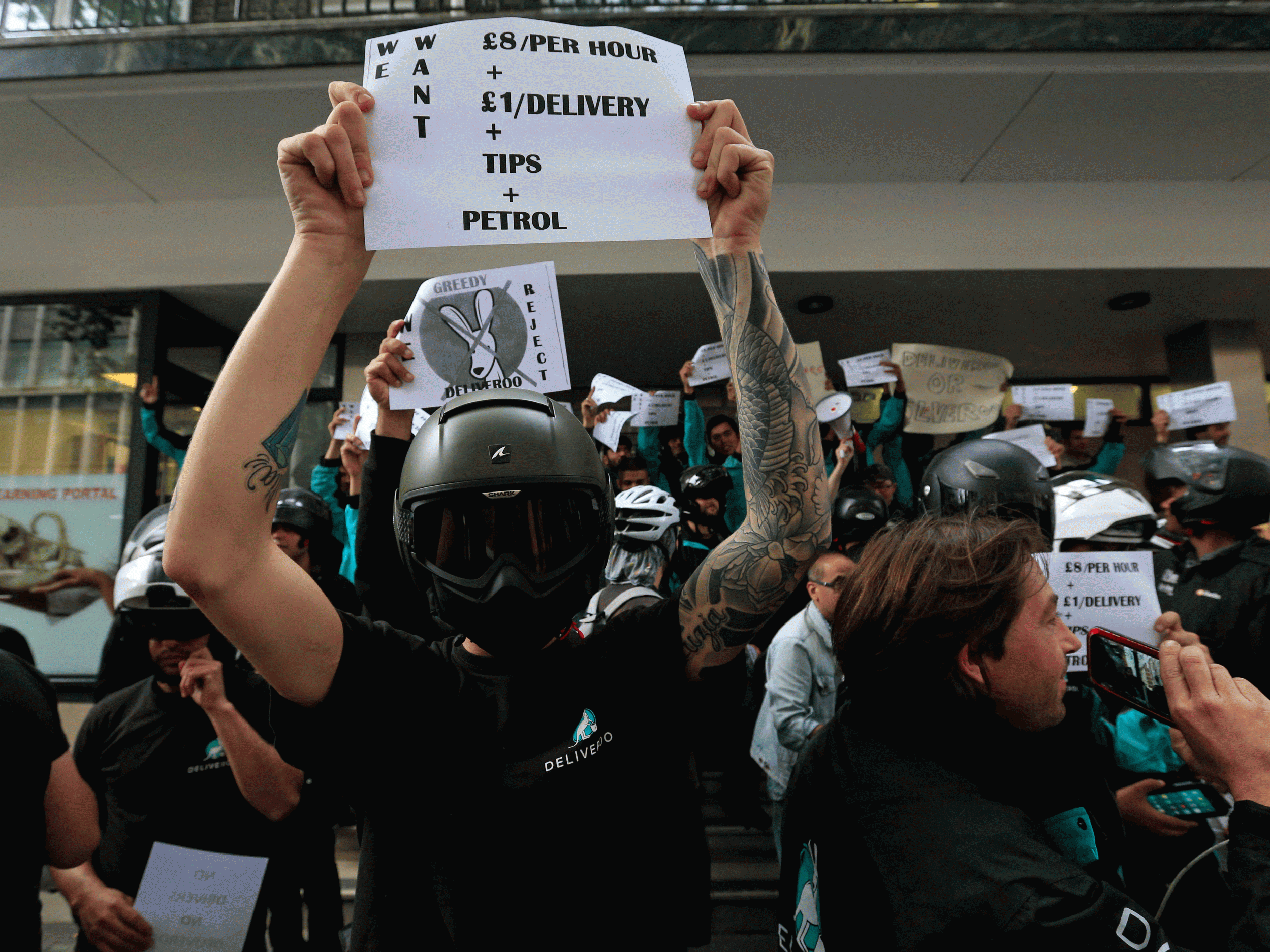 Deliveroo, Uber and Amazon have been getting gig-economy workers to sign "unintelligible" contracts that seem designed to stop them asserting their rights, a committee of MPs has ruled.
The TUC has also accused the multi-million pound companies of inserting "scare clauses" in the contracts to frighten relatively low-paid couriers or drivers away from challenging bad working conditions.
And the criticism was backed by one Uber driver who told The Independent that the contract he had signed had been "absolutely impenetrable and brutally exploitative".
The Work and Pensions Committee – which launched an inquiry into self-employment and the gig economy in December – has now taken the step of publishing contracts used by Deliveroo, Uber and Amazon.
It has claimed they contain "questionable clauses" in which workers must agree never to challenge the company's insistence that they are self-employed and therefore not entitled to the same rights as direct employees.
The committee concludes: "Whether any of these clauses are legally enforceable is perhaps not the point: the intention appears to be to put people off challenging their status, including going to court, and trying to obtain employment rights that may be due to them."
In a highly critical statement, Labour MP Frank Field, the committee chairman, said: "It does seem a marvellous business model if you can get away with it.
"These companies parade the 'flexibility' their model offers to drivers but it seems the only real flexibility is enjoyed by the companies themselves.
"My worry is that, as a result, these companies contribute little to the public purse or our social safety net.
"They are not paying sick leave or contributing to pensions. Yet it seems likely that their employment practices will lead more people to need taxpayers to pick up these costs."
The MPs said that the contract provided to them by Deliveroo, the London based takeaway delivery network with annual revenues of more than £100m, even went as far as explicitly insisting that workers promise never to go to court to dispute their self-employed status.
If they did take action, the contract warned, they would be held liable for Deliveroo's legal costs, and even if they won their case, the company would have the option of deducting its expenses from any damages or compensation awarded by the courts.
By signing the contract, it was stated, "You agree that Deliveroo may set off any sum owed to you against any damages, compensation, costs or other sum that may be awarded to you in those proceedings."
This clause, said Mr Field, was "egregious".
The 10 worst areas for earning the living wage
Show all 10
Turning to cab services company Uber, Mr Field – who in December had declared himself "troubled to note that practices described by [its] drivers would appear to fit the Victorians' definition of 'sweated labour'" – said: "Quite frankly the Uber contract is gibberish."
The US-owned company, said to be worth billions of pounds globally, with 40,000 Uber drivers in England and Wales, was, said Mr Field: "Well aware that many, if not most, of their drivers speak English as a second language – they recently lost a court case trying to escape Transport for London's new English testing rules for private hire drivers – yet their contract is almost unintelligible."
The Amazon Flex contract for couriers, published by the MPs, contains clauses stating: "Nothing in this agreement will create any worker or employment relationship between you and Amazon. As an independent contractor, you will not be considered as having the status of an employee of Amazon for any purpose, including contractual rights.
"You will not make any representation that you have any authority to bind Amazon as an employee, worker agent, partner, or otherwise."
The Uber and Amazon contracts, Mr Field acknowledged, did not go as far as Deliveroo and did not explicitly demand that drivers never go to court to challenge their self-employed status.
But Mr Field said that section 13 of the Uber contract "contains this clause about not challenging the official designation of 'self-employed', when the way they work looks in most ways an awful lot like being employed".
He was backed by Uber driver James Farrar, 48, of Grayshott, Hampshire, one of two Uber drivers who in October 2016 won a tribunal case in which it was ruled they were entitled to some of the basic rights afforded to direct employees, like holiday pay.
Mr Farrar said that the contract presented to him in October 2015 had been "more than 20 pages long, created by an army of lawyers, and absolutely impenetrable".
"Much of it was gobbledegook I couldn't understand," he added. "But when I asked Uber to explain, they refused and said 'You've got to get your own advice'.
"It was brutally exploitative, but the simple choice was: accept the contract or go home. And I had a wife and two small children to support."
After he won his tribunal case, he added, he immediately put in a request for paid holiday. Uber refused on the grounds that it was appealing against the tribunal decision.
The contracts were also criticised by TUC general secretary Frances O'Grady, who said: "These clauses are not legally enforceable. But they are being used as a scare tactic to stop workers from challenging bad working conditions.
"Many people working in the gig economy are unaware of their rights at work and are afraid of being victimised if they speak out. Companies are deliberately exploiting this fear to prevent scrutiny of their employment practices.
"The Government urgently needs to reform employment law, so that employers who use these appalling clauses are fined."
The criticism comes after Deliveroo drivers took strike action in August over proposals that they said could see them earn barely half the National Living Wage of £7.50 an hour.
Some 280 London-based Deliveroo cyclists and moped drivers had been offered a trial that would reduce their hourly pay to as little as £3.75 during quieter periods – but with a pay guarantee should they receive less on the new payment model.
After a week of protests, Deliveroo said no-one would be forced to sign up to the new deal.
In December, a group of Amazon warehouse workers alleged they had been reduced to sleeping in tents in the woods near their workplace because they could not afford to travel to work. Amazon, now thought to be worth $290bn (£233bn) globally, insisted that it paid its "permanent and temporary associates" "competitive wages" that started at £7.35 an hour irrespective of age.
An Amazon spokesman said the Amazon Flex contract cited by the Work and Pensions Committee is designed for people who want to top up their income with a bit of extra work and is not meant to offer the equivalent of a full-time job or income.
The spokesman said: "Amazon Flex offers people the opportunity to make great earnings working on their schedule to deliver Amazon parcels. The majority of people participating in Amazon Flex already have full or part time jobs and use the programme to top up their income, with 70% working 10 hours or less a week, in 1-4 hour delivery blocks, and earning £12 to £15 an hour."
​Uber has written to Mr Field admitting: "We recognise it would be better for both parties if [the contract] was written in plainer, simpler English. This document is, therefore, currently being revised."
Uber also told Mr Field that it had "created new opportunities, some for people shut out of the labour market.
"In the past, even where self-employed, drivers had to plan their lives around the schedule of their operator or employer. Uber has changed that and returned a lot of control to the drivers."
A company spokesman told The Independent: "Almost all taxi and private hire drivers in the UK are self-employed. We've always been clear to drivers that they are self-employed and free to choose if, when and where they drive with no shifts, minimum hours or uniforms.
"There is nothing in our terms to stop anybody challenging this. In fact a small group of drivers recently took us to an employment tribunal claiming they're not self-employed."
Deliveroo told the Work and Pensions Committee that the contract clause insisting on agreement not to challenge self-employment status in court was in the process of being removed.
A company spokesman told The Independent: "As a British business, we're proud to offer well-paid flexible work to 15,000 riders across the UK. We are always revising our supplier agreement to ensure it reflects how we work with riders in practice. That is why we are removing the clause discussed, which has never been enforced."
Join our commenting forum
Join thought-provoking conversations, follow other Independent readers and see their replies