Diane Abbott: Labour will win an election whenever Theresa May calls one
Exclusive: In an interview with The Independent the Shadow Home Secretary remains defiant despite the party languishing in the polls
Ashley Cowburn
Political Correspondent
Saturday 18 March 2017 18:29 Comments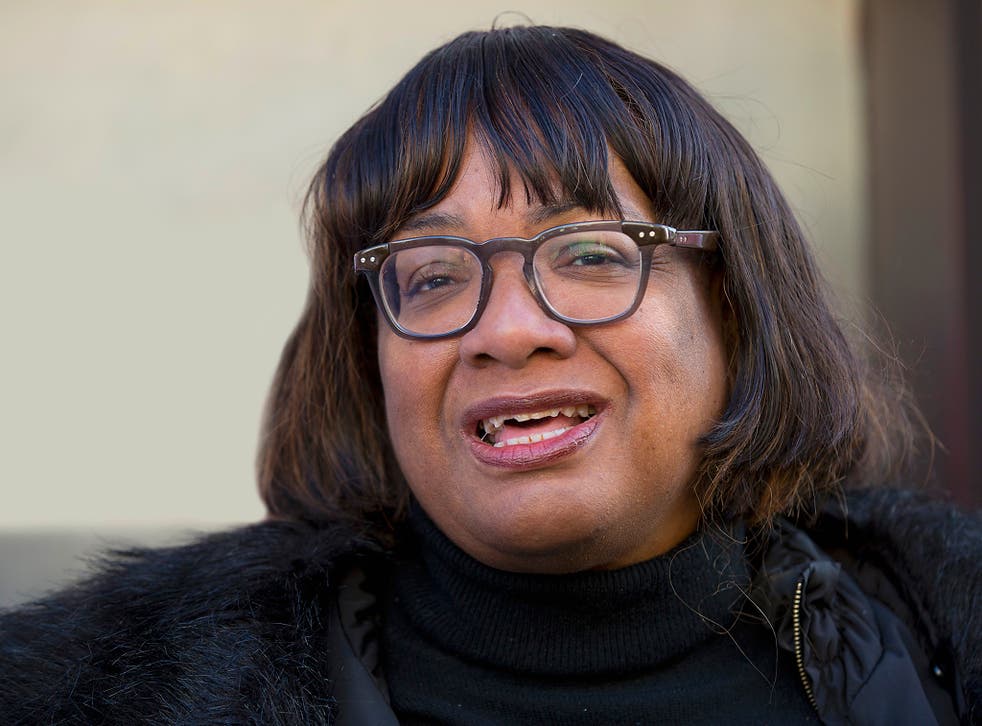 Labour will defy the odds and win a general election "whenever" Theresa May decides it is time to go to the country, Diane Abbott has insisted.
Despite the party languishing in the polls at near historic lows, the Shadow Home Secretary, a longtime ally and close confidant of Jeremy Corbyn, remained defiant, insisting the party is financially prepared to contest a general election. "I'm not contemplating defeat in 2020," she added.
Her comments came as a poll on Saturday by ComRes showed the party was 17 points behind the Conservatives – the gap widening by two points since last month. Rarely have the Conservatives been less than 10 points ahead of Labour since Ms May entered Downing Street.
But in a wide-ranging interview with The Independent Ms Abbott said: "We are prepared for a general election. We are employing more staff we are involved in planning. Now we are putting energy into a general election. Just because you don't hear it that's not to say it's not going on. We want to be battle ready."
"What I'm trying to do, as part of the Shadow Cabinet team, is go around the country and talk to party members," she continued. "Partly because I'm a member of the Shadow Cabinet and partly because Hackney is a relatively safe seat, I see much of my role as going around the country and enthusing party activists and members."
"We are preparing. Actually the party is quite well set, financially, because of the huge expansion of membership. And also when we had the last leadership election people were having to pay £25 to vote – so we've cleared up all our debt and we're are in the best financial situation we have been in for some time. Financially, we're in a good place."
Asked whether Labour would win a snap election this summer if Ms May wished to call one, she replied: "Oh, I think we are planning to be ready for the election whenever it comes. We are not overconfident because you should never be overconfident but we are ready for the election whenever it comes and we believe that the British people depend on us winning."
Pressed again whether the party would emerge victorious, Ms Abbott said: "We're going to be ready for the election whenever it comes and I believe we can win yes... I don't want to engage in prophecy I'm just saying we are going to be ready for the election whenever it comes and I believe that we can win.
"We've spent the first 12 months of Jeremy's leadership going from basically one leadership election to another. We are now in a position where we can actually try and get our message across and that's what we are planning to do between now and the summer."
"I believe and I've said – and I think I said it last year – that we can turn these polls around."
Under the Fixed-term Parliaments Act elections are held every five years, meaning there can be no election before 2020. The legislation can be unpicked with the support of two thirds of MPs. Despite ruling out going to the country before the end of the decade, however, pressure is mounting on the Prime Minister for a snap election to strengthen the party's hand during the negotiations on Britain's exit from the EU while also having the numbers to pass domestic policy – such as grammar schools – in the Commons.
In the interview Ms Abbott, the MP for Hackney, also cast aside reports in The Times that Labour had lost 26,000 members since the summer, which was used by senior party figures as evidence that the tide was turning against Mr Corbyn's leadership. "It's still a huge membership," Ms Abbott said. "That's kind of like churn.
"We've got a membership of over half a million. We've never had a membership even approaching that in the time I've been in Parliament, which is 30 years. You're obviously going to get churn – you're always going to get people that join and don't renew.
Her comments come as the Prime Minister prepares to invoke Article 50, the untested mechanism for a member state leaving the EU, within the next two weeks. For Ms Abbott, this is now the time Labour pulls itself together after the party endured resignations and bitter recriminations over its position on the Government's Brexit bill. "I very much hope that the party now comes together," she added. "I think it's what the party members want whether or not they supported Jeremy for leader, I think that's what the party members are desperate for.
"So I hope the party comes together in Parliament and holds this Government to account."
Ms Abbott was accused by her parliamentary colleagues in the Labour party of cowardice – one went as far to call for her resignation live on television – after missing a historic vote in the Commons on the Government's Brexit bill at the second reading last month. Asked about her colleagues' reaction, the shadow Home Secretary added: "I didn't abstain. I wasn't well, I was allowed to go home. I didn't watch MP's on television so I didn't have a reaction to it.
"I think this personal stuff is not what the public is interested in," she said. "The fact is the Labour party did vote in the end to trigger Article 50. It was a difficult decision for the party because the party has the top half dozen pro-Remain constituencies and the top half-dozen Leave constituencies. But in the end the end as a leadership team we felt the important thing was to respect the result of the referendum."
Speaking just hours after Philip Hammond was forced into an embarrassing U-turn on National Insurance Contributions (NICs) – a major announcement at his Budget speech just last week – Ms Abbott said it had damaged the Chancellor's authority. "I think that's one of the fastest U-turns I've ever seen and you wonder whether Hammond U-turns entirely of his own free will.
"It's just extraordinary because the idea that they drew up a Budget and nobody looked at the Tory Party manifesto… it's just humiliation for Philip Hammond. It's very damaging to him as Chancellor. His unique selling point is that he is a safe pair of hands. In fact he's had to reverse his Budget in less than a week."
The announcement to drop the policy was made just 20 minutes before the weekly session of Prime Minister's Questions – despite a decision being made around 8am the same day. Attention rapidly turned to the leader of the opposition – it was his time to think on his feet but his performance was ridiculed and derided by many.
Ms Abbott rejected this, however. "I watched his performance on television – I had engagements in the constituency – and I thought his performance was very sound"
The shadow Home Secretary also reflected on her own career in the Commons – in June she will be celebrating her 30th year in Westminster. Will she be around for another 10? "Oh, I don't know about that. I've always taken it, well… I'll see what I think at the end of this parliamentary term. I've always taken it a parliamentary term at a time.
"I'm certain I'll stand in 2020. But it's difficult: there's always the possibility of an election before 2020. I'll definitely stand again but I'm not sure I'll be here in 10 years' time."
Her highlight, she says, after a short pause, was Labour's landslide victory at the general election almost two decades ago. After leaving her count in Hackney North and Stoke Newington, she travelled to the South Bank for the party's celebration. "Tony Blair came down and landed on the South Bank in a helicopter and he came to us and said: a new dawn has broken, has it not?" It was an incredible moment, Ms Abbott added. "I was first elected in '87 and people said we would never be elected again because you went though the SDP era.
"We'd been out of power for 18 years."
Register for free to continue reading
Registration is a free and easy way to support our truly independent journalism
By registering, you will also enjoy limited access to Premium articles, exclusive newsletters, commenting, and virtual events with our leading journalists
Already have an account? sign in
Join our new commenting forum
Join thought-provoking conversations, follow other Independent readers and see their replies