Education secretary demands action on low number of 'white British disadvantaged boys' going to university
Damian Hinds will challenge education experts to tackle the issue as he announces £24m for the northeast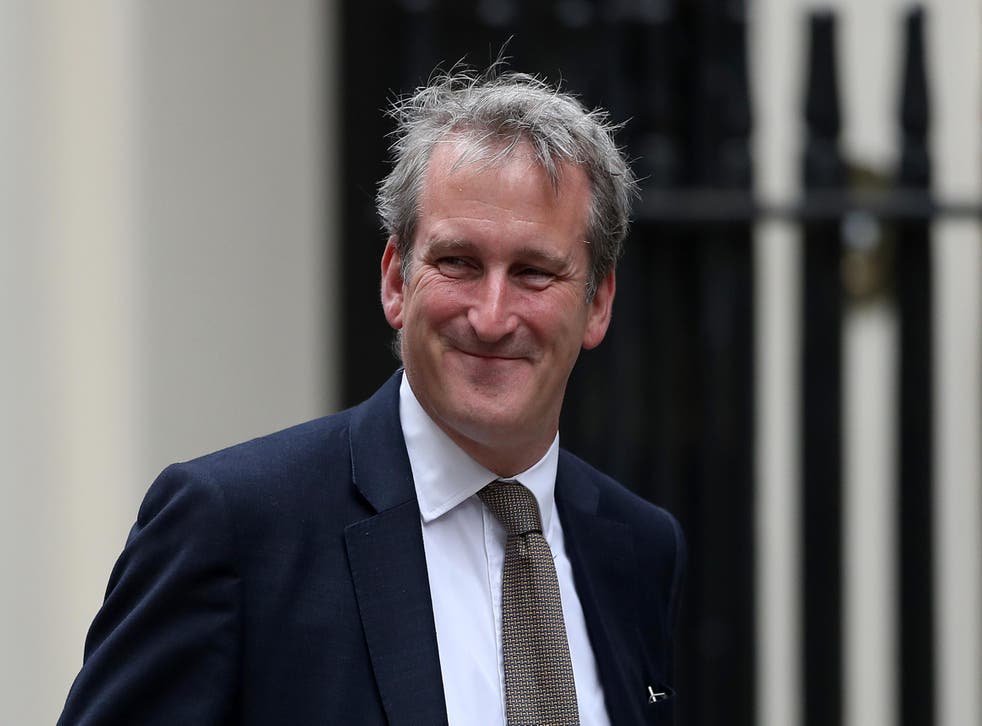 The education secretary will say that the UK's schooling system must be challenged over why "white British disadvantaged boys" are the least likely of any ethnic group to make it to university.
Officials said Damian Hinds would push university and business leaders to take action over the issue at a meeting on Monday, as he also announces £24m to boost standards in the northeast of England.
The Independent reported earlier this year how the number of white people accepted at universities has dropped despite an overall rise in UK students.
But Mr Hinds' words also follow a call from Theresa May over the weekend for working class Labour voters to abandon Jeremy Corbyn's party and come to the "moderate" Conservatives, something dismissed as "desperate" by the opposition.
On Monday Mr Hinds will launch Opportunity North East, a scheme aimed at tackling the issues that hold back "young people from all communities" and that risk areas feeling "left behind".
He will tell a round table meeting that: "It's absolutely right that we challenge ourselves to do things like increasing access to university for young people from black and minority ethnic communities, but we must remember that disadvantage is not limited to a single group.
"White British disadvantaged boys are the least likely of any large ethnic group to go to university. We need to ask ourselves why that is and challenge government, universities and the wider system to change that.
"It's vital that we do this to make sure that no part of our country feels as though it has been left behind, and that every community feels like this is a country that works for everyone."
UK news in pictures

Show all 50
Mr Hinds will cite research by the Institute for Fiscal Studies, which found white British disadvantaged boys are the least likely of any ethnic group to progress to university.
It found groups with the next lowest progression rates – disadvantaged black Caribbean males and males from a mixed ethnic background – are around twice as likely to progress to higher education than their white British disadvantaged peers.
The Opportunity North East scheme will include £12m to improve pupils' transition from primary to secondary school in the region and a further £12m to boost early career training for new teachers to improve classroom standards.
Commenting on the announcement by Damian Hinds, Angela Rayner MP, Labour's shadow secretary of state for education, said: "The education secretary is right to say that children in the northeast are missing out, but this is the result of his own government's policies.
"The funding announced today is nothing compared to the funding that has been cut from Sure Start centres, schools, and colleges across the region. The Tories are trying to say that austerity is over, but the reality is that schools are still facing a funding crisis after eight years of deep and damaging cuts."
Angela Scully of Independent Schools Association discusses schools giving pupils advantages in exams
Experts called for a national debate about "culture and ambition in white working class families" earlier in 2018 after it emerged that the number of young white people going to university had declined over the past three years, despite an overall increase in admissions.
Figures published in January by the Higher Education Statistics Agency showed that the number of white students had fallen by more than 34,000 since 2013/14 – a decrease of two per cent – while total enrolments rose by one per cent in the same period.
Other ethnic groups, meanwhile, saw significant increases, with the number of black students up by 11 per cent, Asian students by 12 per cent and those from other or mixed ethnic backgrounds by 18 per cent.
In an article published on Sunday, Ms May tried to refocus her party back on to the domestic agenda and said she wants the Tories to serve "the whole country" – highlighting policies to address housing and living costs.
The piece, alongside her conference speech, is part of a move to swipe centre-ground voters from Labour and paint Mr Corbyn's party as one that has moved away from moderate voters.
Shadow chancellor John McDonnell said over the weekend: "It looks as though she's making a pitch for Labour support because she's got so little in her own party."
Join our new commenting forum
Join thought-provoking conversations, follow other Independent readers and see their replies