Dominic Cummings' £800m pet project is 'brand in search of a product', report warns
Plan for high-risk research funding body is 'unfocused', MPs' report finds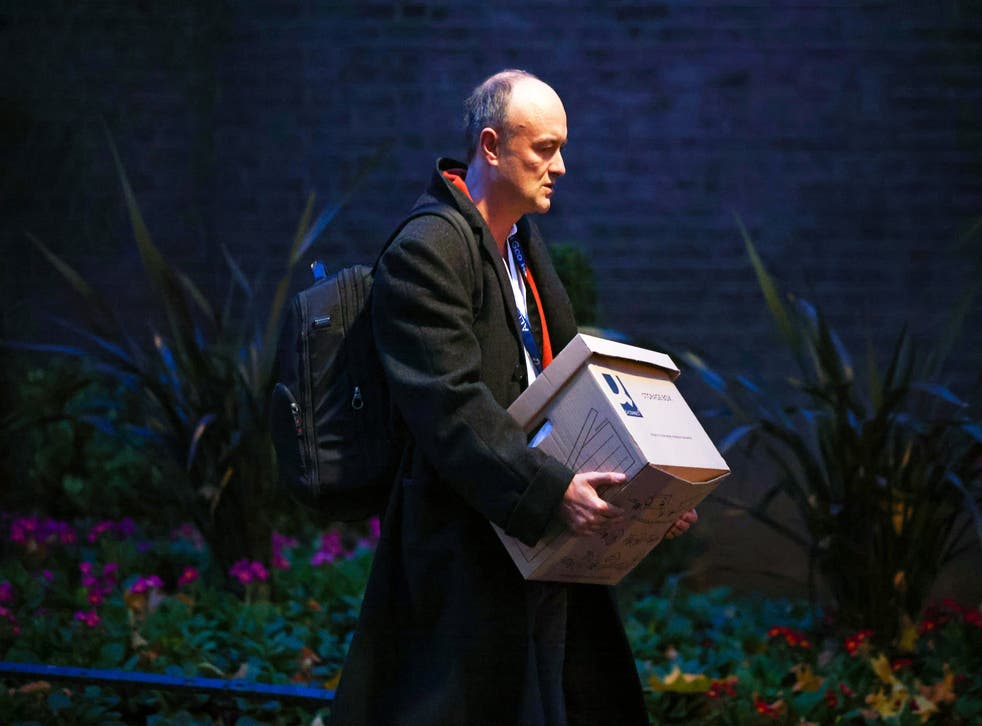 A new £800m science and research body which was Dominic Cummings' pet project while he was in 10 Downing Street is "a brand in search of a product", a parliamentary report has said.
Plans for the organisation – modelled on the US Defence Advanced Research Projects Agency (DARPA) – are "unfocused" and need a clear purpose outlined by the government, said the report by the cross-party Commons Science and Technology Committee.
Conservatives pledged in their election manifesto to invest millions in "a new agency for high-risk, high-payoff research, at arm's length from government". 
But despite the project being included in two successive Queen's Speeches in 2019, today's report found that government "has not clearly articulated the need for, or intended remit of, the proposed agency". 
As Boris Johnson's former senior adviser, Mr Cummings put a UK DARPA at the heart of his ambitions for government.
In lengthy blogposts, he hailed the US agency's achievements in channelling funding to blue-skies research projects, some of which failed but others led to world-shaping breakthroughs like the development of the personal computer.
Cummings argued that even though many of ARPA's projects came to nothing, the "trillions of dollars of value" its successes created justified the investment. And he sought to bring its low-bureaucracy style into Whitehall, using it as a model for bringing brilliant individuals to drive ground-breaking projects.
But since he was forced out of Downing Street last November in an internal power struggle, much of his cherished ambition to shake up Whitehall and replace civil servants with "weirdos and misfits" appears to have run into the sand.
Releasing today's report, Science and Technology Committee chair Greg Clark said that a UK version of ARPA "has the potential to find solutions to help address some of the greatest challenges facing our society – whether achieving net zero, preventing disease outbreaks or defending our nation against emerging threats".
But he warned: "The government's financial commitment to supporting such an agency is welcome, but the budget will not be put to good use if ARPA's purpose remains unfocused. UK ARPA is currently a brand in search of a product.
"The government must make up its mind and say what ARPA's mission is to be. Only then can the necessary high-risk, but hopefully high-reward research commence.
"I look forward to the government setting out its plans in some detail and hope that the committee's findings will help to inform the shape of UK ARPA."
The report warned that ministers must be prepared to wait between 10 to 15 years for high-risk projects to pay off.
Drawing on evidence taken from international and domestic academics, researchers and industry, the report recommended that the new body should focus its research on no more than two strategically important missions aligned with the long-term needs of the nation. 
The report recommended that when it is finally established, the UK agency should have "a distinct and flexible organisational structure", with an environment "characterised by a high degree of autonomy and limited bureaucracy". 
It must be able to "pursue 'novel and contentious' activities without case-by-case ministerial approval", said the committee. And its director should be "an individual with a bold vision, creativity and drive" able to "empower and embolden" senior staff whose pay should be allowed to bust normal civil service limits to ensure the best people are attracted. 
Join our new commenting forum
Join thought-provoking conversations, follow other Independent readers and see their replies