Trump bumps Britain down the queue 'after Merkel lobbies for EU trade deal first'
Report comes days after senior Republican said the US was ready to forge an agreement with Britain 'as soon as possible'
Jon Sharman
Saturday 22 April 2017 00:29 Comments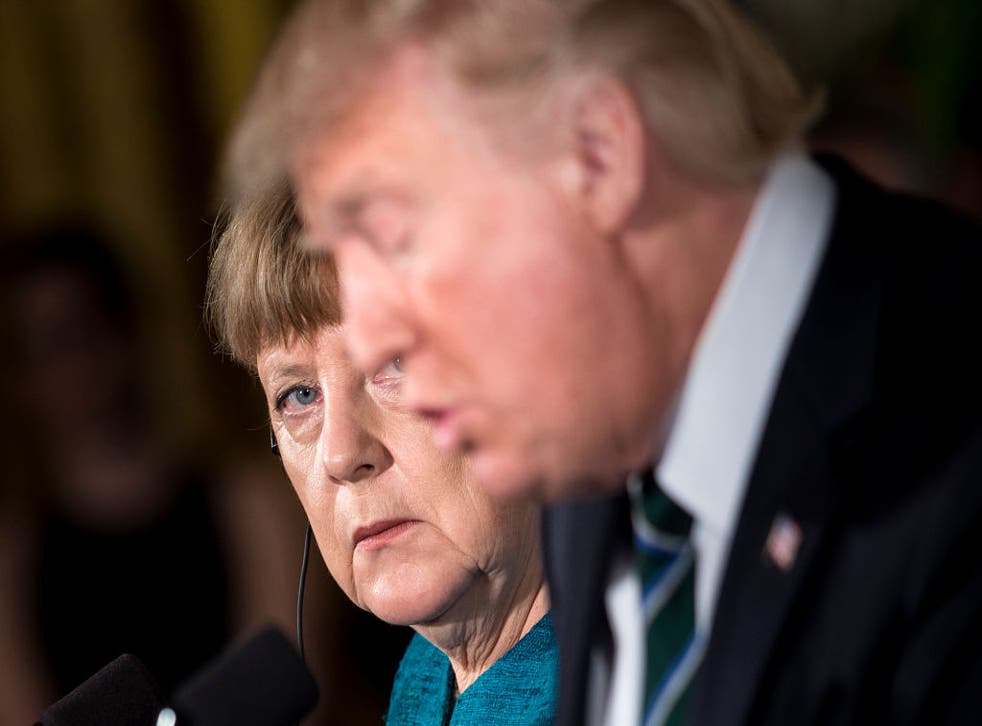 Donald Trump has bumped Britain down the queue for a new free trade agreement after Angela Merkel convinced him he should first strike a deal with the EU, it has been claimed.
Ms Merkel's lobbying reportedly led to a "realisation" in Washington that a deal with the EU would benefit the US far more than one with the UK post-Brexit.
Citing American officials, The Times reported Mr Trump was now convinced making an agreement with Europe would be easier than he had thought.
It comes just days after senior Republican Paul Ryan told Cabinet ministers the US was ready to forge an agreement with Britain "as soon as possible", and would stand alongside its "special ally" during the Brexit process.
At a Policy Exchange event in London, Mr Ryan, the speaker of the US House of Representatives, added: "We think it's in everyone's interests to have a strong relationship between Britain and the EU, we want to, as soon as the UK is ready and able, to do a trade agreement, a bilateral trade agreement."
In 2012 it was estimated that trade between the US and EU was worth some £2.1 billion ($2.7 billion) a day, and was directly responsible for 6.8 million jobs in 2010, according to the Office of the US Trade representative.
When Theresa May became the first foreign leader to meet Mr Trump after his inauguration, the pair agreed their governments would establish UK-US working groups to start scoping out what could be achieved before Brexit.
Early moves were thought to involve removing mobile phone roaming charges, mutual recognition of professional qualifications, removing red tape and removal of non-tariff barriers blocking UK exports of certain agriculture and food products.
They hoped it would mean a new trade agreement is ready as soon as possible after the UK has formally left the EU.
Trumped! The best cartoons on 'The Donald'

Show all 28
Friday's unwelcome news echoed comments by then-President Barack Obama during the Brexit referendum campaign, when he suggested a vote to leave would put Britain at the "back of the queue" for trade talks.
Speaking months later at the G20 summit, Mr Obama said the countries would have to do "everything we can to make sure that the consequences of the [Brexit] decision don't end up unravelling what is already a very strong and robust economic relationship".
Register for free to continue reading
Registration is a free and easy way to support our truly independent journalism
By registering, you will also enjoy limited access to Premium articles, exclusive newsletters, commenting, and virtual events with our leading journalists
Already have an account? sign in
Join our new commenting forum
Join thought-provoking conversations, follow other Independent readers and see their replies