Donald Trump could make 'working visit' to UK early next year despite anti-Muslim tweets
No 10 unaware of US President's plans – 'I don't have anything on that,' Prime Minister's spokesperson says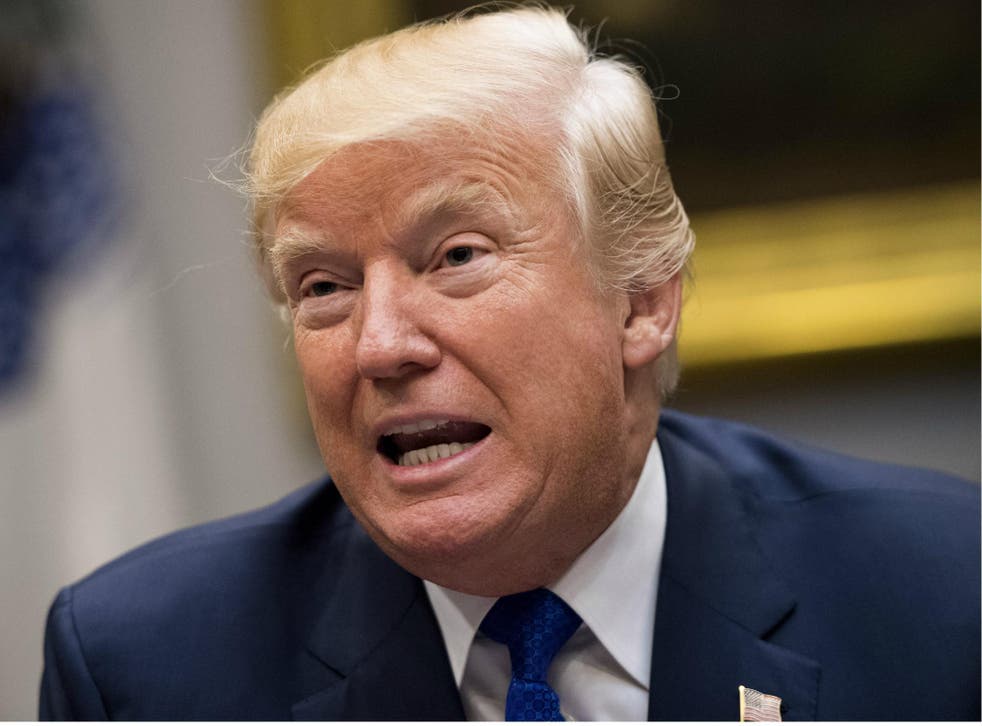 Donald Trump could visit Britain early next year, despite his sharing of anti-Muslim tweets – with the Government in the dark about his decision.
Ministers are braced for the US President to fly in for the opening of his country's new embassy in London, which could take place as early as February.
The "working visit" would be separate to the state visit which Theresa May has offered and which Mr Trump has accepted – but for which no date has been set.
Officials have not been told whether he will attend the embassy's opening and believe they are powerless to influence his decision, whatever the security implications.
However, some Labour MPs have suggested the US President should be banned, or arrested and charged with inciting racial hatred, should he come to Britain.
"You cannot stand up to this kind of action, you cannot stand up to horrible racism, or pretend to do so, and invite the man in through the front door," Chris Bryant told the Home Secretary this week.
The trip, first proposed in October, was intended to reduce the criticism about the state visit, which is believed to have been shelved until later in the President's term.
The President's widespread unpopularity in the UK means any visit would inevitably prompt huge protests, the scale of which would represent a major security headache for authorities.
The issue is currently mired in fresh controversy after Mr Trump retweeted anti-Muslim videos published by Jayda Fransen, the deputy leader of the far-right group Britain First.
He then told the Prime Minister to stay quiet, and criticised her lack of focus on countering "radical Islamic terrorism taking place in the UK", when she said his actions were "wrong".
In Jordan on Thursday, Ms May declined to comment on Mr Trump's personal criticism of her and ducked a question about whether she would rebuke him directly over his actions.
No 10 said today that it did not know whether he would visit on a working basis early next year. "I don't have anything on that," the Prime Minister's spokesperson said.
He was also "not aware of any plans" for the two leaders to speak in the near future, but said they "speak regularly".
"They have spoken quite a lot over the summer and autumn months in response to events here and in America that you are familiar with. And there are events like Iran."
The spokesperson repeated the position on the state visit, that "an invitation has been extended and accepted for a state visit and we will set out further details in due course".
In the Commons, Amber Rudd, the Home Secretary, was unable to say that Britain had formally requested that Mr Trump delete the tweets
However, Sir Kim Darroch, Britain's ambassador to Washington, revealed that Britain had formally protested to the White House.
He tweeted: "British people overwhelmingly reject the prejudiced rhetoric of the far right, which seeks to divide communities and erode decency, tolerance and respect.
"British Muslims are peaceful and law-abiding citizens. And I raised these concerns with the White House yesterday."
The Times reported that Ms May was persuaded to offer Mr Trump a state visit by her former chief of staff, Fiona Hill, an offer made within weeks of his inauguration.
Join our new commenting forum
Join thought-provoking conversations, follow other Independent readers and see their replies