Ukip's only MP Douglas Carswell 'holds secret talks on defecting to Tories' amid ongoing row with Nigel Farage
Major Ukip donor Arron Banks has threatened to stand against Mr Carswell in the 2020 general election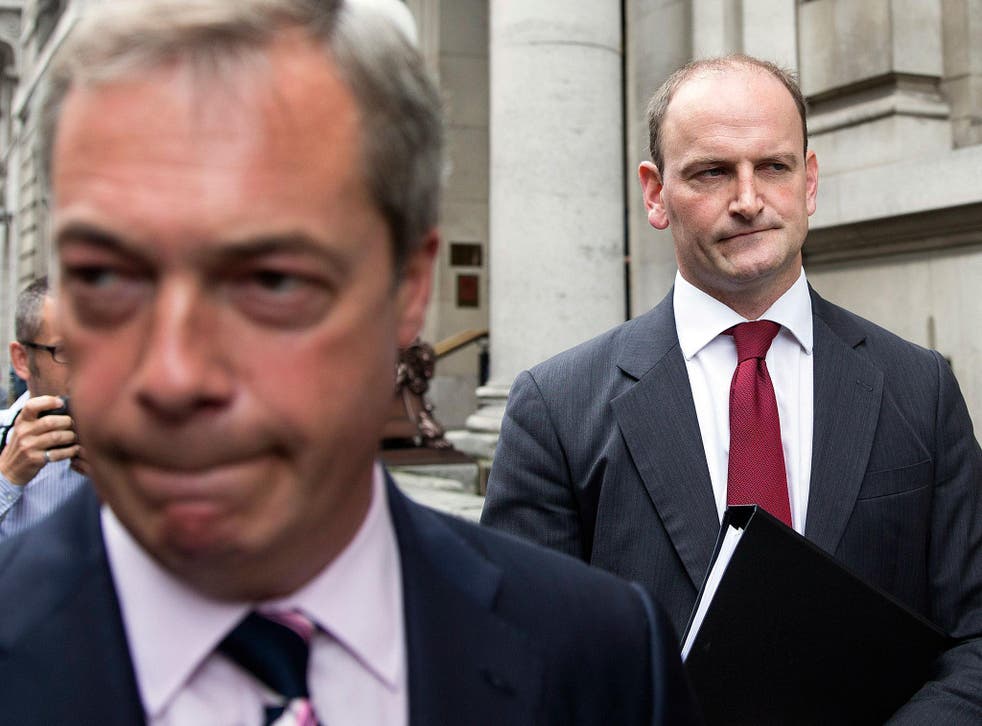 Ukip's only MP reportedly held secret talks about rejoining the Tory Party to fight the 2020 general election after former leader Nigel Farage called for him to be thrown out of its ranks.
Douglas Carswell spoke to Conservative MPs to suss out whether he would be welcomed back by his old party, from which he defected in 2014, The Daily Telegraph reports.
However, Mr Carswell said he was happy to continue to represent Ukip in the Commons after an "amicable" meeting with party chairman Paul Oakden.
He told the Press Association: "Contrary to a lot of speculation, we had a very polite and amicable meeting. I think he has done a wonderful job as party chairman."
Key Faces of UKIP

Show all 11
The Eurosceptic party was plunged into fresh chaos after Mr Farage called for the MP to be ousted for trying to damage Ukip.
Leader Paul Nuttall then asked Mr Oakden to meet the Clacton MP for talks.
Mr Farage, who has been engaged in a long-running feud with Mr Carswell, said the party had come close to expelling the MP before.
Speaking after a Brexit event in central London, he said: "It's not just me. A lot of people have been saying it and saying it for a very long time.
"We nearly got rid of him back in 2015 when he sabotaged all my efforts at the European summit.
"We didn't quite have the nerve to do it. I suspect now the party will."
'He's lying to you' - Nigel Farage heckled in European Parliament
Asked if Mr Carswell would be gone by the end of the day, Mr Farage replied: "I'm not involved. It's up to them. I'm retired."
Major Ukip donor Arron Banks has threatened to stand against Mr Carswell in the 2020 general election.
But Mr Farage said the comments should not be taken "too seriously".
However, a later tweet suggested that Mr Banks was taking his challenge to Mr Carswell seriously and making practical arrangements to prepare an election campaign.
"We will have a high street shop in Clacton, professional agent appointed soon and I will be rolling my sleeves up," said Mr Banks.
Ukip MEP and former leadership candidate Bill Etheridge told the BBC: "The truth is it's not a party at war, it's one man - maybe with two or three acolytes - who has gone out of his way to subvert and undermine the leadership, the principles of the party and everything we stand for.
"All we are saying is, 'Look, Douglas, you don't like what we stand for, you don't like our principles. Well, go on - go somewhere else. You couldn't get on with the Tories, you can't get on with us. Form the Carswell Party and get on with it'."
Join our new commenting forum
Join thought-provoking conversations, follow other Independent readers and see their replies