Autumn Budget: Driverless cars to be tested on roads as early as next year as Philip Hammond vows 'high-tech Britain'
Budget will include a clear-out of regulations to allow widespread trials of self-driving vehicles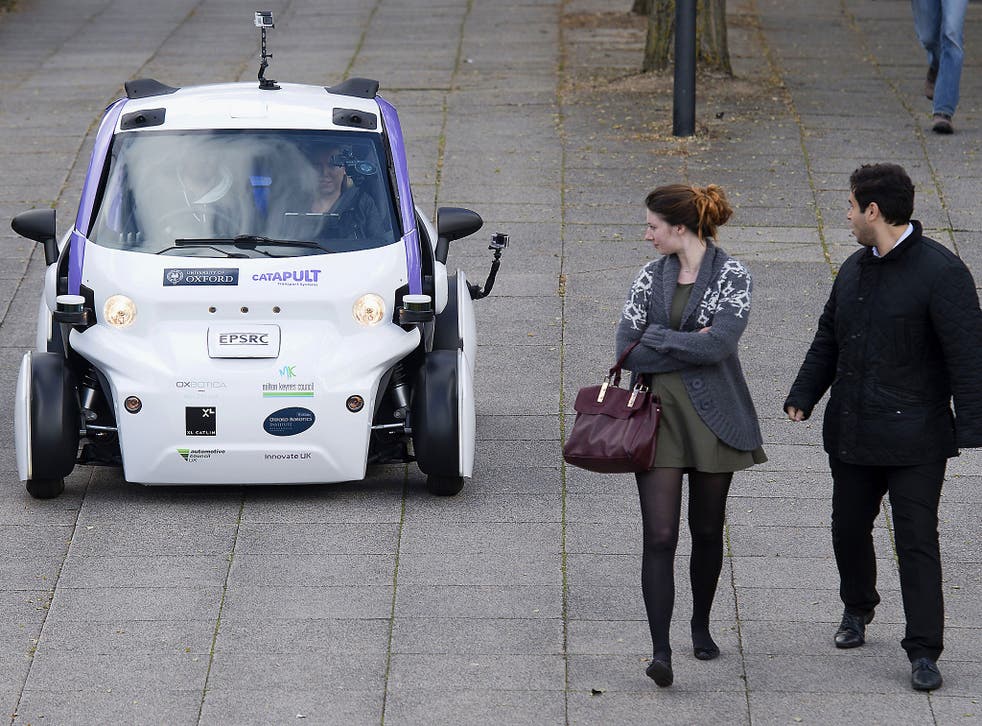 Driverless cars will be tested on UK roads as early as next year, after a shake-up of legal restrictions expected in this week's Budget.
Philip Hammond is set to announce a clear-out of regulations to allow developers of self-driving vehicles to put them through widespread trials for the first time.
The move will form part of a package of measures that will "put high-tech Britain in the fast lane", he will say – in an attempt to show the Government is not consumed by Brexit.
There will also be hundreds of millions of pounds for more electric car charge points, to boost sales of battery-driven cars and for next-generation 5G mobile networks.
"The Budget will build a country fit for the future and make the UK a leader in the technological revolution," a Government source said.
Ministers have already set out an aspiration for driverless cars to be on Britain's roads by 2021, several years ahead of earlier forecasts.
Experts believe they will reduce the number of accidents and make roads safer – despite warnings that hackers could seize the controls remotely and cause motorway pile-ups.
But only very limited trials have taken place so far, in Coventry and Milton Keynes, because changes first need to be made to the Road Traffic Act.
UK news in pictures

Show all 50
Now Mr Hammond will pledge to make that change, arguing the driverless car industry could be worth a staggering £28bnto the UK economy by 2035, supporting 27,000 jobs.
"This will remove the last remaining barrier to advanced, on-road testing putting the UK in the fast lane of global developments for this technology," the source added.
It would "help realise the Chancellor's vision that fully self-driving cars will be on UK roads in as little as three years".
Mr Hammond is not expected to say when the trials will start, but one industry expert told The Independent they would follow "quite quickly", once the regulations are loosened.
The Budget package is also expected to include:
* £75m to "secure the nation's position as a world-leader" in artificial intelligence, by supporting start-up companies and increase the number of new PhD students to 200 each year.
* £400m for more electric car charge points – although no figure has been given.
* £100m for "plug-in car points" to encourage purchases of electric cars – seen as crucial to improving air quality.
* £160m for next-generation 5G mobile networks across the UK – plus £35m to deliver mobile connections and "lightning-speed internet" on rail journeys. Trials will start on the Trans-Pennine route, which connects Leeds, Manchester and Liverpool.
* £100m for an additional 8,000 fully-qualified computer science teachers, supported by a new National Centre for Computing.
* £76m to boost digital and construction skills.
* £40m for training programmes for groundworkers, bricklayers, roofers and plasterers, to boost housebuilding.
The Society of Motor Manufacturers and Traders welcomed the efforts to make the UK "one of the best places in the world" to develop driverless cars.
"These vehicles will transform our roads and society, dramatically reducing accidents and saving thousands of lives every year, while adding billions of pounds to the economy," said Mike Hawes, the SMMT's chief executive.
Join our new commenting forum
Join thought-provoking conversations, follow other Independent readers and see their replies