Protesters who blockaded London arms trade fair acquitted after judge sees evidence of illegal weapons on sale
The judge said there was compelling evidence that illegal arms were on sale at DSEI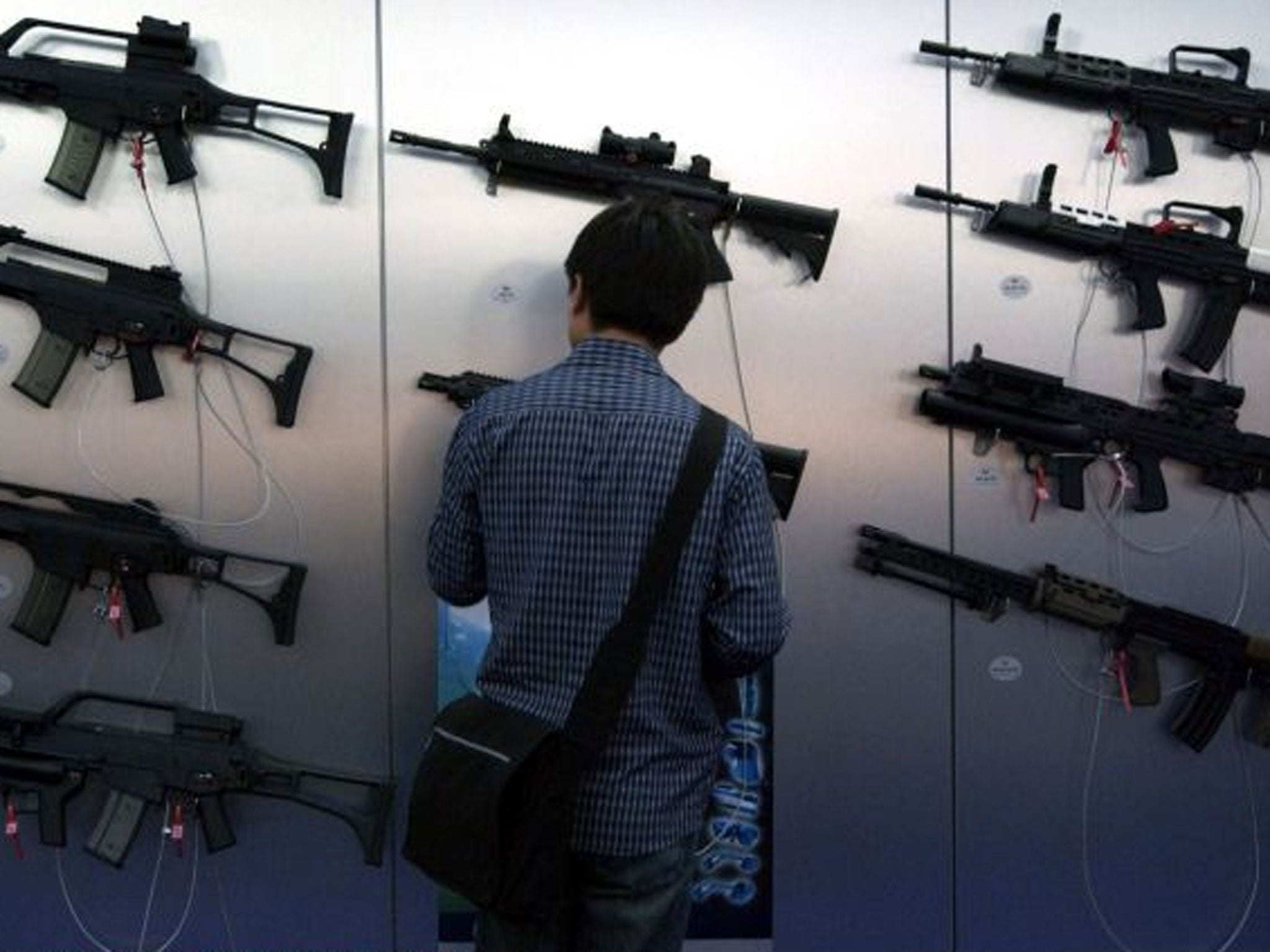 There is compelling evidence that arms were illegally being sold at the world's biggest arms fair which takes place in London, a judge has ruled.
Acquitting eight anti-arms trade protesters who tried to disrupt the Defence & Security Equipment International (DSEI) event at Stratford's ExCel Centre last September, District Judge Angus Hamilton accepted the defendants' argument that they had tried to prevent a greater crimes, such as genocide and torture, from occurring by blocking a road to stop tanks and other armoured vehicles from arriving at the exhibition centre.
Following the verdict at Stratford Magistrates Court on Friday, the Metropolitan Police told The Independent it was reviewing the judgment and would discuss the matter with the Crown Prosecution Service.
The campaigners, who chained themselves outside the ExCeL centre, had been charged by the Crown Prosecution Service with blocking a highway.
But the court heard evidence from human rights groups and arms trade experts explaining the nature and possible end destinations of the weapons on sale at the fair.
Witnesses described the role of the arms trade in facilitating the repressive Bahrani regime, in Saudi Arabia's bombing campaign over Yemen, and with Turkey's internal repression of its Kurdish population.
The judge said the evidence of illegal weapons sales had been left unchallenged by the prosecution and that such sales would potentially break arms control laws.
"[There is] clear, credible and largely unchallenged evidence from the expert witnesses of wrongdoing at DSEI and compelling evidence that it took place in 2015," he said.
"It was not appropriately investigated by the authorities. This could be inferred from the responses of the police officers, that they did not take the defendants' allegations seriously."
He also said there was no evidence of an investigation by authorities into whether illegal arms were being sold at the trade show.
DSEI's organisers say that compliance regulations were not breached in 2015 and that they continuously refine their compliance processes.
In a joint statement released straight after the judgement, the acquitted campaigners said: "Over the week, we have put DSEI and the arms trade on trial and we have proven them to be illegitimate. Our only regret is that we didn't succeed in shutting down DSEI.
"We were compelled to try to prevent war, repression, torture and genocide and we stand by our actions."
Isa Al-Aali (from Bahrain), Angela Ditchfield (from the UK), Lisa Butler (from the UK), Thomas Franklin (from the UK), Javier Gárate Neidhardt (from Chile), Susannah Mengesha (from the UK), Luis Tinoco Torrejon (from Peru) and Bram Vranken (from Belgium) all denied wilful obstruction of the highway.
Raj Chada and Adeela Khan, lawyers from the criminal defence team at Hodge Jones & Allen, represented five of the defendants.
Mr Chada said the Government was turning "a blind eye" to unlawful activity at DSEI.
"It is clear that there are no proper checks at DSEI from any state agency. The government has turned a blind eye not only to the unlawful activity at DSEI, but also to the consequences of a trade that is killing thousands in Yemen and elsewhere. It is shameful that the government did not act – and our clients felt that they had to," he said.
10 examples of Saudi Arabia's human rights abuses
Show all 10
Ms Khan added: "Critically, the government's continued failings to stop the illegal exhibition of certain equipment used for torture or the sale of weapons to regimes that the UK knows are committing human rights abuses clearly demonstrates its inability to enforce its own law in this area. Our clients therefore feel justified in their action and make no apology for raising the public's attention to this event."
The ruling comes as the Government ignores calls from the House of Commons International Development Committee and the European Parliament to impose an arms embargo on Saudi Arabia, which has been accused of committing war crimes in its bombing campaign against Houthi rebels in Yemen.
Sales of British bombs to Saudi Arabia surged from £9m to more than £1bn in the three months before DSEI took place, according to Government arms export licence statistics.
Andrew Smith of Campaign Against Arms Trade said: "At the same time as the defendants were being arrested for peaceful protest, the arms dealers were working with civil servants to sell even more weapons.
"It should never have been campaigners in the dock this week, not when UK arms are being sold to dictatorships and human rights abusers, and when UK fighter jets and bombs have been so central to the destruction of Yemen.
"Arms fairs like DSEI can never be right or acceptable, and we all have a role to play in shutting them down for good."
DSEI is held every two years in London's docklands and facilitates deals between arms buyers and sellers. In 2015 it was attended by 34,000 delegates and 1,600 suppliers from 54 countries.
Attendees included "top level international military staff, major procurement officials, and the entire industry supply chain, from large prime contractors to supplying companies", according to its website.
A spokesperson for the organisers of DSEI told the Independent: "HMRC, the Department for Business, Innovation & Skills (BIS) and other Government agencies, hold responsibility for enforcing the law in respect of UK Export controls at DSEI. As organisers, we take compliance at DSEI seriously and are constantly working with these Government Departments and agencies to refine our compliance processes in order to ensure that they are as robust as possible. As a result of this close cooperation, and the processes put in place, compliance regulations were not breached at DSEI 2015.
"Representatives from HMRC, BIS and other agencies were present in the run up to and throughout DSEI 2015. They had free and totally unrestricted access to all exhibitors in order to undertake checks that all equipment, services, documentation and any other forms of promotion complied with UK, EU and international law. They were supported in this work by an internal DSEI compliance team. These checks took place with reference to products and services classified as Category A under the terms of the Export Control Act 2002.
"DSEI's activities in respect of compliance, including the attendance of HMRC, BIS and all other relevant Government agencies at the event, are covered by the Memorandum of Understanding signed between Clarion, the Export Control Organisation and BIS. As such our access policies for both exhibitors and visitors have been developed following consultation with a number of government departments.
"All our exhibitors are contractually bound to ensure that they exhibit at DSEI in a manner which is compliant with all relevant arms control legislation. We are explicitly clear that any exhibitors or individuals found to be in breach of compliance regulations at DSEI will be immediately ejected."
Join our commenting forum
Join thought-provoking conversations, follow other Independent readers and see their replies