Ed Miliband and Nick Clegg back John Bercow's plans to reform PMQs - but Conservative backbenchers resist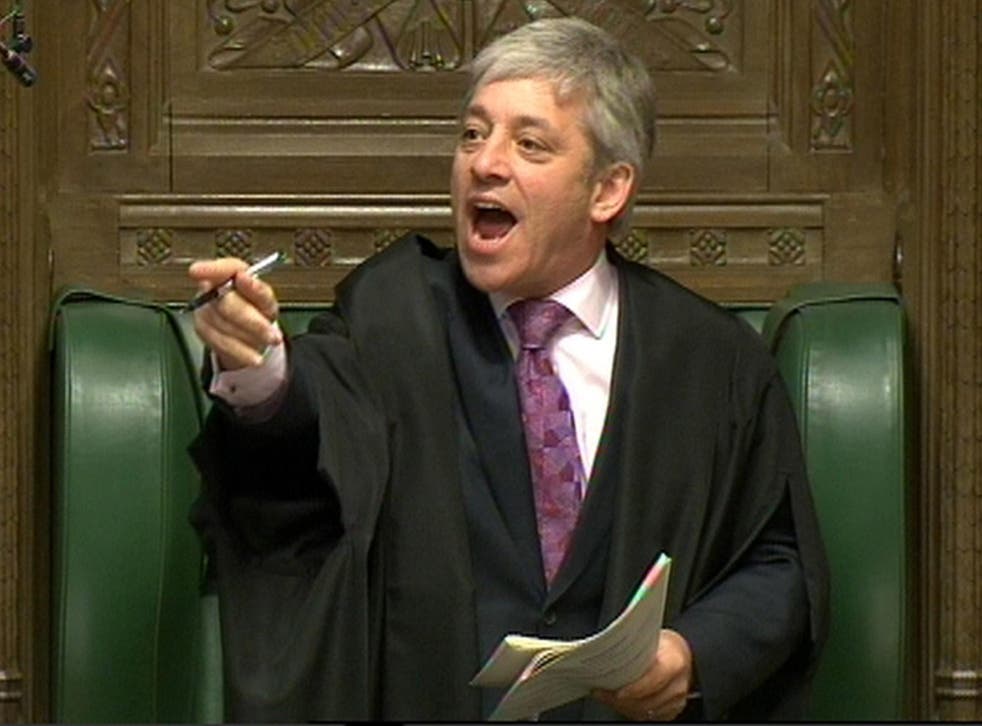 Ed Miliband and Nick Clegg backed the reform of Prime Minister's Questions after the Commons Speaker, John Bercow, warned the sessions sometimes degenerated into "yobbery and public school twittishness".
In an interview in the Independent yesterday, Mr Bercow disclosed he had written to the three main party leaders asking for talks on how PMQs could be improved.
His intervention came after a Hansard Society report revealed widespread public dismay over the barracking and abuse in the Commons.
Mr Miliband, the Labour leader, said: "I don't think it's a great advert for politics or Parliament and I think most people would agree with that. I welcome any initiative by the Speaker or others to look at these issues."
A spokesman for Mr Clegg said the Liberal Democrat leader also favoured a new approach to PMQs.
He said the Deputy Prime Minister believed the way Parliament operated was "totally off-putting" to the public and reform was needed to make it "look and feel more modern".
David Cameron gave a guarded welcome to the suggestion that PMQs could be reformed.
A Downing Street spokesman said: "These are interesting ideas and the Prime Minister will study them carefully.
"He believes Prime Minister's Questions should be a useful opportunity to analyse and explain the Government's long-term economic plan and other policies."
Privately some Conservatives laid the blame for rowdy scenes on Mr Bercow's handling of parliamentary sessions. One party source said: "He is in the chair, he is the Speaker. This comes back, at least in part, to him."
The Conservative MP Alec Shelbrooke contrasted him with a previous Speaker, Baroness Boothroyd, and claimed bad behaviour was provoked by Mr Bercow's bias against his party.
The MP for Elmet and Rothwell tweeted: "Bercow needs to look in the mirror. Betty never had the need to resort to whining. His biased approach is why he's lost control of PMQs."
A fellow Conservative, Sarah Wollaston, said it was "astonishing" that party whips could think the public wanted to hear MPs "braying".
She tweeted: "At PMQs anyone can get heckled, male or female, but it's like swimming with sharks once there's a drop of blood in the water."
Dr Wollaston, the MP for Totnes, suggested the Speaker "could just stop calling the worst PMQ hecklers and ban the crap planted 'helpful' questions".
The Conservative MP Douglas Carswell, said he backed Mr Bercow's reform agenda. He said: "If you leave reform to the Commons dinosaurs, nothing will change for the better."
He said the biggest problem in PMQs was compliant MPs reading out questions supplied to them minutes earlier
"It's appalling. The public out there are being mugged," said the Clacton MP. "The Speaker should use his discretion in the chair to stamp out bad behaviour.
"A bit of barracking and heckling isn't the worst of it. The really disgraceful practice is the planted question - if someone asks an obviously planted question, the Speaker should just say: 'next question'."
Order, order: Bercow's victims
Tory Business minister Matt Hancock was reprimanded as he heckled his Lib Dem colleague Jo Swinson as she spoke about apprenticeships. Bercow told him: "You yourself, Mr Hancock, are undergoing an apprenticeship to become a statesman, but I think there are some years to run."
As David Cameron set out plans to help flooding victims recently, he faced noisy opposition from Chris Ruane, the Labour MP for Vale of Clwyd. Bercow rebuked him: "You are an incorrigible delinquent at times. Behave yourself, man."
Michael Gove was singled out during one session. "You really are a very over-excitable individual," he was told. "You need to write out a thousand times, 'I will behave myself at Prime Minister's Questions'." Two days earlier the Education Secretary had advocated tougher classroom discipline.
The former Tory whip Michael Fabricant was an early supporter of Mr Bercow as Speaker. But that did not spare him from the put-down: "You must calm yourself. It is not good for your health."
Tom Blenkinsop, Labour MP for Middlesbrough South and East Cleveland, received this rebuke: "You are yelling across the Chamber. Be quiet. Calm yourself. Take up yoga."
Join our new commenting forum
Join thought-provoking conversations, follow other Independent readers and see their replies