Ed Miliband: 'Can politics satisfy the country's thirst for change?'
The Labour leader may be keener on questions than answers, says Andrew Grice, but others believe he has cause for confidence
Andrew Grice
Monday 23 July 2012 16:10 Comments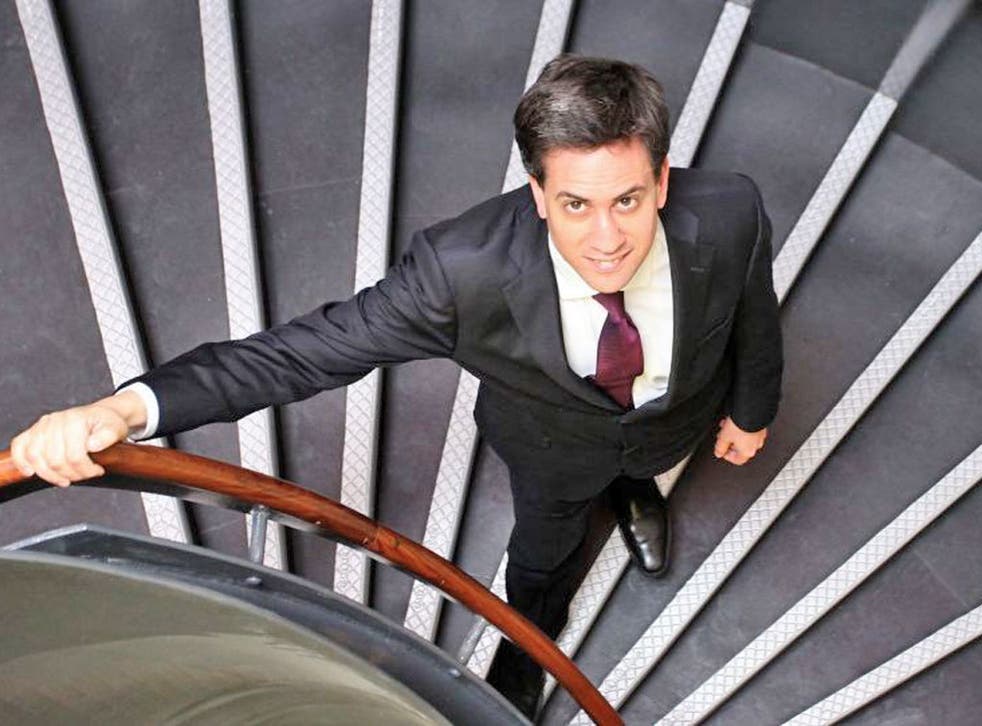 Ed Miliband has found a way to get under David Cameron's skin in the Commons: throwing back at him his words as Opposition leader when asked why he wanted to be Prime Minister. "I think I'd be good at it," Mr Cameron replied. "Where did it all go wrong?" Mr Miliband then asks him.
So what makes Mr Miliband qualified for the job now? His answer: "This country needs a really big change, particularly on the economy.
"A few people do well and everyone else is struggling. We have got to change that and rebuild our economy, a divided society and faith in politics.
"I know exactly what I think the next Labour Government needs to do. It is about whether you are clear about your purpose. Then you let the other stuff take care of itself."
The Labour leader is at his most passionate during our 45-minute conversation as he declares: "This country is crying out for big change.
"The more interesting question is: can politics satisfy the country's thirst for change? That is the question of our times."
Before the Commons summer break, Mr Miliband told his MPs that 2015 would see a "big change, big politics" election like 1979, which ushered in the Thatcher-era consensus he now judges as past its sell-by date.
He explains: "We [Labour] must understand that challenge. It's about people who say 'my son and daughter cannot find a job', who are being ripped off by the banks, see their living standards squeezed."
The outlines of Labour's 2015 pitch start to emerge. Mr Miliband believes politics can rise to the challenge, but insists Mr Cameron and George Osborne cannot because they represent a failed "old order" which is "ideologically beached".
For now, the Labour leader is keener on posing questions than coming up with answers.
"You have to set out the problem to which you want to be the answer," he says, "that is what Cameron never did [in Opposition]; he just skated all around the map."
Mr Miliband will not be rushed, promising more policies "in the course of the next 12, 18, 24 months". He identifies three priority areas. "We have got to win back people's trust and reassure them about fiscal credibility; show we understand that immigration has benefits as well as costs and that welfare is also about responsibility."
In a deliberate departure from Blairism, he will do it in line with Labour's values. "What I am never going to say is 'let's just tell people what they want to hear', and hope it gets Labour some points in the opinion polls."
While admitting Labour didn't get everything right in office, he is "not going to say the reason we had a big budget deficit is that we invested too much in schools and hospitals because I don't believe that".
Will he bow to the inevitable by matching the Coalition's overall spending limits until 2017, as Blairites demand, while giving Labour room to "switch-spend" within the ceilings? "We are some way off that," he replies.
Political opponents, Labour "Edsceptics" and commentators are revising their early opinions of Mr Miliband – upwards.
"He is good at picking issues – phone-hacking, the banks, the 'predators' of capitalism," one Tory Cabinet minister admitted. A Liberal Democrat minister added: "We thought we could rely on him to cock it up. Now we can't."
Mr Miliband concedes his "producers versus predators" speech at last autumn's Labour conference had "mixed reviews", but he always had an inner confidence it would come good. He believes the public now supports his call for "responsible capitalism".
'Camerkozy' economics
His latest target is the banks. He is fired up by the need to stop claims management companies creaming off 30 per cent of the compensation payments for 28,000 small businesses mis-sold products, such as those protecting them against interest rate rises.
He says: "This goes to the heart of how financial services work. It is a racket. It adds insult to injury if you get companies coming along and ripping people off all over again. We need swift, comprehensive justice for all the people mis-sold products by the banks."
Mr Miliband is happy for last September's speech to be a "metaphor" for his under-estimated leadership. But he is not getting carried away. He tells the twenty-somethings in his team to ignore opinion polls showing Labour 10 points ahead of the Tories.
There's another reason to ignore the polls: Mr Cameron is still seen as the best Prime Minister. "All leaders of the Opposition have to establish themselves in the public's mind," he says, conceding that "blowing my own trumpet" does not come naturally. "I do what I think is the right thing," he adds.
Tomorrow, Mr Miliband heads to Paris for talks with François Hollande, France's new Socialist President. Youth unemployment will be high on the agenda. The Labour leader senses the tide is turning in Europe against austerity and unemployment and towards jobs and growth. What he calls "Camerkozy economics" – backed by Mr Cameron and Angela Merkel and the defeated Nicolas Sarkozy – has had its day, he argues.
"The Government's problem is not simply the 'omnishambles' – the incompetent management. It is deeper than that. It is about the failure of the economic plan," he says. "The Budget was its turning point – standing up for the wrong people, tax cuts for millionaires. It called into question the Government's motives."
Mr Miliband is convinced the Conservatives are wedded to "a set of supposed truths – trickle-down economics, deregulation, government getting out of the way, the 1980s inheritance. It is the last gasp of the old order. They are still pursuing an old agenda that is not working."
'Accomplice' Clegg
Labour has inheritance issues too. We are speaking on a train to Corby, a reminder that drivers from East Midlands Trains will hold a three-day strike over pensions during the Olympics.
"I am against strikes during the Olympics. It will harm the cause of the workers doing it," Mr Miliband says.
"They will cause disruption at a time when the world is looking at Britain."
Yesterday, Nick Clegg told The People that he would be "open to working with other parties" in another hung parliament. Asked if he could do business with Mr Miliband, the Deputy Prime Minister replied: "Yes."
The feeling is not mutual and the Labour leader dismisses speculation that the icy Lib-Lab relations since 2010 are melting. "Clegg's biggest problem is that he will say he is a brake on the Tories, but he is an accomplice. He chose not to kill the Health and Social Care Bill, a really bad Bill doing damage to the NHS, and to pursue House of Lords reform." So could he work with the Liberal Democrat leader? "I would find it difficult to work with him," he replies.
I ask Mr Miliband why Labour appears to be playing games by not backing Mr Clegg's plans to reform the House of Lords.
He admits there are "different views" inside Labour but insists: "We are for reform. We are for proper [parliamentary] scrutiny. We will get the Bill out of the Commons and into the Lords.
"The Government should get on with it. Then people will be able to judge whether we are simply playing games or trying to have proper scrutiny."
"We have a huge distance to travel," he says. "There are lots of issues we still have to deal with."
Yet his confidence feels more real than the ritual optimism of all politicians as they look to the next election.
"I am not arrogant but I have always been confident," he says. "I have always known why I stood for this job. I knew I had something particular to say about where the country needs to go."
Ed's choices: playing safe?
Where was the last place you went for dinner?
11 The Quay, in Ilfracombe, Devon
What was the last album you bought/listened to?
21 by Adele
What was the last book you read?
When I Die: Lessons from the Death Zone by Philip Gould, the Labour strategist who died last November
What was the last gig you attended?
The Queen's Diamond Jubilee concert outside Buckingham Palace
What was the last sporting event you attended?
England versus South Africa at The Oval on Saturday
What was the last film you saw?
Fast Girls
Register for free to continue reading
Registration is a free and easy way to support our truly independent journalism
By registering, you will also enjoy limited access to Premium articles, exclusive newsletters, commenting, and virtual events with our leading journalists
Already have an account? sign in
Register for free to continue reading
Registration is a free and easy way to support our truly independent journalism
By registering, you will also enjoy limited access to Premium articles, exclusive newsletters, commenting, and virtual events with our leading journalists
Already have an account? sign in
Join our new commenting forum
Join thought-provoking conversations, follow other Independent readers and see their replies