Ed Miliband warns Daily Mail over 'gutter' campaign against him during next election and demands apology over photo of father Ralph
Labour leader seeks apology as former Thatcher ally accuses newspaper of 'telling lies' about Ralph Miliband
Oliver Wright
Wednesday 02 October 2013 19:26 Comments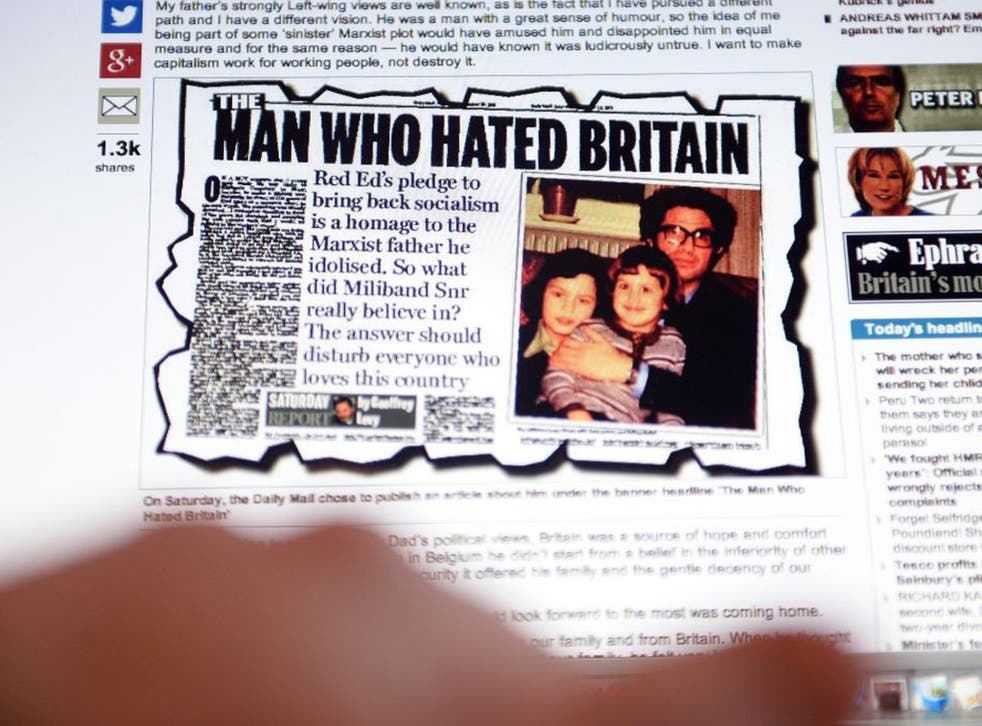 The Daily Mail is facing a barrage of criticism from across the political spectrum as the paper defiantly refused to apologise for "smearing" the reputation of Ed Miliband's father.
The former Conservative Cabinet minister, Lord Moore of Lower Marsh, said it "beggared belief" that the newspaper could accuse his former tutor Ralph Miliband of a lack of patriotism.
Lord Moore, who studied under Mr Miliband at the London School of Economics, went on to serve in Margaret Thatcher's Cabinet between 1986 and 1989. He accused the paper of "making up lies about a good man".
"Ralph Miliband taught me and I can say he was one of the most inspiring and objective teachers I had," he said. "It beggars belief that the Daily Mail can accuse him of lacking patriotism.
"The Daily Mail is telling lies about a good man who I knew. The people of this country do not want the Daily Mail attacking the dead relatives of politicians to make political points."
He was joined in his criticism by Lord Heseltine, who attacked the paper for its treatment of Mr Miliband. "This is carrying politics to an extent that is just demeaning, frankly," he said.
Boris Johnson, London Mayor, added: "I've got ancestry that doesn't come from this country and I think people do feel very sensitive if the patriotism of those relatives is impugned. I can imagine that being a very, very hurtful thing and I would definitely want to fire back if it was me."
Only one current Conservative politician came forward to defend the Mail's treatment of Mr Miliband.
Michael Gove, the Education Secretary, whose wife is a columnist at the paper, said: "Newspapers should not apologise to politicians for being robust. We need a free press that is robust, raucous and, by definition, will sometimes offend." Ed Miliband himself increased the pressure on the paper and its editor, Paul Dacre, warning that not he would not stand by and let the Mail wage a "gutter" campaign against him.
In a personal attack on Mr Dacre, he accused him of using language to describe his father that was normally reserved for mass murderers. He reiterated his demand for an apology from the paper but insisted it was not making an argument for further regulation of the press.
"In time past, people would say, it is the Mail, let it go. But I am not prepared to do that any more," he told the London Evening Standard.
"I think it is not about regulation but about responsibility and right and wrong. That applies to the Daily Mail editor as much as anyone else.
"Sometimes a line is crossed. The next election can't be fought in the gutter. The most important thing for me was to defend my dad."
Next week, the Privy Council will meet to decide whether to approve the newspaper industry's version of a royal charter for the future of press regulation or to enshrine the one agreed by the political parties in Westminster.
Senior industry figures, who have been attempting to fight off attempts at tougher regulation, are concerned that the row will overshadow the meeting and make compromise harder.
"The truth is we are all human and it's very hard for people sitting round that table next week to ignore what's been going on," said Chris Blackhurst, Group Content Director of The Independent and the Evening Standard.
"I certainly think it will have driven a wedge between politicians and the press. The schism's already there and this has probably deepened it a bit further."
Evening Standard exclusive: I had to defend my dad
Party parents: Like father, like son?
In one respect, the Daily Mail was right: it was legitimate to examine the career of Ed Miliband's father and to ask whether he had a role in shaping his son's political outlook. It was the nastiness with which they traduced a dead man to discredit his son that has generated the backlash.
Now that we know so much about Ralph Miliband, what of the fathers of the other main party leaders? None has a biography as colourful as Miliband Snr, and, coincidentally, they were all money men – bankers or stockbrokers – but in each you can see a family resemblance that has contributed to the making of the politicians.
Ian Cameron was a formidably successful businessman whose example evidently stimulated the ambition of his son. He was a City stockbroker, and latterly chairman of Close International Asset management, a multimillion-pound investment fund based in Jersey, and a director of another multi-million pound fund, Blairmore Holdings Inc, registered in Panama City, and a shareholder in Blairmore Asset Management based in Geneva. Basing these businesses offshore or abroad was a legal way of avoiding UK tax. Ian Cameron died a few months after seeing his son installed in Downing Street, leaving an estate worth £2.74m, of which the Prime Minister inherited £300,000. David Cameron obviously misses him. "When you have lost your Dad, there isn't a day that goes by when you don't think of what they meant to you and how much you miss them," he said this week.
Nicholas Peter Clegg, a banker, was the son of a journalist for the British Medical Journal and an exiled Russian aristocrat. He married a Dutch woman, making Nick Clegg Jnr only one quarter English. Nicholas Clegg Snr was managing director of the London unit of the Japanese bank Daiwa Securities, and the Founder, Managing Trustee and Chairman of the Daiwa Anglo-Japanese Foundation, a charity that supports closer links between the two countries. One of the people who worked with him, strangely, was the veteran Tory, Ken Clarke, who said: "He is a very nice, wise guy. He was a very successful City man but not a flashy City man." Nick Clegg has had a taste of what Ed Miliband went through this week when his Spanish father-in-law was attacked by the Daily Mail. Jose Gonzalez was the first elected Mayor of Olmedo, in northern Spain, after Falanget rule ended in 1979, but the Mail pointed out that for the previous four years, he had been the unelected mayor installed by the dictatorship.
Guy Oscar Justus Farage was also a stockbroker, an extrovert, and a very well-known character in the City of London, back before the Thatcher government swept away all the old rules and restrictive practices in 1986. He left the family home when Nigel Farage was five, but he influenced the future UKIP in a number of ways, including a choice of career. Nigel Farage went directly from school into the City, where his father was remembered as "the best dressed man in the stock exchange." He was a reformed alcoholic, who gave up the bottle in his 30s, with a nostalgia for the way things used to be.
Register for free to continue reading
Registration is a free and easy way to support our truly independent journalism
By registering, you will also enjoy limited access to Premium articles, exclusive newsletters, commenting, and virtual events with our leading journalists
Already have an account? sign in
Join our new commenting forum
Join thought-provoking conversations, follow other Independent readers and see their replies