Election 2017: Jeremy Corbyn claims Tories are planning a 'Brexit for the few' offering tax cuts to the super-rich
Labour leader will argue the election will be defined by the battle over what type of Brexit Britain pursues 
Rob Merrick
Deputy Political Editor
Friday 28 April 2017 23:32 Comments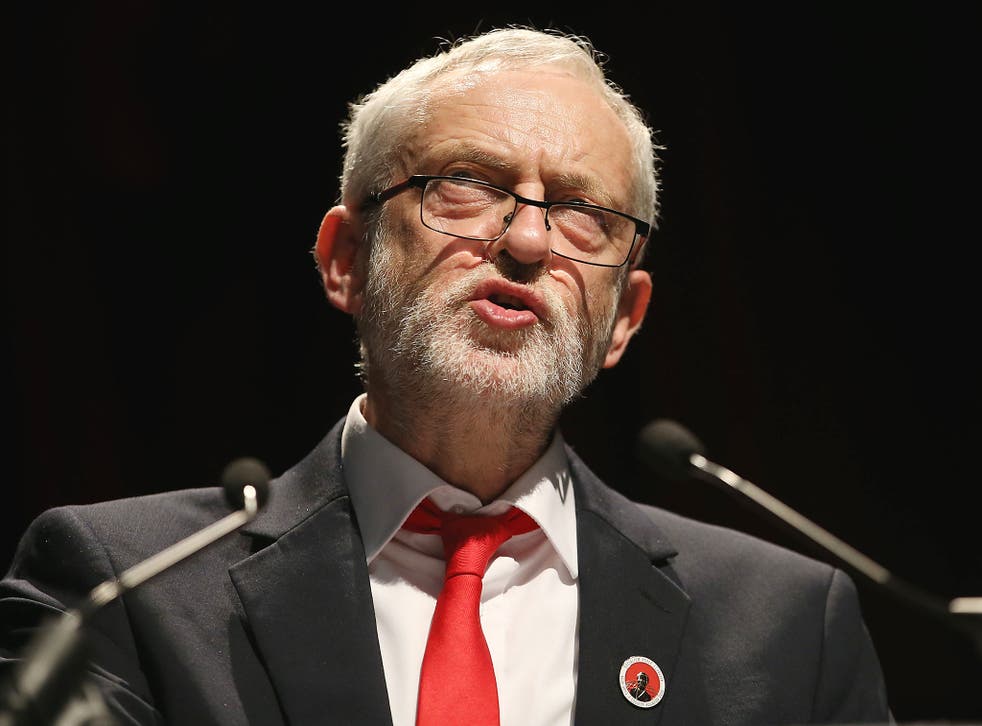 Jeremy Corbyn is warning of a "Brexit for the few", claiming the Tories plan to hand out any savings "as tax cuts to the super-rich and their corporations".
The Labour leader will attempt to win over Leave-backing voters by arguing they will not see any gains from Theresa May's plans for EU withdrawal.
"Make no mistake, a Brexit for the few is now brewing," Mr Corbyn is expected to say. "One where any money saved is handed out as tax cuts to the super-rich and their corporations.
"Where new trade deals with the US and elsewhere are used to drive down our working conditions, and environmental and food standards."
Mr Corbyn has been accused of running shy of the Brexit issue on the campaign trail, to try to mask Labour's deep divisions, after being criticised for being a 'reluctant Remainer' himself.
But, in a major speech in East London, he will argue that it is the battle over what follows from Britain's EU exit that will define the election.
The Labour leader will warn that the Prime Minister's rich backers will be handed "a get out of jail free card" if she is allowed to pursue her form of Brexit.
"Do you think personal prospects of the Conservatives' friends and backers will suffer following the kind of Brexit they want to see?" he will ask.
"Do you think their lives will get harder as wages slide and jobs become even less secure? Unlikely, I think you'll agree.
UK General Election 2017

Show all 47
"And that's because the Conservatives' backers can afford to opt out when things go wrong. They've been doing it for decades."
The speech will be seen as an attempt to marry Labour's central campaign message – that the Conservatives remain the party of the rich – with the need to confront Brexit.
Mr Corbyn has cobbled together an uneasy compromise with his party, which supports leaving the single market and ending freedom of movement, but argues the EU can be persuaded to deliver softer exit terms.
Labour can rally around a warning that Ms May – if she carries out her threat to walk away with no exit deal, if necessary – will slash business taxes and regulatory standards.
Nevertheless, the leader's claim there will be "money saved" is disputed by most Labour MPs and by economists, who have warned of a big Brexit 'black hole' in the nation's finances.
Speaking in east London on Saturday, Mr Corbyn will also urge young people – who overwhelmingly opposed Brexit in last year's referendum – to make their voices heard on election day.
He will warn that more than 2.4 million 18 to 24-year olds are "missing from the UK's electoral register", ahead of the May 22 deadline for registering.
"I have a message for you all today: unless you too have a get out jail free card, it's time to step up," Mr Corbyn will say.
"The Conservatives are more than happy with this state of affairs. Apathy and resignation will secure them seats on election day."
Meanwhile, the Prime Minister will continue her strategy of campaigning on Opposition turf in Scotland, where the Tories are tipped to make gains.
Register for free to continue reading
Registration is a free and easy way to support our truly independent journalism
By registering, you will also enjoy limited access to Premium articles, exclusive newsletters, commenting, and virtual events with our leading journalists
Already have an account? sign in
Join our new commenting forum
Join thought-provoking conversations, follow other Independent readers and see their replies