UK election: Admin errors deny London voter chance to cast ballot in 'marginal' Tory seat
'You will be unable to vote in the upcoming election,' council says in email to hopeful voter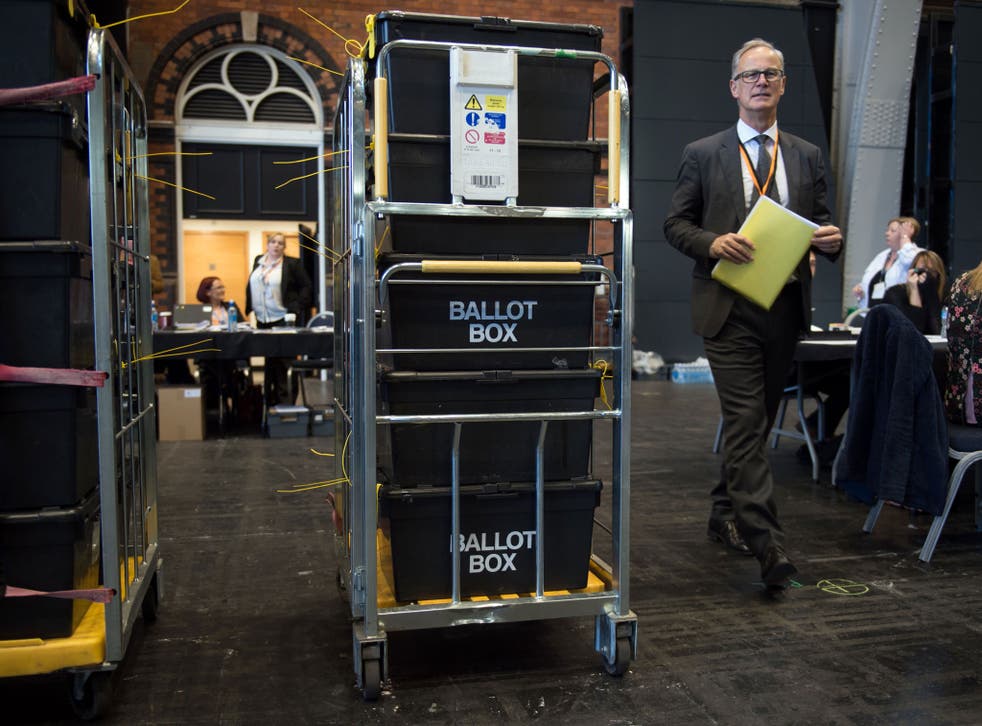 A London council has told a voter in a semi-marginal seat that he cannot vote on the eve of polling day after an admin error apparently saw his electoral roll application lost.
John Fairhurst, who lives in the Finchley and Golders Green seat, which is ranked as the 65th most marginal of the Tories' 331 seats, registered to vote on the Government's website on deadline day.
He received an email acknowledging his application and notifying him that his local borough of Barnet would be in touch to confirm he was registered.
However, after waiting more than two weeks without hearing anything, he contacted the local electoral resignation office.
Mr Fairhurst, a musician, claims he was told by a council employee that "legislation" prevented her from processing his application, and he was informed he would not be able to vote – less than 24 hours before polling booths opened.
In an email seen by The Independent, an election call centre adviser told Mr Fairhurst he would not be able to cast a ballot on 8 June.
"It would appear as though the gov.uk team did not forward us your application after receiving it, as we do not appear to have any applications pending under your name," the email said.
"As this is the case, you will be unable to vote in the upcoming election."
UK General Election 2017

Show all 47
Mr Fairhurst said: "It is impossible to maintain any faith in the current system.
"Every vote counts in this election and I demand the right to be able to cast the vote for which I registered."
His experience prompted others who had been similarly disenfranchised to speak out.
One, Rachel Allmand, claimed she had been denied a vote after an "admin error" by Waltham Forest council. She told The Independent she was also denied an emergency proxy vote and would be unable to cast her ballot on 8 June.
A third potential voter, Jacqueline Stuart, who lives outside the UK, said she and others who she knew had not received their postal ballots.
Complaints of missing papers came after hundreds of voters in Plymouth were left without postal voting forms just days before the election.
Plymouth City Council says it has reissued "around 370 replacement ballot packs" to those who have contacted them, and urged anyone whose remain missing to call their offices.
The local authority claimed it had sent out all the forms in accordance with the regulations, adding that this had been "confirmed by our printers". Both it and Royal Mail are now investigating.
Artists from the UK have a message for you about the General Election
Those who applied before the May 23 deadline and have not yet received them can order replacement packs via special delivery on the same day, go in to the council offices during select times on Tuesday, Wednesday or Thursday or nominate someone to collect it for them, the council said.
Several people took to social media to complain about the issues.
Elliot Phillips described the problems as "an absolute joke", saying: "People are essentially being robbed of their right to vote."
A Barnet Council spokesperson said: "In this case, we did not receive any confirmation following the resident's application on the register to vote website. The registration was also approved by gov.uk past the legal statutory deadline, which means we could not progress the application.
"While we understand the resident's frustrations, we are not able to do anything to resolve this matter."
Join our new commenting forum
Join thought-provoking conversations, follow other Independent readers and see their replies