Energy in the UK: the coming crunch
Ofgem's CEO gives Oliver Wright a grim assessment of the UK's energy options
Oliver Wright
Tuesday 19 February 2013 19:55 Comments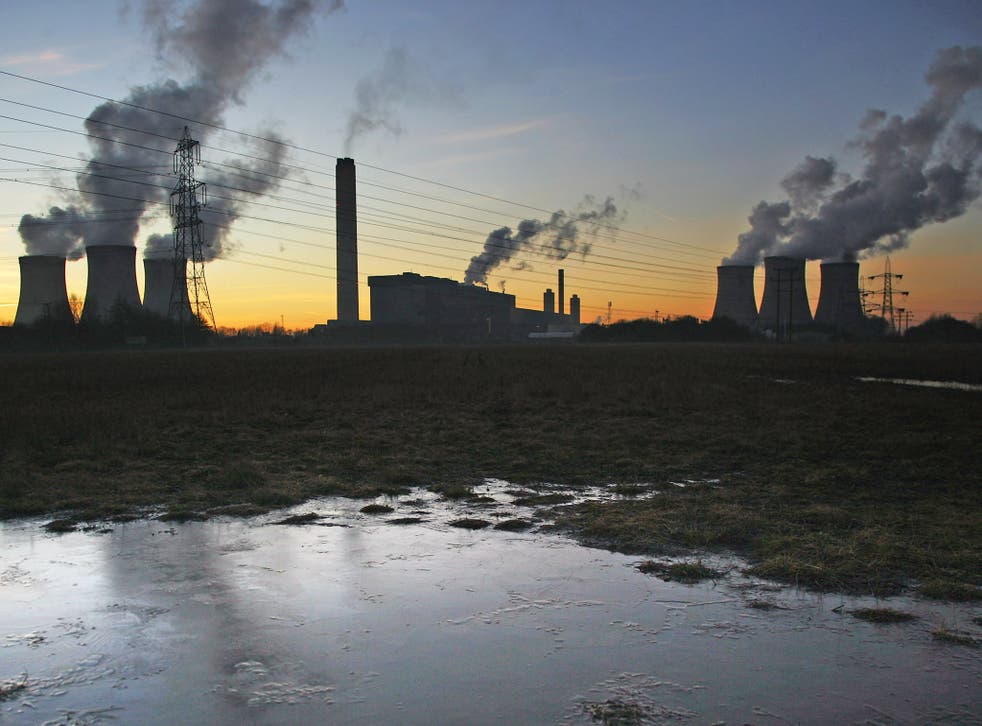 Britain's polluting coal-fired power stations must be kept open to "get us through" dramatic rises in wholesale gas prices over the next seven years – that is the unpalatable opinion of the outgoing head of Ofgem, the energy watchdog. Alistair Buchanan has warned that Britain faces five years of rapidly increasing electricity costs because of rising global gas prices at a time when new sources of energy generation such as renewables and nuclear are not sufficiently developed.
Ministers might need to look at extending the life of some of Britain's coal-fired power stations unless they could facilitate a "revolution" in energy efficiency, he adds.
Mr Buchanan admitted that his warning on energy prices make him sound like the "grim reaper" but said it was important that consumers had the information they needed to make savings before bills rose: "We want to alert consumers to the fact that around 10 per cent of our (power stations) are coming off-line that could have been running to 2016. There is nothing being actively being built at the moment (and) even if the first new gas plant were to be started now it would not be in operation for four years. Things are going to be very tight in three years' time."
Britain currently has around 15 per cent of spare generating capacity but that will fall to below 5 per cent within the next three years. "People have been asking 'where's the new nuclear, where's the clean coal, where's the carbon capture'. It's not there and it won't be there this side of 2020."
Mr Buchanan, who steps down in June after 10 years in the post, said it was inevitable that prices will rise as supply struggles to keep up with demand: "We've got to go shopping around the world for our gas. It's just horrendous serendipity that just as we have a squeeze on our power and turn to gas, the global markets have a squeeze."
Mr Buchanan said that part of the problem facing the UK was that environmental commitments to decarbonise the energy sector had been made before the financial crisis.
As a result the cost of capital to build a new generation of green energy has increased considerably and there have also been delays in raising capital.
This means there is now a gap between the point at which the Government is committed to shutting down old power stations and when their replacements will begin working. Combined with a predicted spike in gas prices due to rising demand from countries such as China and temporary restrictions in supply, this will result in significantly higher energy costs.
Mr Buchanan said that to get round this the Government needed to facilitate a "revolution in consumer habits" and encourage people to use programmes like the Green Deal to reduce demand. But he also suggested that the Government could provide incentives to ensure that some coal power stations could be have their life extended.
"Today we have 28 gigawatts (gw) of coal plants. 8gw is going now or shortly then you have 20 left. Only 6 of 20 have been adequately cleaned up to meet the next (environmental) directive that kicks in around 2022.
"Are you better keeping some of the knackered coal on for a few years longer to get us through this tight window or better off promoting gas? That is a question for Government."
Privately ministers admit that much more needs to be done towards increasing energy efficiency. They have already announced plans to divert up to £1bn into programmes to reduce large-scale energy use and more work is likely in the coming years.
However extending the life of coal power stations would be far more controversial. While some Tories would privately welcome the move if it kept bills down it would face fierce resistance from the Liberal Democrats.
Consumer Focus's chief executive, Mike O'Connor said the best solution would be to make homes more energy efficient: "We need to do more to ensure our homes do not leak energy and we are calling on Government to use the funds they raise in carbon taxes to insulate our houses to modern standards."
The Which? executive director Richard Lloyd said consumers would be "alarmed" at Ofgem's price warnings. "After another winter of inflation-busting price hikes, the rising cost of energy is already one of the top financial concerns for hard-pressed households," he said.
"The Government should ensure consumers are properly protected from unaffordable misery generated by today's broken energy market."
But the Department of Energy and Climate Change insisted that its current measures should ensure the lights stayed on and that customers were "insulated" against gas price rises.
"As Ofgem highlights, we cannot afford to be complacent," said a spokesman. "Investing in a diverse energy mix will help us to insulate consumers from the high price of wholesale gas."
Nuclear power subsidy boosted
The Government has come under fire over proposals potentially to double the duration of taxpayer subsidies for crucial new nuclear power stations to 40 years.
The Coalition has already abandoned its 2010 pledge not to subsidise nuclear reactors as it scrambles to attract investment to keep Britain's lights on, with planned power plants running billions of pounds over budget and years behind schedule. In a bid to persuade France's EDF to finalise its investment in Hinkley Point in Somerset, the Government is proposing extending a guaranteed minimum price for electricity from 20 years to between 30 and 40 years.
Tom Bawden
Register for free to continue reading
Registration is a free and easy way to support our truly independent journalism
By registering, you will also enjoy limited access to Premium articles, exclusive newsletters, commenting, and virtual events with our leading journalists
Already have an account? sign in
Join our new commenting forum
Join thought-provoking conversations, follow other Independent readers and see their replies