Eric Pickles illegally discriminating against Gypsies and Travellers, the High Court rules
Pickles had 'discriminated unlawfully against a racial group' by subjecting planning applications from Gypsies and Travellers to special scrutiny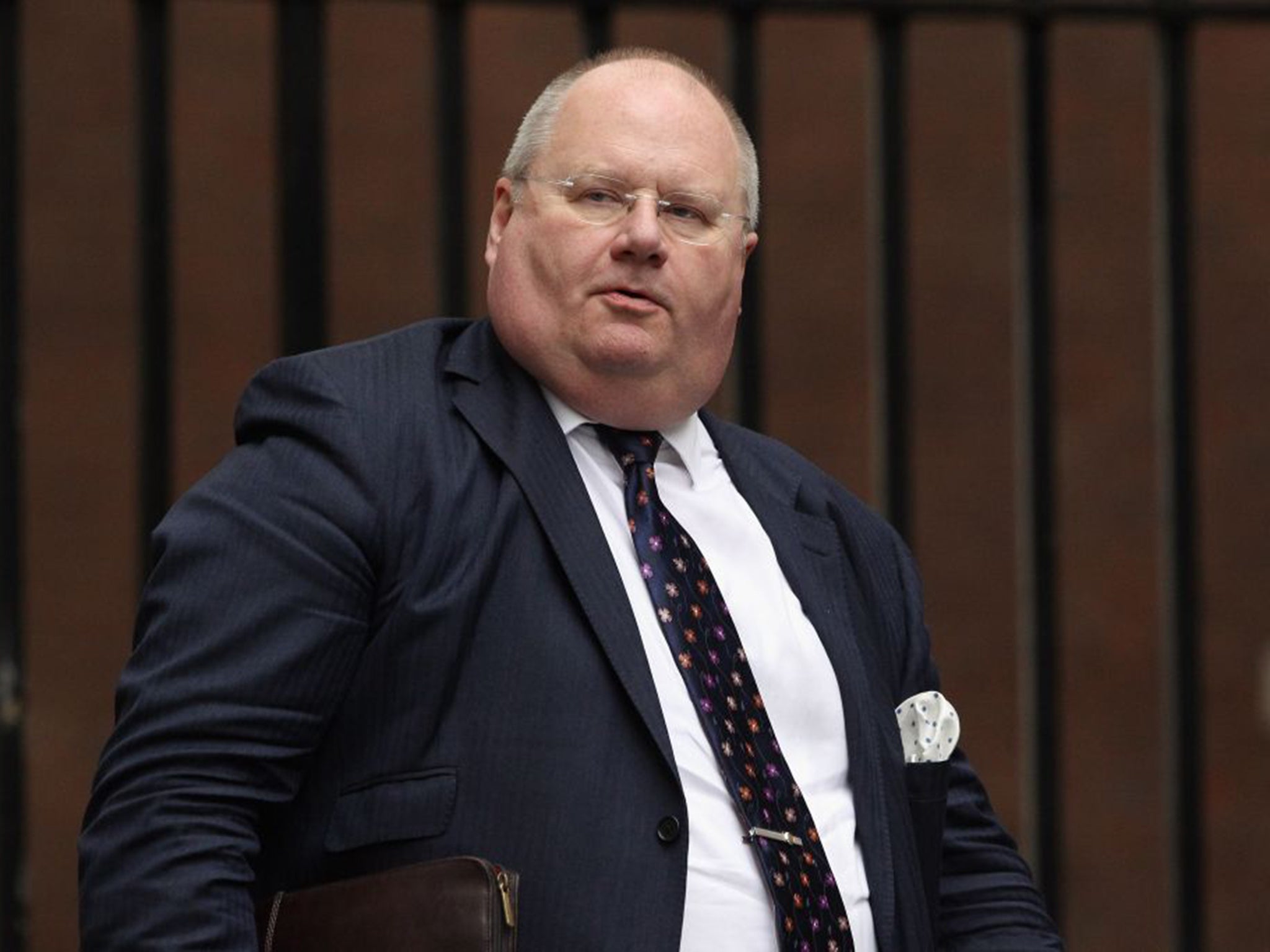 Eric Pickles has been illegally discriminating against Gypsies and Travellers by using his ministerial powers to personally decide whether they should be allowed to settle on green belt land, the High Court has ruled.
In a devastating judgement which lawyers said carried "enormous" implications and could lead to a flood of fresh claims against the Government, Mr Justice Gilbart said the Communities Secretary had "discriminated unlawfully against a racial group" by subjecting planning applications from Gypsies and Travellers to special scrunity.
The judicial review case was brought by Charmaine Moore and Sarah Coates, two Romany Gypsy women living in different parts of England who wanted to live with their children in caravans on their own green belt land. Both were refused planning permission by their local authorities and their subsequent appeals were automatically referred to Mr Pickles.
Under the "calling in" policy, which was announced in July 2013 through a written ministerial statement, any appeals over planning decisions relating to "traveller sites" in the green belt were automatically referred to the Secretary of State, who could then make a decision either way. It was relaxed in September last year.
In his ruling, handed down today, the judge said Mr Pickles had breached the Equality Act 2010 by indirectly discriminating against Gypsies and Travellers through the policy. He was also found to have breached Article 6 of the European Convention on Human Rights by delaying the women's right to justice.
The judge said the case amounted to a "a very substantial challenge" to the way in which Mr Pickles had treated Gypsies and Travellers who found themselves in similar situations across the country.
"These are not to be dismissed as technical breaches," he added. "Although the issue of unlawful discrimination was put before the Minister by his officials, no attempt was made by the Minister to follow the steps required of him by statute."
The Community Law Partnership, which brought the case on behalf of the two women, said the implications of the judgment were "enormous". It added that around 100 Gypsy and Traveller planning appeals overseen personally by Mr Pickles since July 2013 could now be challengeable in the courts.
The Equality and Human Rights Commission intervened in the case after becoming concerned that the "call in" policy may be unfair on Gypsies and Travellers. After the ruling, a spokesperson said: "We have a duty to protect everyone from discrimination and ensure that the law is applied fairly, consistently and equally for all.
"We understand the need to be sensitive about green belt development but this should not be used to single out individuals for unlawful discrimination. Planning decisions should be taken on the merits of an application, not the characteristics of the applicant."
A spokesman for the Traveller Movement charity said Mr Pickles' policy amounted to "an abuse of power" and accused him of embarking upon "an unlawful crusade to try to drive the UK's Gypsies and Travellers into the sea".
He added: "Justice has been done and the Secretary of State's policy of 'calling in' Traveller site appeals for his own personal determination has now been found to have had no regard to fundamental principles of British law.
"This is a remarkable blunder by the Secretary of State and Mr Pickles can't say he wasn't warned. Gypsy and Traveller organisations and legal representatives have been repeatedly warning him that the policy was unlawful since it was introduced in 2013."
Responding to the judgment, Planning Minister Brandon Lewis said: "This Government makes no apologies for seeking to safeguard Green Belt protection and trying to bring a sense of fair play to the planning system. The Government's planning policy is clear that both temporary and permanent traveller sites are inappropriate developments in the Green Belt. Today's judgment does not question that principle."
Join our commenting forum
Join thought-provoking conversations, follow other Independent readers and see their replies